Affiliate Disclosure: The Seasoned Podcaster is supported by its readers. As an Amazon Associate we earn from qualifying purchases when you use one of our links. Please assume all links on this page are affiliate links. Your support is hugely appreciated.
Whether you are being 'that person' and wearing a set of headphones that leak sound and let the world know what you're listening to or editing, or are the one being burdened with somebody else's leaky audio, headphones that leak sound can be annoying when using them in the wrong environment.
The point about the wrong environment is an important one, as is the type of editing you're doing. For an all-round set of podcasting headphones, we tend to recommend closed-back, flat response studio monitoring headphones. These are great when monitoring audio at the point of recording and then in post-production, being able to pick up and fix any issues with the audio.
However, open-backed headphones can be good if you're trying to achieve a natural-sounding audio track and want to replicate how people would hear it in the final production. Those who are editing audio for video for example might choose open-backed headphones. When it comes to sound leakage, open-backed headphones do leak more sound than closed-back ones as the closed-back – as the name implies – creates a barrier between inside and outside sounds, reducing leak, and increasing sound isolation. With this in mind, in an ideal world, you would have a pair of closed-back and open-backed headphones to give you options but that's not always possible and for the typical podcaster, maybe a bit overkill.
Today we will be giving you our top picks for the 7 of the best headphones that don't leak sound, helping preserve your recording sessions, and improving production quality no end.
Headphones that Don't Leak Sound
If your headphones are leaking sound, then inevitably you will find yourself having to do additional work when editing to ensure that any leaking audio that has been picked up by one or more of the microphones at the point of recording isn't causing any significant issues. It is critical you monitor your levels and sound quality when recording live – however with a pair of sound leaking headphones, this will make it straight back into the microphone creating undesirable side-effects.
If you are keen to reduce sound leaks in your setup by investing in some new headphones, then read on – as we break down our top 7 picks.
Audio-Technica ATH-M50x
Driver Size: 45mm
Sensitivity: 99dB
Frequency range: 15 Hz – 28 kHz
Impedance: 38 Ohms
Description: Audio-Technica is a brand well known for its professional studio monitoring headphones, and the ATH-M50x are no exception. These headphones are the newest edition in the M-series product line, a series that has garnered critical acclaim from sound engineers thanks to their incredible design and quality.
These headphones sit firmly over the ears held in place by their adjustable headband, creating a tight seal around the ears. Thanks to the sound-absorbing foam pads encircling the ears, you can expect minimal sound leaking out from these headphones, even when listening at moderately loud sound levels.
Shure SRH440
Driver Size: 40mm
Sensitivity: 105dB
Frequency range: 10 Hz – 22 kHz
Impedance: 44 Ohms
Description: While Shure are well known for their open-backed headphones, their closed-back alternatives are a great choice for reducing sound leak. The SRH440 faithfully produces sound at a neutral and accurate response with little to no distortion.
For a budget pair of headphones, the SRH440's has incredible performance and build quality. The thick headband and circumaural design rest tightly to the head, providing a comfortable listening experience even when used for extended periods of time.
If you have a small budget and are looking for a quality pair of headphones with minimal leak despite a smaller price tag, then Shure has you covered.
Sennheiser HD280PRO
Driver Size: 40mm
Sensitivity: 113dB
Frequency range: 10 Hz – 22 kHz
Impedance: 64 Ohms
Description: Our next pick is the Sennheiser HD280pro closed monitoring headphones. While the design may appear bulkier than others on this list, don't let this deceive you, with a relatively light weight of 1 pound, the design only serves to reinforce the product in order to guarantee a high degree of durability.
The bulkier design also serves as a thicker barrier increasing noise attenuation and minimizing leakage. If you can handle a larger footprint headphone then you will find that not only is the soundless likely to leak from within, but the passive noise attenuation will be greater than streamlined designs.
The HD280pro's are actually a permanent part of our editor's location sound bag with them being a great balance between quality and cost as well as robust enough for taking on the road.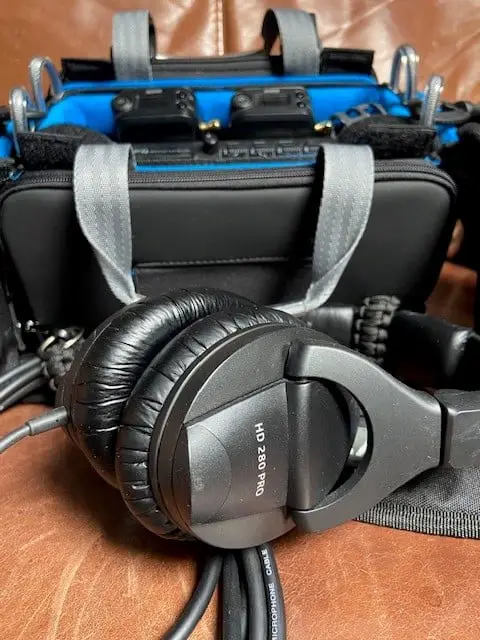 Tascam TH-02
Driver Size: 50mm
Sensitivity: 98dB
Frequency range: 18 Hz – 22 kHz
Impedance: 32 Ohms
Description: The Tascam TH-02 is our low-budget pick for headphones that don't leak sound. Despite being a fraction of the cost of some other headphones on this list, the TH-02 is a solid product, providing a decent level of sensitivity and frequency response allowing for clear and accurate sound reproduction.
You will be hard-pressed to find any other branded closed-back over-ear headphones at a price point like this. With the TH-02 Tascam have created a competitively low-priced product that can hold its own in a wildly competitive market.
If you are a beginner looking for a first-time purchase or are in need of a cheap and cheerful set of headphones in a hurry, you should consider investing in the TH-02.
Beyerdynamic DT-770
Driver Size: 45mm
Sensitivity: 96dB
Frequency range: 5 Hz – 35 kHz
Impedance: 80 Ohms
Description: With a frequency response range from 5 Hz to a whopping 35 kHz, the Beyerdynamic DT-770 is the real deal. These headphones are of incredible quality, with impressive numbers in the range, sensitivity, and impedance – you'd be hard-pressed to find a product of this caliber without spending massive amounts of money.
Handmade in Germany, these headphones are built to last. Featuring a spring steel headband as well as large, soft earcups, the DT-770 is designed to provide a close fit around the head, while remaining comfortable in day-to-day use.
It is fair to say that these headphones are a benchmark product, and if you have the money to spare, then you should consider investing.
AKG Pro Audio K275
Driver Size: 50mm
Sensitivity: 50dB
Frequency response: 16 Hz – 28 kHz
Impedance: 32 Ohms
Description: AKG is a staple in professional quality audio equipment, and the K275 is no exception. With large drivers providing a great low-end response, for the price, these headphones are a great choice for a pair of cans with minimal leakage.
If a large product footprint is a dealbreaker for you – then fear not. The K275 features a streamlined design, making them extremely ergonomic, great for professional audio work out in the field. With the exposed self-adjusting headband and compact over-ear cans, AKG has truly done away with any unnecessary additions, favoring instead a truly lightweight and minimalist pair of studio headphones.
Sony MDR-7506
Driver Size: 40mm
Sensitivity: 106dB
Frequency response: 10 Hz – 20 kHz
Impedance: 63 Ohms
Description: Our final pick for headphones that don't leak sound is the MDR-7506 by Sony. These over-ear headphones are built for pro or home recording and feature a unimatch plug that allows for both ¼" and 1/8" jack connections, perfect for any application.
In terms of noise leak, these headphones have it under lock and key. With large ear cups that wrap tightly around the head supported by a rugged headband, you are going to find little to no noise leaking into your recordings.
Along with little leaking (and much like the other rugged models on this list), the MDR-7506's robust design provides the user with greater ambient noise attenuation, making them ideal for monitoring in noisy scenarios.
In Conclusion
Having read through the unique features of our top 7 best headphones that don't leak sound, you should have a few ideas of which pairs fit your needs and budget. Whether you are looking for a low-priced solution, an ergonomic pair of cans, or a robust product that is built to last, we hope that this list has given you a few great options.
If you aren't quite done looking for the perfect pair of headphones for your podcasting needs, then we recommend taking a few minutes to read our post on "The Best Headphones for Podcasting" to explore some other great options.