Affiliate Disclosure: The Seasoned Podcaster is supported by its readers. As an Amazon Associate we earn from qualifying purchases when you use one of our links. Please assume all links on this page are affiliate links. Your support is hugely appreciated.
As ideal as it would be to have a dedicated podcasting studio, the reality is that many of us record from home or on location where sound treatment is distinctly lacking.
A room that contains bare walls or other large reflective surfaces can reap havoc on your sound quality. It is possible though to stack the odds in your favor – to set up in a way that minimizes echo, and to also use a dynamic microphone.
Why a dynamic mic? Because they tend to be much less sensitive than condenser mics and therefore pick up less of the sound waves bouncing around the room which can lead to echo in your recording.
In this piece, we'll look at what acoustic treatment is, we'll share some tips for recording in an echoey room and we'll look at five dynamic microphones that are well suited for rooms which might be lacking appropriate sound treatment.
The best microphone for an untreated, echoey room is a low sensitivity dynamic model that is used in combination with some sort of portable acoustic solution such as a desktop vocal booth or an acoustic blanket. DIY options are also possible by using pillows or a duvet.
In a rush? Here are our top picks at a glance. For more information about each one and why we picked them for use in an untreated room, keep reading.
Model
Shure SM7B Dynamic Vocal Microphone
Rode PodMic Cardioid Dynamic Broadcast Microphone, Black
Rode Procaster Broadcast Dynamic Vocal Microphone, Black
Why we picked it
Wide and flat frequency range with a lovely natural sounds. In our opinion it's the gold standard in dynamic voice mics
It punches well above its weight with a great frequency range
A broadcast quality mic, the Procaster delivers crisp and full sounding audio
Model
Shure SM7B Dynamic Vocal Microphone
Why we picked it
Wide and flat frequency range with a lovely natural sounds. In our opinion it's the gold standard in dynamic voice mics
Model
Rode PodMic Cardioid Dynamic Broadcast Microphone, Black
Why we picked it
It punches well above its weight with a great frequency range
Model
Rode Procaster Broadcast Dynamic Vocal Microphone, Black
Why we picked it
A broadcast quality mic, the Procaster delivers crisp and full sounding audio
What is Acoustic Treatment?
Acoustic treatment is simply the process of 'treating' a room with appropriate materials to make it more suitable for recording.
Normally it's the walls of a room that are treated with either acoustic foam or purpose-built acoustic panels (which are usually filled with Rockwool). These are strategically placed at specific points around the room to either absorb or diffuse soundwaves to dramatically reduce the natural echo of the room.
Rockwool based acoustic panels are great for absorbing soundwaves. It works by trapping the waves which dampen the vibration of them. It can handle lower frequencies too and is cost-effective which makes it a great solution for improving the recording properties of a room.
Sound-absorbing acoustic foam also absorbs soundwaves but there foams on the market with varying degrees of quality, and the sound absorption properties can vary immensely. If sound absorption is the only aim, a Rockwool based solution might be a better option. However, the advantage of acoustic foam is how it's cut. Two of the more common cuts are wedge and pyramid. Along with the absorption functionality, the shapes cut into the foam can help to improve sound quality through manipulation of the sound waves present in the room.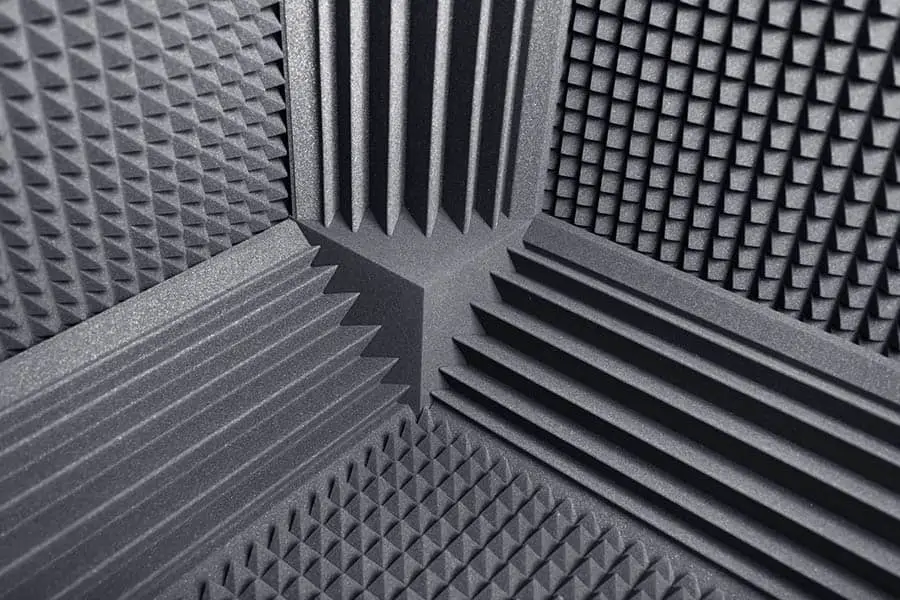 The full detail of this is for another article but hopefully, this serves as a good introduction.
Does Acoustic Treatment Make a Difference?
When properly installed, acoustic treatment can make a huge difference to how a room sounds.
As mentioned above, selecting the appropriate material and installing it in the correct place is vital to achieving the best results and if this is done correctly, good acoustic treatment can transform a room which without treatment is horrible for recording into one which will delight the ears of your podcast listeners.
Have a watch of the video below which shows a before and after comparison in a room where acoustic treatment was installed. The difference is like night and day.
If you're a DIY type person, it is possible to make your own acoustic panels. The main advantage not being cost-saving (although this is a huge bonus) but the fact that you can tailor the panels to suit your specific needs. If you require a certain shape size or even aesthetic design, building them yourself enables you to have complete control. It's not a particularly advanced process either and only basic tools are needed to it could be a nice weekend project.
How to Tell if your Room is Echoey
When a room is really echoey, it will be very obvious. A lot of rooms though are too echoey for recording but when using the room day-to-day, you just wouldn't notice the echo as you're not looking out for it.
One of the best ways to test for echo is to use the 'clap test'. It's simple yet effective and if you keep the recording, you can then perform the test again once the room is treated (if the initial test indicates that it requires treating) to see how much of a difference it has made.
So, how do you perform the clap test? Very simply setup your microphone in the place you plan to record and sit behind it as though you were going to start talking to your audience. Instead of talking though, perform four or five hard claps with your hands leaving a pause of a couple of seconds in between each one. Make sure you're recording these so you can review the audio later.
Now put on your monitoring headphones and listen back to what you have just recorded. After each loud clap, can you hear some reverberation? Is there an echo present? If so, this needs to be dealt with if you want to achieve the best possible audio quality for your podcast. Let us have a look at how you might do that.
Tips for Recording in an Echoey Room
First of all, do you need to jump straight on the internet and start ordering expensive panels to fix your problem? You may do but first, there are things you could try which might allow you to avoid needing to do this.
First, perform the clap test in various places throughout the room. It might be that in a certain area, the reverb is much more dampened so if you can record in that location then acoustic treatment might not be necessary.
A more cost-effective and less permanent solution you could try is a portable vocal booth. This is a device that allows you to attach your microphone to it which keeps it close to a small amount of acoustic foam. This means that as you talk into the mic, the sound waves are instantly being dampened behind it thanks to this foam.
You can also make a DIY version with a storage box and cushions as shown below. This is surprisingly effective.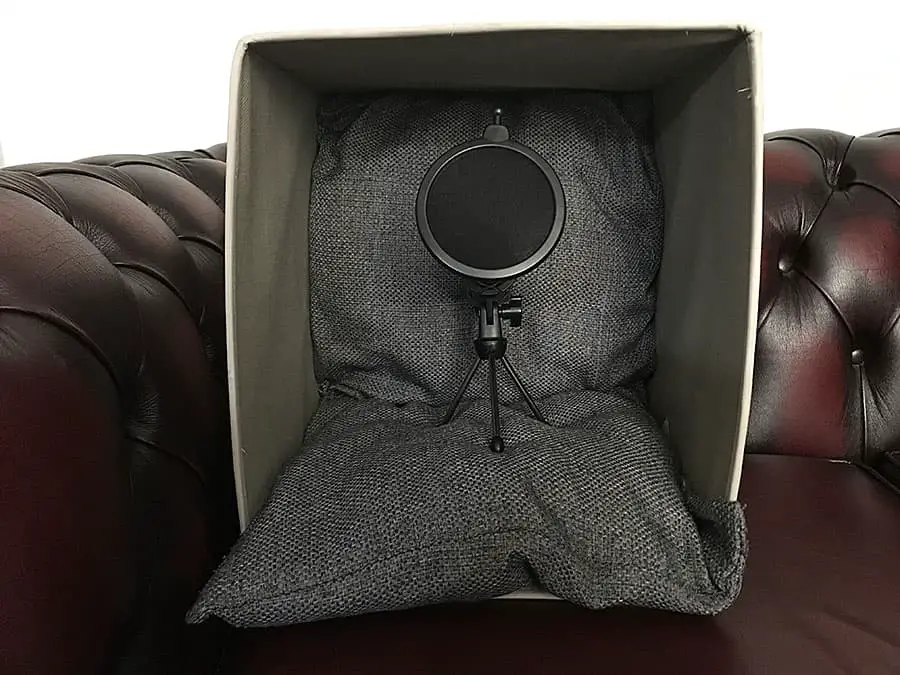 Another way of achieving a similar thing is to use acoustic blankets. As the name suggests, these are simply blankets with acoustic properties. They can be hung over problematic reflective surfaces or simply draped around the area in which you intend to record. This is like a halfway house between permanent acoustic treatment and a portable vocal booth.
Of course, if you didn't want to go to the expense of purchasing acoustic blankets, a DIY version does exist in the form of a duvet. Like the DIY vocal booth solution mentioned above, this can work surprisingly well.
For more information about these solutions, see our article on the best quiet places to record a podcast.
What's the Best Type of Microphone to use in an Echoey Room?
As mentioned earlier, for a room that isn't perfect in terms of echo and sound treatment, we'd always recommend a dynamic mic over a condenser.
Condenser microphones tend to be much more sensitive than their dynamic cousins and therefore they pick up a lot more of those unwanted soundwaves. In a room that is properly treated though such as a studio environment, condenser mics come into their own and the natural-sounding, rich and vibrant tone can make your podcast shine. A good dynamic mic can sound awesome too though if set up in the right way and it's combined with a good preamp.
A dynamic mic isn't going to be a silver bullet for echoey rooms though – you should always use one in combination with the treatment options described above.
5 Dynamic Mic Picks for Untreated Rooms
Shure SM7B
The Shure SM7B is known worldwide for being a top-performing vocal mic which makes it extremely popular with podcasters.
Dynamic mics tend to require quite a lot of gain so a good preamp is needed and the SM7B is no exception. You may even want to use an inline mic activator such as a Cloudlifter to give it an extra helping hand before it gets to your preamp.
Despite the amount of gain needed to power it, it's an exceptional sounding microphone.
Check the latest price at Amazon.
Shure SM57 / SM58
The SM7B is a premium mic and one which you may not have the budget for, or you need to invest in multiple microphones, and buying more than one SM7B may not be viable.
If this is the case, take a look at either the Shure SM57 or the SM58. They're essentially the same microphone but the SM58 has a built-in pop filter inside the ball grille.
The sound out of these two mics is excellent and not a million miles away from the SM7B. A lot of people in the podcasting world consider them as a viable alternative.
Like the SM7B, these mics are gain hungry so you'll need a strong preamp. See our article Best Preamps for the Shure SM57 for more information.
Check the latest price at Amazon.
Rode Procaster
The Rode Procaster is a voice mic through and through which is what Rode intended when they designed it.
It has a pop filter and shock mount built-in and a tight polar pattern which is perfect for that problematic, echoey room.
The low-end sound is great but like the Shure models mentioned above, it will need a decent amount of gain to power it so make sure your preamp is up to the job.
Check the latest price at Amazon.
Rode PodMic
As we provided a budget option for the premium Shure model, we've done the same for the Rode one.
The Rode PodMic is a robustly built, budget mic that in our opinion performs above its price point. The sound is rich and warm with a nice crispness to it.
If you're on a budget, you won't go far wrong here.
Check the latest price at Amazon.
HEiL Sound PR-40
If budget is not an issue then this mic is well worth considering. It's a voice mic classic and it can be seen in the setup of many podcast producers.
The frequency response is nice and flat with a good frequency range, and the resulting sound is bright but with some nice low-end to achieve a warm and crisp sound.
If you're considering something like an SM7B, throw this one onto the shortlist and compare the two to see which works best for you. Either will not disappoint.
Check the latest price at Amazon.
Conclusion
So there you have it, five dynamic mics for use in untreated rooms. As mentioned earlier though, don't just rely on the mic, help it out by experimenting with different tricks to minimize room echo – your position in the room when recording, trying a portable vocal booth, or hanging an acoustic blanket in specific places to reduce the reflected sound waves.
Don't fall into the trap of thinking that a little bit of echo or other unwanted sounds will be fine. Audio issues are fatiguing for your podcast listeners and if you want to retain as many of them as possible, you should always strive to create the best production quality.
Once you've figured it out, you don't need to think about it again. Simply set up in the same place with the same equipment and you're good to go, every time.
Related Questions
How Many Mics do you need for a Podcast?
The number of mics required largely depends on the number of people who make up your show. Where possible, you should always try to mic up each person individually. This will produce the best audio quality and if you record them all on separate tracks, it will give you much more flexibility in post-production.
It is possible to all huddle around a single microphone but it's not ideal. If this is what you intend to do, maybe to begin with until you have the budget for additional microphones, choose a mic with an omnidirectional pickup pattern which will ensure sound is picked up equally from any direction.
How Close Should a Microphone be to Your Mouth?
For voice work such as podcasting, you'll likely have a microphone which has a cardioid polar pattern. With this pattern, a concept exists known as the proximity effect.
To put it simply, the proximity effect means that as you move closer to the microphone, the low-end frequencies are more pronounced which gives the voice more bass and depth.
The closer you are to the mic, the louder your voice is too which means that relatively speaking, any unwanted noise in the background becomes quieter which can help you when you come to edit your show.
However, being too close to the microphone can introduce excessive plosives and other noises from the mouth. Experiment with your mic and record a sample at different distances to see which sound you like the best. You could start from around 12" away and finish at around 6" which is a good range to test in.