Affiliate Disclosure: The Seasoned Podcaster is supported by its readers. As an Amazon Associate we earn from qualifying purchases when you use one of our links. Please assume all links on this page are affiliate links. Your support is hugely appreciated.
One of the best things in a podcaster's arsenal is a digital recorder. Having something that fits into your pocket that can be brought out at any moment is vital to taking advantage of any opportunities that come your way.
If you're doing multiple interviews in one day or at an event, sometimes it isn't practical to take a computer and multiple mics from place to place, and even if you did the practice of setting it up and packing it down every time would no doubt take the wind out of your and your guest's sails.
As a podcaster, investing in a digital recorder is one of the best things you can do. Even if just sits at the bottom of your bag, waiting for that perfect spontaneous moment, it's an easy way to always be prepared. They're also versatile; they can be a quick and efficient way to get good quality sound for recording videos, whether you're just filming on your phone or with high-quality cameras which have less-than-impressive in-built mics, you can use digital field recorders to capturing ambient noises or in many cases use as a perfect pocket multi-track recorder for live music. 
They don't have to exclusively be used on location either. Take a feed out of your computer and into a digital recorder and you all of a sudden have a powerful remote interview setup and depending on the unit you choose, have a backup option too.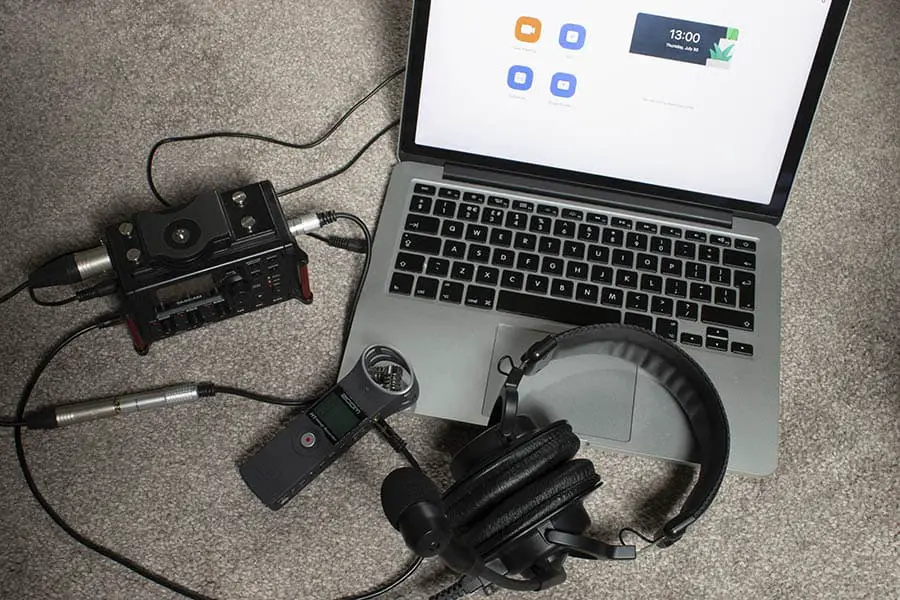 From the budget options to the high range there are varied features and specs that you need to consider when getting yours, and in this article, I'm going to give you a rundown of which ones we think are best for each budget and use.
How Many Inputs do you Need?
When buying a digital recorder, you may be overwhelmed by the amount of information given to you. Many manufacturers boast multiple inputs of different kinds, but what you really need to consider is – what are you using this for? and What might you use it for?
Future-proofing when buying is important. Are you wanting something quick and easy with only one channel to worry about? Great. But if you're hoping to use this as your main device it's worth looking into spending a little more to get more inputs, especially if you're hoping to record using multiple external microphones for extra guests or recording separate instruments.
It's worth noting that some of the recorders we have here have different input abilities. For example, the budget options often don't have XLR inputs, only 1/8" jack, which can mean you either need an XLR to 1/8" jack cable or a connector, not a massive issue, but less than ideal. Some of the options in the top range have up to 8 inputs or more, becoming more or less a portable mixing desk.
Must-Have Features of a Digital Recorder
Durability – Obviously the idea of a portable digital recorder is it is something that you can use wherever you need it. Depending on what you're doing, this could be outside in different weather conditions or inside with different conditions than you're used to.  Whatever it is, it's good to make sure that what you've got is sturdy and can take a few knocks if things don't go as planned. You don't want to be distracted by worrying about your equipment when you're recording your podcast.
Battery life – Battery life is vital, although a lot of your recording locations might have the ability to provide power, knowing that you don't need to do that makes life much easier. It eliminates a potential worry and also allows for recording on the move. What you don't need is for that battery to run out mid-podcast, ruining the flow of an interview and potentially ruining the whole production.
Low Cut Filter – This is a feature that is incredibly helpful when recording with a lot of background noise, whether that's the low hum of people talking in a bar or the noise of the wind outside, the low-cut filter removes low frequencies from the recording that aren't needed.
Supports recording in WAV – You want to record at the highest quality you can to make it easier to mix and easier on the ears. WAV files are compatible with practically everything.
Nice to Have Features
XLR inputs – Most microphones work with an XLR connection so having this on your device means that you can use external microphones to record instead of the one built into the recorder. This gives you multiple options and flexibility on the go. The more inputs it has the more tracks you'll be able to record.
Phantom Power – If you intend to use one or more condenser mics in combination with your recorder, you'll need phantom power. Phantom power powers the mic (unlike dynamic microphones such as an SM58 which are passive) from the digital recorder through the XLR cable. Without it, you're not getting a signal.
Audio Interface – Being able to double up your device as an audio interface for your DAW is a really handy feature to have. If you want to be able to record podcasts remotely using Skype or Zoom this really helps the process. If you happen to be in a controlled scenario, like your home, this can cut out the middle man too, rather than recording onto your device and then moving it to the computer to mix, you can record directly into your DAW and mix on the go from there.
On-board mixing options –Having onboard inbuilt effects such as compression, EQ and reverb will save you time later.
So, let's have a look at a few of our top picks, starting with our favorites.
The Best Overall – Zoom H8
There's a reason Zoom recorders are a reoccurring theme in this article, and that's because they're really, really good, and the Zoom H8 is probably the best of them. It has everything you need in a package that looks like it should be straight out of an Alien film.
The H8 has 6 XLR inputs, two of which can also be used as 1/4″ jack inputs, and each can have phantom power sent them individually. The H8 can record up to 12 channels at once and can do this by adding extra inputs via the changeable capsule. The default capsule is a very good x-y mic, but zoom offers an array of different options to suit your needs.
One of the H8's coolest features is a 6 second pre-record which you can turn on or off. It means that if you're a little late pressing the record button it actually records from 6 seconds before you pressed the button. In an interview situation, this could be hugely valuable.
It has 3 apps that cater your onboard interface to what you're doing, they're 'Field', 'Podcasting', and 'Music', each is slightly geared more to what you might need when embarking on that project. It also has a dedicated app (although currently only available for iOS) so that you can adjust levels and inputs from a distance, which is incredibly handy if you're recording multiple different things at the same time. It can be used as an interface for your chosen DAW and has a line out so that you can plug it directly into your camera (as well as being able to easily attach to most cameras and tripods).
For its versatility and the incredible number of features, there's very little else you'd need from a digital portable recorder. We think this is easily the very best out there, and even more so for the price.
Click here to see the latest price on Amazon.
| | |
| --- | --- |
| Inputs | 4 XLR, 2 XLR/Jack Combo |
| Battery Life | 'up to' 20 hours |
| Phantom Power | Phantom power for four main XLR inputs: +12/+24/+48V |
| Weight | 354g |
Runner Up – Tascam DR60Dii
This is Tascam's 2nd version of their DR60D, a 2 XLR, 1 1/4" input digital recorder. The way it's designed and marketed is as a perfect digital recorder for filming, sitting nicely in between your tripod and your camera. Although this is perfect for doing that job, that's not all it's for.
The major change Tascam boast with this upgrade from their last model is their pre-amps, which now provide 64dB of gain and very low noise levels, perfect if you have any particularly quiet mics. It has a black and white LCD screen which is simple to use and features such as a decent limiter for stopping the mics clip with any unexpected loud noises. Like the H8 it has a line out, again, ideal for use with a camera.
One of the major downsides found with this model is the battery life. Tascam advertises it as 4.5 hours, but most users have reported considerably less, meaning you can eat up batteries pretty quickly. You can overcome this quite easily by using a USB power bank. This extends battery life considerably and has been a favored method of Editor Will for some time. In the image below you can see how he's used velcro pads to keep it attached – bless!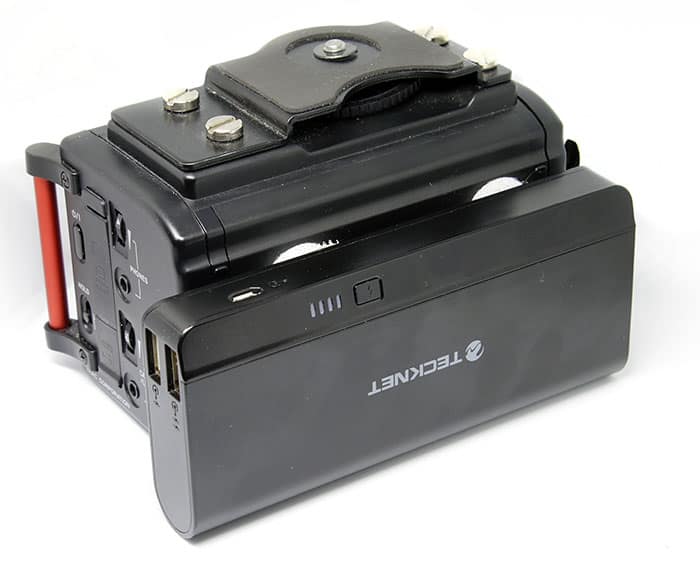 Despite the battery life when using standard AA batteries, for the money it's incredibly competitive, and compared to Zoom's comparable offerings at the same price it offers a whole lot more.
Click here to see the latest price on Amazon.
| | |
| --- | --- |
| Inputs | 2 XLR, 2 ¼" Jack |
| Battery Life | Less than 4.5 hours |
| Phantom Power | Both inputs |
| Weight | 510g |
Best Budget Choice – Zoom H1n
Our budget choice is the Zoom H1n. It's well, known-well tried, durable and reliable. All things you want from a digital recorder.
It has understandably limited capabilities, one of them being it does not have an XLR input nor a ¼" Jack input, it does however have a 3.5mm line-in, which although isn't a great replacement, is something. But if you're using it for simple things, really, you can't go wrong.
The H1n uses two AA batteries and lasts for 10+ hours. It records to a micro-SD card, can record WAV, and has the ability to add markers to recordings so that you can mark when certain topics or noises happen. It has a limiter built in too – nice.
Similar to the much more expensive H8 model it has a pre-record feature, and although only 2 seconds, it's something that you wouldn't usually expect on a device this affordable. 
The H1n can be used for lots of scenarios, I personally think it shines the most when used as something to have in your bag at all times so that you're never caught short. If you're somebody who has a higher-end model this could also be perfect as a backup recorder.
Its X-Y microphones are very good for the money and it gets very clear and crisp recordings, although many users find that you get a lot of noise from holding the microphone, so maybe this is best when it's stationary or on a stand.
If you're looking for a cost-effective, easy to use digital recorder, I think this is a no brainer.
Click here to see the latest price on Amazon.
| | |
| --- | --- |
| Inputs | 1/8″ stereo phone jack |
| Battery Life | 10 hours |
| Phantom Power | No |
| Weight | 60g |
So, those are my top picks but if one of these doesn't quite fit the bill, read on to learn about some other great options on the market. They've been categorized by the number of inputs as this is what's going to help you narrow down your choice the most.
Best Single Input Digital Recorders
Tascam DR-07x
The DR-07x is Tascam's H1n competitor. What makes this stand out is that it can be used as an audio interface straight into your DAW on your computer and, like later models in the series, you can move the x-y microphones on top to an a-b configuration for getting a wider recording range.
It also has an impressive 15.5-hour battery life, which is nice and reassuring if you're using it to record long-form podcasts.
Some users have reported issues of interference from mobile phones when recording outside though, which is a pretty major downside if you're planning on taking it out and about or using it to record audio for video. Worth keeping in mind when weighing up your options.
| | |
| --- | --- |
| Inputs | 1/8″ (3.5mm) stereo mini-jack, Unbalanced |
| Battery Life | 15.5 hours |
| Phantom Power | No |
| Weight | 127g |
Click here to see the latest price on Amazon.
Olympus LS-P4
The only option in this list that's not made by Zoom or Tascam is the Olympus LS-P4. It boasts a whopping 39 hours of battery life, has 8gb internal memory, and supports microSD cards if you need more, and recording in FLAC if you really need it. It's a fair bit more expensive than the Zoom and the Tascam offerings in that range but does offer a lot for a digital recorder without an XLR input.
The LS-P4 is easy to use with top-range sound quality and a remote Android app if you need it and even has the option to be used as a Bluetooth music player.
Although all this does sound great, the price point means it's only slightly cheaper than a Zoom H4n Pro, which benefits greatly from having XLR inputs. If you're not wanting to use external mics, however, this is probably the best option out there for single input digital recorders. I would however be tempted to spend the extra few dollars just in case I wanted to do other things later down the line. 
| | |
| --- | --- |
| Inputs | 1/8" (3.5mm) mini‑jack |
| Battery Life | 39 hours |
| Phantom Power | No |
| Weight | 77g |
Click here to see the latest price on Amazon.
Best 2 XLR Input Digital Recorders
ZOOM H4N PRO
The Zoom H4N Pro is a perfect mid-range digital recorder – it's much sturdier than the H1n as it features a reassuring rubber case surrounding the bulk of the device. Both of the inputs are XLR/Jack combo inputs, and it has a separate 1/8" jack input too.
Zoom has aimed this recorder mostly at musicians and so there are 50+ built-in effects for vocals and guitars as well as a range of reverbs, compressors, and more.
It has the ability to record 4 channels at once and has a great set of low-noise preamps. Using the H4n with phantom power enabled you can expect nearly 6 hours of battery life, so not loads but with a third-party battery pack as a backup, you're unlikely to need much more.
The Pro version featured here is the latest version of this recorder. We have however written about the original model on the site before which might be worth a read if you're considering adding one of these to your gear list. See Zoom H4n Settings for Interviews – a Podcaster's Guide for more information about how it can be used for podcasting.
| | |
| --- | --- |
| Inputs | Two mic/line level inputs with XLR/TRS combo connectors + Stereo 1/8″ Mic |
| Battery Life | 6 Hours |
| Phantom Power | +24 or +48V phantom power for main inputs |
| Weight | 294g |
Click here to see the latest price on Amazon.
Tascam DR40X
The direct competition to the H4N Pro is the Tascam DR40X, although the Tascam focuses less on musicians and more on being an all-round portable recorder. Like the H4N it has 2 XLR/TRS combo inputs and the ability to record 4 channels at once. Between the two, the general consensus many find is that the DR40X's preamps have a quieter noise floor, meaning the actual device has less noise when recording, but in reality, there's not much in it.
Another thing the DR40X has over the H4N Pro is the inbuilt x-y mics which can be adjusted much easier and further apart, to a a-b setting; great for recording big rooms. The Tascam's battery life is also much better than the H4N. 16 hours compared to 6, that's a big jump and means you have to worry less about your recorder dying half-way through an interview.
For these reasons and the small difference in price, I think the DR40X wins out of the two for mid-level 2 XLR input digital recorders.
| | |
| --- | --- |
| Inputs | Two mic/line level inputs with XLR/TRS combo connectors |
| Battery Life | 16 Hours |
| Phantom Power | 48V phantom power for both inputs |
| Weight | 213g |
Click here to see the latest price on Amazon.
Best Digital Recorder with Four or more XLR Inputs
Zoom Podtrak P4
The Podtrak P4, as its name suggest was made specifically for podcasting, and so works as almost a mini mixing desk. Unlike other digital recorders, it has 4 XLR inputs and headphone outputs for each with independent volume controls and phantom power, perfect for recording a podcast with multiple guests or hosts anywhere you need to do it.
It can also be used as a 2 in 2 out interface for recording into your chosen DAW on a computer or tablet. It's made out of plastic so doesn't feel too sturdy, but with this much going on, and at a relatively modest price point, that's a small problem in the scheme of things.
There are 2 x USBC inputs, one dedicated to power so the other can hook up to whatever you want to connect it to and there is also the option to power it using 2 x AA batteries that can last up to 4 hours.
As it's designed specifically for podcasting, it features an in-built mix-minus function as well as sound pads for those jingles. You can connect a phone to it via the smartphone connection jack or with the use of the optional BTA-2 wireless adapter, you can connect via Bluetooth. Very impressive.
A huge plus point is that you can record all 4 inputs to separate tracks which gives maximum flexibility in post-production.
For podcasting, and podcasting specifically, I think this is a great choice. Where it falls down is its lack of versatility, and although it is possible to use this for other means other than podcasting, compared to many others on the market, it's just not designed for that. Another drawback is the lack of options for recording a backup – there isn't any sort of line out to plugin to a second recorder. Such a shame as for the podcaster, that's a big thing. The price, however, can't be beaten considering the features you do get.
| | |
| --- | --- |
| Inputs | 4 XLR inputs |
| Battery Life | 4 Hours |
| Phantom Power | All XLR inputs |
| Weight | 290g |
Click here to see the latest price on Amazon.
Tascam DR70D
Tascam's DR70D is specifically aimed towards recording sound for film, and so its design and shape all are geared towards fitting snugly in between the tripod and the camera (or even sitting slightly ungainly on top of the camera). It has 4 x XLR/TRS inputs as well as a 1/8" jack input and a tough alloy body. Compared to H6's flashy design, the DR70D is far more to-the-point and designed for doing its job and doing its job well.
Its battery life isn't great at 3-4 Hours, but like other Tascam's in this list, you could easily hook it up to a battery pack to solve this issue. It is a little frustrating when you're spending this much money though, and compared to Zoom's similar models it really does pale in comparison. 
| | |
| --- | --- |
| Inputs | 4 XLR/TRS input, 1 3.5mm Input |
| Battery Life | 3-4 Hours |
| Phantom Power | 4 XLR inputs |
| Weight | 530g |
Click here to see the latest price on Amazon.
Zoom H6
The Zoom H6 is the little brother to the H8. It has 4XLR/TRS inputs and has the ability to attach an extra console on the top which replaces the x-y mics for 2 extra inputs. If you do choose to add on this extra capsule it's worth knowing that these extra inputs don't have phantom power, however, unlike the 4 that come inbuilt with the device.
It can record 6 separate channels simultaneously and has gain knobs for each channel. It can also be used as a 6in/2out interface for your DAW and it is compact, easy to use, and aesthetically pleasing.
The H6 is incredibly versatile and durable, but it is slightly let down by a small and therefore fiddly menu screen, with certain features becoming hard to reach, hidden in the menus. In reality that is a small price to pay though for such a well-equipped recorder and is by no means unique to this model.
| | |
| --- | --- |
| Inputs | 4 XLR/TRS Inputs |
| Battery Life | 20 Hours |
| Phantom Power | All main inputs: +12/+24/+48V |
| Weight | 280g |
Click here to see the latest price on Amazon.
Conclusion
When it comes down to it there are really only two names in Digital Field Recorders and those are Zoom and Tascam; each excelling in different ways up and down the price ladder.
Although there are many options out there available, you'll struggle to go too far wrong when looking for something to help you up your game or get started in podcasting.
The most important thing is to know your budget and to know what you need it for and hopefully, this roundup will help you find the digital field recorder that fits your needs perfectly. Just don't be afraid to spend a little extra if it means it will future proof you in the long run.