Affiliate Disclosure: The Seasoned Podcaster is supported by its readers. As an Amazon Associate we earn from qualifying purchases when you use one of our links. Please assume all links on this page are affiliate links. Your support is hugely appreciated.
Shure's SM7B microphone is a staple within the podcast community. Derived almost exactly from its predecessor, the SM7 – used by Quincy on Michael Jackson's Thriller! – the SM7B hosts modern electromagnetic innards that provide pristine, professional-grade captures for today's audio enthusiasts.  
Initially designed as a broadcast microphone, the SM7B also provides integrated, interchangeable wind-shielding. You can essentially use this microphone without a supplementary pop filter, and harsh syllables will have no ill-effect on your recording.
As if that's not enough, the SM7B also boasts internal shock-mounting, so there is no technical requirement for external suspension when securing the mic onto its stand. If you'd rather take extra precautions, there will be no problem finding a mount to suit both the SM7B and your recording needs.    
Choosing a mic placement has also never been easier, as the XLR connection point is located on the chassis and not the mic itself. This means that, no matter how you decide to angle the SM7B, there is no risk of the cable hindering your setup process – and it makes cable management much more satisfying.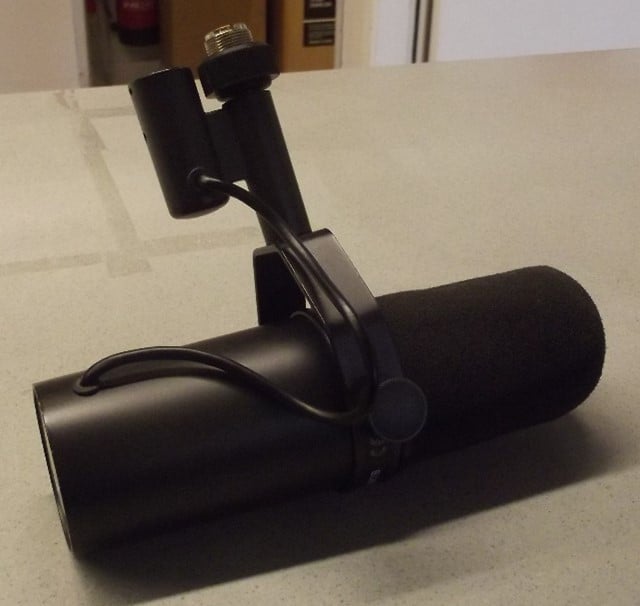 Like many of Shure's dynamic vocal microphones, the SM7B's cardioid polarity pattern ensures that sound is captured from the front while noise is rejected from the sides and rear. Perfect specs for a podcaster! Frequency-shaping switches are also accessible on the mic itself, allowing you to further modify the response of the SM7B before any signal has hit its diaphragm – incredible!
A quick online search of the SM7B will show a plethora of comparative review posts and lists that include the SM7B as a benchmark item; a must-have piece of tech, recommended by professionals throughout the industry. But, be mindful. As Stan Lee once wrote: "with great power comes great responsibility". The responsibility here landing on you, the podcaster extraordinaire, to ensure that your setup includes features that will truly get the best performance out of your SM7B.    
So where to start?
Prepare for Preamping
The SM7B needs at least 60dB of input gain to reach a decent output level. As podcasts only tend to deal with speech and the dynamic range is limited, you could get away with going without. But beware: you may run into some problems with a low input signal and amplified background noise as you compensate with increased gain, and complicated editing processes while rectifying poor audio capture in post.
Instead, providing that little extra boost of available signal reduces noise that may permeate through when cranking gain pots to the max. In short, preamplification is necessary if you're committed to the SM7B. But it'll all be worth it. I promise.
Where to Source Pre-amplification?
While most interfaces provide inputs with built-in preamplification, these may not be sufficient enough to satisfy the SM7B's appetite. Audient's ID22 or Focusrite's Scarlett 2i2 integrated preamps, for example, can provide up to 60dB of gain, meaning they could just about cope with no problems. However, breaching the threshold of any device's capability can elevate levels of unwanted distortion coming through your headphones.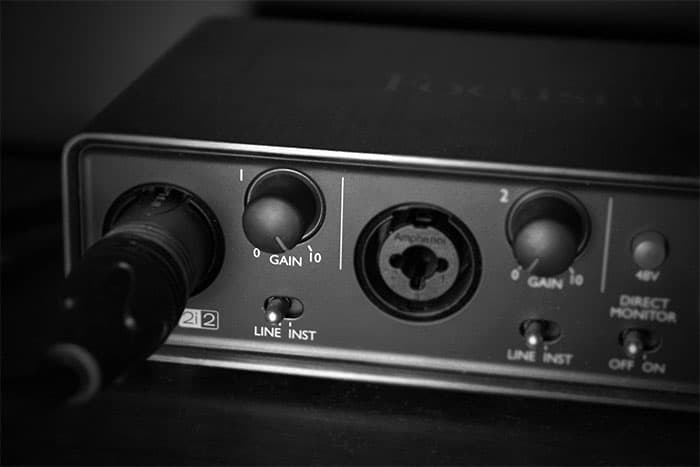 Pumping the gain beyond the preamp's "sweet spot" ultimately alters the signal-to-noise ratio alongside it, meaning that an elevated wanted signal will always be followed by an increase in unwanted noise. In these cases, external sources of preamplification are paramount to attain absolute clarity in your SM7B recordings.
Preamp Combos
There is no "right way" to source preamplification. In fact, there are many approaches you may want to consider when combatting those weak waves. In-line activators, for instance, can be a cheap alternative to finding a specialized, high-gain preamp. There are many different models, but they all serve the same purpose – to sit discreetly in your signal chain and provide an extra helping of headroom for you to work with.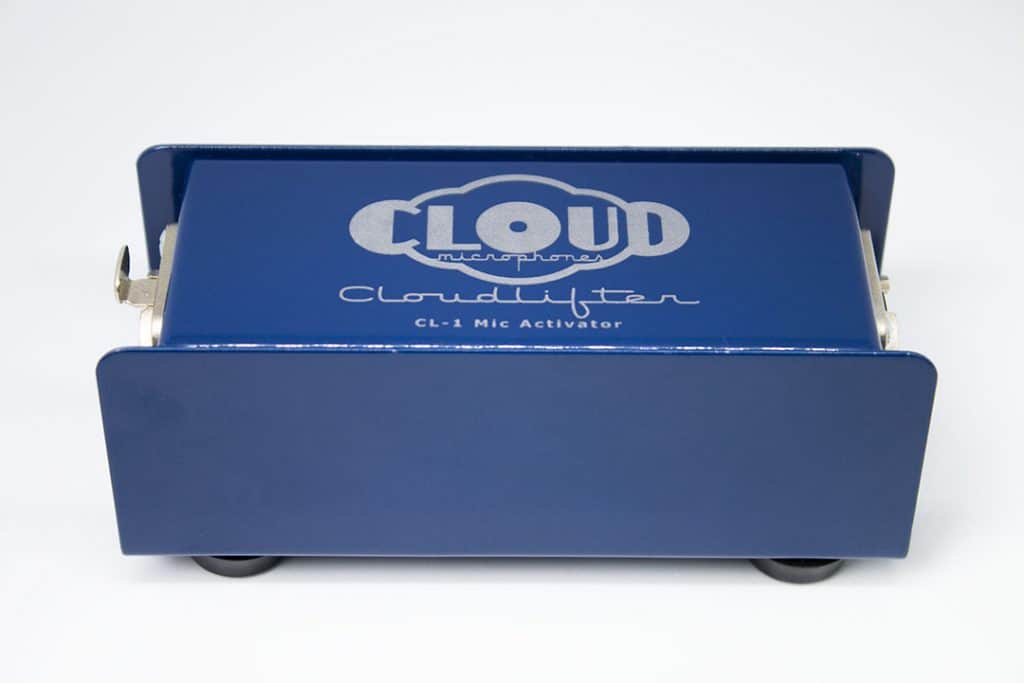 They do this by exploiting the unused phantom power on your interface to boost active signals within passive devices. As the SM7B is a passive microphone and does not require additional power to operate, the 48 volts are routed outward. Not only does this mean you won't have to shop for a new interface, but it could also be the only modification you need!
External Options
If you're still finding yourself wanting more punch or clarity, there's an abundance of external preamps available for you to experiment with. These tend to be larger, rack-mountable units with modifiable parameters and generally more decibels.
I'll do my best with laying down the best partners to the SM7B in the review below, and you'll hopefully leave this post with a bit more of an understanding of today's market. I'll include external and in-line options in all three categories so you can customize your choices to suit your budget.
It's worth noting that there are tube preamps available that provide warm, harmonic tones to recordings. While this may be desirable, I've disregarded these in the listings and opted to only include solid-state preamps. While tube preamps are perfectly reputable pieces of equipment, the decision was made simply to limit the number of entries within this post. Don't be afraid to experiment! It's a creative process, and your intuition is crucial.     
Best under $100
TritonAudio FetHead (in-line)
TritonAudio's FetHeadin-line activator is a low-cost source of immediate preamplification. This small piece of tech can be found in many comparative lists, packing 27dB into a tiny, convenient chassis. Despite its budget-friendly price tag, the Fethead is often toe-to-toe with devices boasting larger retail figures.
With a frequency response of 10Hz – 100kHz, the FetHead is designed to capture a clean signal with detail. Installation is simple too, as it snaps between the SM7B and XLR without disrupting your cable runs. For the price, you'll struggle to find another device that suits both project and pocket like this one.
sE Electronics DM1 Dynamite (In-line)
Sitting at a slightly higher price point than the FetHead is SE Electronic's DM1 Dynamite activator. This small cylinder stuffs 28dB of additional gain into its compact frame, sitting snugly into your runs like the Fethead. It's highly unlikely you'll misplace this one, too, as its striking red exterior is hard to overlook.
sE Electronics claims the DM1 produces "nearly half the noise of anything else on the market", which is quite the statement but the consensus is that it does deliver the goods. The Dynamite truly boasts a modest noise-floor, meaning the audible level of interference beneath the desired signal is significantly reduced in comparison to competitive devices.
The DM1 responds to frequencies between 10Hz and 120kHz, just about topping the FetHead's sensitivity. Combining these specs with the DM1's compact design and "vastly low impedance", sE Electronics claims to have developed a convenient means of achieving a crisp signal boost and open, professional captures – all for under $100!
IMG Stageline MPA-102 (External)
The first external unit on this list is IMG Stageline's MPA-102, a single-channel preamp that provides up to 70dB of gain. Not only a huge jump from the in-line figures, but the amplification is modifiable here too. Housed in a self-contained unit, the MPA-102 gives you the ability to alter an array of parameters via buttons and dials located on its faceplate.
Available gain begins at 20dB and can be adjusted at increments of five to up to 70dB, allowing you to fine-tune power flowing into the signal chain. The MPA-102 not only looks somewhat like a mini interface, but it's also capable of providing a small dose of phantom power (up to 24v) whenever necessary. The level and pan pots mean you can mix the mic signal ad hoc before it hits your stereo output.
The price point of the MPA-102 is similar to that of the FetHead and Dynamite making it a great value unit if you need that additional gain to what a mic activator can provide. Though a little chunkier than the previous entries, if you have space, this might not be an issue for you.
Read more about the MPS-102 here on IMG's website.
Alice Mic-Amp-Pak (External)
Alice's Mic-Amp-Paks have been mentioned on this blog before and for good reason! Both the single and dual versions (1 and 2 inputs, respectively) are renowned for providing exceptional quality at affordable prices. Gain can be adjusted from 35dB to 75dB, and a full 48v of phantom power can be transferred at will – on both models.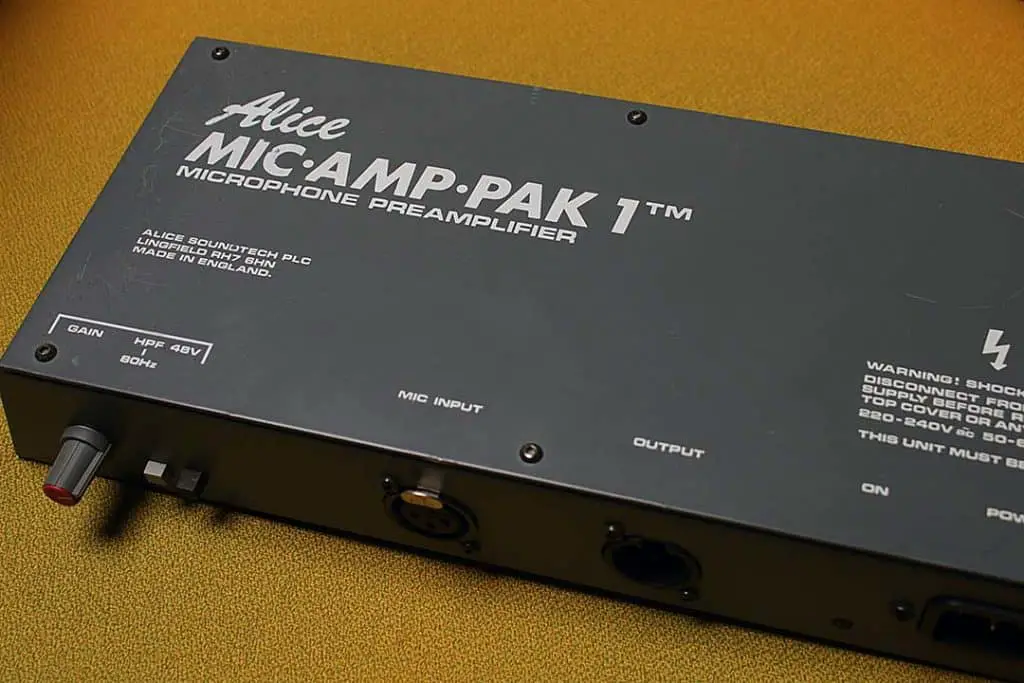 Considered an "ultra-low noise" preamp, the Paks also offer an 80Hz HPF activator switch to really eliminate those bass-y background hums. Adding this to the 20Hz – 20kHz response of the Amp-Paks makes for reliable, precise pieces of tech.
If you think the Alice might be for you, eBay is a good place to start as used models can represent great value for money (if you can get hold of one).
Best under $250
Cloudlifter CL-1 (in-line)
There's no doubt Cloudlifter activators will crop up many times during your preamp search. Recognized for their compatibility with the SM7B, both the Cloudlifter CL-1 and CL-2 models are often considered the benchmark for professional, pocket-friendly preamping solutions.
The CL-1 is discreet, featuring only one input so your cable management is barely affected. Not only that, but the manufacturer claims the preamp's noise floor is too low to measure! A strikingly bold claim, but we've been playing with a Cloudlifter quite a lot recently and have found the gain to be very clean so we believe the claim to be justified.
Designed and built in the US, the Cloudlifter doesn't only perform brilliantly but is built so well that it feels like it will last for years!
Golden Age Project Pre-73 Jr. (external)
Finding an external unit best suited to the SM7B in this price band was tough, I'll be honest. But, upon discovering this entry's big brother (more on this later), the Pre-73 Jr. from Golden Age Project (GAP) seemed to fit the bill perfectly.
Providing adjustable gain up to 70dB, the Pre-73 Jr. is more than capable of supplying enough boost to your SM7B. There are several combined XLR/TRS connections, alongside an insert jack, DI input, and grounding switch. You're also able to invert phase and inject 48v of phantom power with the press of a button.
Best under $500
Cloudlifter CL-4 (rack in-line)
Another Cloudlifter? Yes! The CL-4 is essentially a rack-mounted version of the previous entries, offering four channels with 25dB of available gain each. I'm pretty sure this is the widest unit on this list, but it still operates as an in-line activator. Much like its younger siblings, the CL-4 does not provide any means of parameter modification. What you hear is what you get!
Don't let this put you off, though. If you happen to have guests or multiple hosts on your podcasts, pairing the CL-4 with your interface preamp is guaranteed to provide each line with a clean, boosted signal without any issue. You're definitely getting quality but, at this price point, you may want to consider splitting the bill!
Golden Age Project Pre-73 MKIII (external)
Looking familiar? GAP's Pre-73 MKIII is the latest version of the Pre-73 series, weighing around 1kg more than the Jr.
Packing in the same features as the Jr., the MKIII also boasts 2-position HPF and Air EQ toggles, with switchable impedance settings added alongside the DI and 48v buttons. Providing up to 80dB of gain, the Pre-73 is more than capable of helping you achieve perfect clarity within your SM7B captures.
It's low-noise and super crisp sound has helped this preamp become a firm favorite with audio enthusiasts and would be a great choice for anyone who's able to stretch their budget a little.
dbx 580 Compact Preamp (external module)
I thought I'd finish off this review with an entry unrelated to any of the family-trees we've established so far. Dbx's compact 580 preamp looks a little different from the rest of this list, in that it is a modular piece of tech. It is noticeably smaller and must be installed into a container capable of holding its reduced frame and meeting its power requirements (often called a lunchbox)  
While this may seem an unnecessary expense, "500 series" is a phrase used throughout the industry to describe this modular format– the size is not exclusive to dbx! Investing in one of these chassis grants you immediate space for any more compact devices you may wish to try, no matter the brand – all bundled into one portable case.
Despite its small stature, the 580 packs 60dB of gain into its circuitry alongside a full 48v of phantom power. Level monitoring is provided by a VU meter, the most analogue-esque element to feature so far. If that's not enough to catch your eye, dbx has also provided variable parameters for both high and low EQ detailing, plus a low-cut filter with its own dedicated gain pot. Not only does this allow you to fine-tune your SM7B signal, but you can also modify settings to suit your vocal characteristics on-the-fly.
The dbx580 is an excellent investment for those seeking compact, modular, detailed, professional preamping. The price point may also surprise you…
Conclusion
Like everything audio, the end result is up to your subjective ear. Keep within your budget, but experiment where you can. Hopefully, you can use this roundup as a guide for you and your SM7B to discover the best approach together. I wish you two all the best.