Affiliate Disclosure: The Seasoned Podcaster is supported by its readers. As an Amazon Associate we earn from qualifying purchases when you use one of our links. Please assume all links on this page are affiliate links. Your support is hugely appreciated.
If you're serious about podcasting, it's time to get serious about your gear – starting with your microphone. Audio quality is how well an original sound is reproduced to a listener and your mic takes the lead role in ensuring the sound is captured accurately.
It's so important to get good audio quality for your podcast as it will make a huge difference in who sticks around to listen.
You should monitor your recording at every step of its journey from your mouth to the audience. A good mic is worth the investment to get the first step right.
There are 100s of mics to choose from, making the process a little complicated, however, this article will hopefully steer you in the right direction and help you make the best decision for your podcast.  
Generally, spending more means higher quality but as with lots of audio equipment – there is a point of diminishing returns. We think, for a starter microphone, spending less than $100 can still get you a professional sound without breaking the bank.
If you're in a rush, here are our winners of both the best dynamic XLR and best condenser XLR at this price point. If you want to know more about each mic, why we chose them, and some of our other favorites, keep reading.
Model
Blue Microphones enCORE 100i Microphone, Cardioid
Audio-Technica AT2020 Cardioid Condenser Studio XLR Microphone, Ideal for Project/Home Studio Applications,Black
Why we picked it
The sound quality at this price point is excellent and comparable to higher cost models
Great frequency response and high dynamic range
Model
Blue Microphones enCORE 100i Microphone, Cardioid
Why we picked it
The sound quality at this price point is excellent and comparable to higher cost models
Model
Audio-Technica AT2020 Cardioid Condenser Studio XLR Microphone, Ideal for Project/Home Studio Applications,Black
Why we picked it
Great frequency response and high dynamic range
Why Choose an XLR Mic?
Choosing the right microphone for you starts with deciding on the type. One of the first decisions to face is simply how you'll connect the microphone to the rest of your setup. You've got a couple of options including the popular USB method or the more professional XLR connection.
There are pros and cons for both with the main pro for USB mics being their simplicity – if you're happy to do a bit of extra research and learning however the XLR's are well worth it.
An XLR connection sends a balanced audio signal, one benefit of this is avoiding ground loops which can occur when the audio signal is forced to take different paths to the amplifier – ground loops can be heard as a low hum or a static hissing.
Another benefit is noise isolation, achieved by making a copy of the audio signal and inverting it so that any noise is canceled out.  
Ultimately, an XLR will usually provide audibly higher quality and lead to fewer issues in editing, you'll also have more control over the sound to get it just right.
You'll require some sort of interface for your XLR mic. Whilst your initial investment might be higher than outright buying a plug and play USB mic, XLR mics allow for continuous upgrading of individual parts of your setup – saving money over time.
Some articles suggest you start with a USB and move onto an XLR but why waste the money when you could start learning now. When it's time to upgrade, you'll have the option to upgrade either the mixer or mic allowing you to keep the other. When upgrading from a USB, you'll have to throw the whole thing out and start fresh.
Another downside to USB mics is that they're often hard to record multiple to one device, if you're recording your guests separately, you may face syncing issues which could confuse or annoy your audience and lower your overall podcast quality.
To read more about the pros and cons of each, see our article USB Mic vs XLR – The Differences Explained.
Best XLR Dynamic Mic Under $100: Blue Encore 100i
With popularity rising amongst podcasters, Shure's classic SM57 has finally gained a strong competitor with similar audio quality at a lower price. 
This robust mic makes use of a tight cardioid polar pattern to help reduce off-axis noise lowering spill from other mics and any troublesome background noise whilst still capturing a characterful sound. 
Resulting recordings have an incredible warmth with no harsh high frequencies – possibly comparable to recordings from higher range microphones – providing you with excellent value for money. 
Click here to see the latest price on Amazon.
Best XLR Condenser Mic Under $100: Audio Technica AT2020
I never stop praising Audio Technica gear and today is no different. Condenser mics can be difficult to find for less than $100 but the AT2020 is the perfect example of budget done right!
Audio Technica has come up with a simple, no-frills microphone providing studio-quality recordings at an affordable price. Better yet – it's pretty much perfectly designed for vocals!
For its price, this mic excels in every aspect providing superior performance to other budget mics on the market. The mic is characterized by its high SPL handling with a 144dB rating and its unmatched versatility.  
The low-mass diaphragm has been beautifully engineered to provide an extended frequency response of 20hz-20khz along with a wide dynamic range and a remarkable transient response giving an incredibly transparent, accurate recording.
Another bonus for podcasters is the cardioid polar pattern which allows more targeted and isolated recording with reduced noise coming in from the back and sides.
Durability has been heavily considered. Despite being a condenser, the AT2020 is also pretty sturdy utilizing a heavyweight wire mesh grill to keep the inner capsule safe from any accidental bumps or knocks.
Click here to see the latest price on Amazon.
Choosing Dynamic or Condenser 
Just a quick one to help you look out for the right microphone for you. 
Whilst either a condenser or dynamic could be utilized to record your podcast, some subtle variations make all the difference. 
Dynamic mics are generally cheaper but more robust and suitable for transport whilst condensers are characterized by their crisper, more precise sound. Condensers are usually the choice for recording vocals in a studio because of their higher sensitivity. A larger sensitivity allows the mic to capture more detail in the quieter and louder parts of a sound – particularly useful so your vocals don't disappear into the noise floor. 
The trade-off for condensers is that they're usually a little more expensive, a bit fragile and require external power (48v). 
For a more in-depth look at which might be right for you, see our article on dynamic vs condenser microphones.
Best of the Rest 
Shure SM58-LC
Type: Dynamic
The Shure SM58-LC deserves an honorable mention, once one of the most famous mics in the world, Shure provides reliability like no other. Whether you're just starting out or a seasoned podcaster, the SM58 is perfect for anyone on a bit of a budget wanting quality audio.
The SM58 features a 50hz – 15khz frequency response and carries an extra emphasis on the mids, a smooth high-end, and bass roll-off. Feedback is low whilst handling noise has been reduced by the internal shock mount giving overall excellent quality for the price.
You'll still need a pop shield, but plosives are minimal even without. The capsule is protected by a steel mesh grille making the mic super robust and durable. The SM58 can be purchased here at Amazon.
Neewer NW-700
Type: Condenser 
The Neewer NW-700 is the perfect starter microphone for those on a tight budget. Designed for podcasting, the mic comes in a bundle including a mounting clamp, arm stand, shock mount, mounting clips, and pop filter for quick, effortless setup without having to worry about buying each of these separately. 
The whole bundle is excellent value for money and seems to be pretty sturdy and fairly good quality – you'll struggle to buy all of this separately for anything close to the same price. 
The shock mount is lockable to keep the mic in place and reduce handling noise whilst the pop filter will reduce any hissing or sibilance that can often ruin vocal recordings. You'll also not want to miss this deal if you tend to travel a lot when recording your podcast as the arm is foldable and the whole set is convenient to carry around. 
Despite being a budget mic, the audio quality is surprisingly OK. The mic provides a rich, full-bodied sound with ample clarity. It also provides a cardioid polar pattern to minimize background noise and isolate your vocals.  
At such a cheap price the NW-700 isn't perfect, there's some background noise and hum but a noise gate or some carefully placed EQ would solve this and leave you with broadcastable quality. 
To read more about the NW-700 and to check the latest price, see Amazon's product page.
Sterling Audio ST51 
Type: Condenser
Highly recommended by experienced podcasters and beginners alike, the ST51 is defined by its large-diaphragm giving excellent quality, and incredibly clear vocals. Larger capsules can capture better vocal recordings due to their greater low-frequency response needed to bring out the richness and lower resonances of the voice.
Durability has been ensured as the solid aluminum build encapsulates a 1.25' brass capsule for added support and a mylar diaphragm with some gold coating for enhanced performance.
The whole build is fairly light and robust, ready to withstand any studio environment.
The simple design has allowed Sterling Audio to focus on the audio quality, clearly shown by some fairly impressive specs including; an extensive 20hz – 18khz frequency range, 32mV/Pa sensitivity, and a 134dB max SPL.
The sound is comparable to the AT2020, dry, and flat with warmth in the mids to add character to your vocals and extended bass response. Background noise is kept very low due to the cardioid polar pattern presenting a clean sound, full of clarity.
Click here for more information and to get the latest price on Amazon.
Samson Q2U
Type: Dynamic
The Samson Q2U is incredibly versatile, so much so, only half of it belongs on this list. As a USB and XLR mic, the Q2U acts as the perfect starter mic. Whilst XLR will always provide better audio quality, the USB connection ensures you'll always have a backup.
Better yet, the sound quality is comparable to the SM58 and comes at an even lower price. The Q2U offers accurate vocal reproduction, it carries an extended bass response but still holds some presence in the highs.
Another feature is its ability to reject off-axis noise using a cardioid polar pattern keeping background noise minimum.
The Q2U offers high durability with a solid wired grille to protect the capsule and internal shock mount. The build looks stable and many have reported on the extensive durability.
One issue that keeps popping up is some hum in the recording, whilst this can be removed using a noise gate or EQ, the noise is hardly there when using the XLR connector over the USB.
Generally speaking, this is an excellent vocal mic for an affordable price.
The Q2U can be purchased at Amazon.
Behringer Ultravoice XM8500
Type: Dynamic
Behringer absolutely wins the prize for the highest quality at the lowest price. XM8500 provides incredible quality comparable to the SM58 at half the price, a considerably wide frequency response, 150 ohms impedance, and built-in feedback suppression – you can't go wrong no matter your budget. 
The XM8500 is nothing fancy but it has been designed to make vocals sound good utilizing brightened mids for enhanced vocal clarity and a roll-off on the highs and lows. The frequency response runs from 15hz-15khz giving a truly transparent, clear sound with high intelligibility. 
Surprisingly, there's no hum saving you a lot of work in editing along with the built-in, 2-stage pop filter to smooth out any sibilance or mechanical noise and a built-in shock mount system reducing handling noise. Overall, you'll find very little noise in your final recording, unlike other mics at this price point. 
A couple of complaints come from the lack of an on/off switch however this might be a blessing in disguise. Unlike studio recording, in podcasting, you only get one chance to record. Accidentally forgetting to turn the mic on is an impossible task if it's always active, just remember to unplug it when you're done. 
This dependable mic is a perfect starter mic, especially if you're on a budget – you won't find better for this price! Like the other mics mentioned in this roundup, the XM8500 can be bought from Amazon.
MXL 990
Type: Condenser
MXL is a budget brand specializing in reliable, consistent products, and, in high demand on Amazon, the MXL 990 is no different. The 990 provides a clear, quality sound – highly recommended for entry-level podcasters on a budget. 
With a 30hz-20khz frequency range, the mic provides a transparent, neutral sound with the exception of a presence boost from 5-10hz. This presence allows vocals to cut through for added clarity. There's a lot of weight to the mids giving vocals warmth and presence. 
Some complaints come from the amount of noise the 990 puts out. This is down to self-noise and having a fairly loose cardioid polar pattern that allows unwanted room sound into the recording – the way to combat this is through close mic-ing, adding acoustic treatment in your room, or editing it out in post-production.  
The solid, substantial build provides durability beyond the cheaper MXL 770. The metal grille shields a ¾" gold-spluttered diaphragm. Unlike a lot of its competitors, the exterior looks good, inspired by classic ribbon mics. 
As well as the microphone, the set comes with a shock mount and pop shield making setup easy and editing stress-free. 
Click here to see the latest price on Amazon.
What Else Do You Need to Consider?
Before you start podcasting, there are a few extras you'll need to give your mic the best chance at sounding professional and clear. Buying a mic that includes a bundle such as the Neewer NW-700 is really helpful for beginners but won't provide as high audio quality as some of the others. 
The interface is the other investment worth making, it will have a large contribution to your audio quality and is necessary for an XLR mic to be connected to your setup. It also contains the pre-amplifier to make the microphone audible and an analog-to-digital converter to transfer your vocals over. 
A shock mount and stand are equally important to avoid handling noise by keeping the mic in place. Setting up a stand will give you less to think about whilst recording and will help to keep your distance from the mic consistent to avoid issues with level. 
Finally, a pop filter works to remove any hiss or sibilance from your voice which can produce loud artifacts in a recording.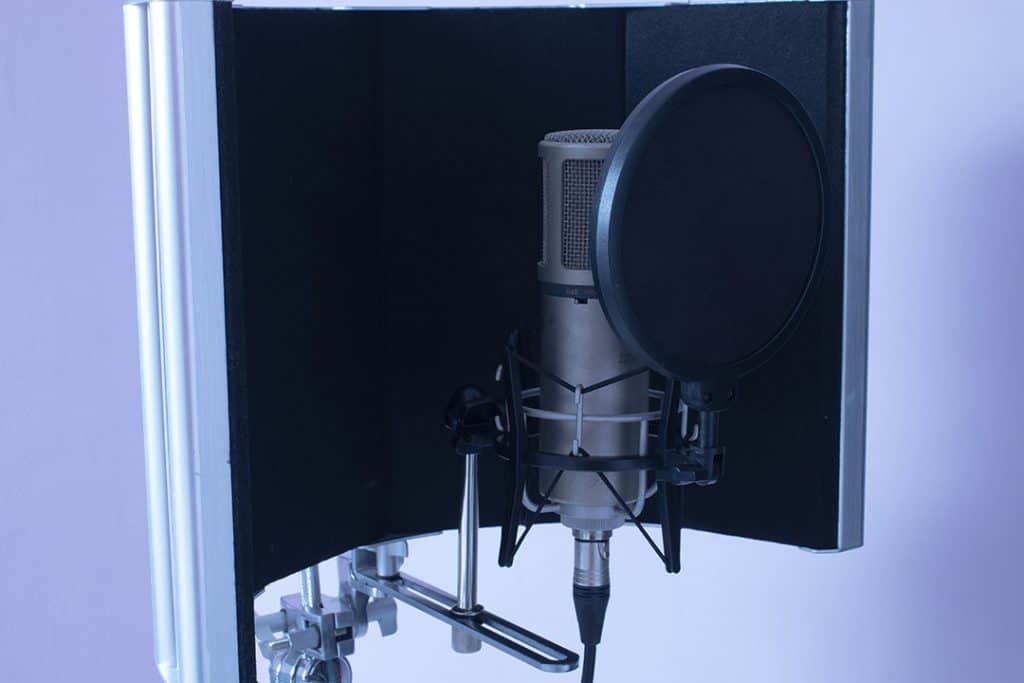 Your microphone is one of the biggest deciding factors in how your audio will turn out and every podcaster will have varying needs and requirements for recording. You need a microphone that handles vocals well whilst being durable enough to deal with guests that may have little mic handling experience.
The quality needs to be good enough to keep your listener's interest with clarity high enough for them to understand what's being said – people won't stick around if your podcast doesn't provide them with an easy listening experience and you'll find it difficult to build up a returning audience.
Finding the right one can be difficult, especially on a budget. Ultimately, for a studio-quality mic, you'll spend at least $100 especially when you include buying an interface so make sure you've done your research and spend wisely!