Affiliate Disclosure: The Seasoned Podcaster is supported by its readers. As an Amazon Associate we earn from qualifying purchases when you use one of our links. Please assume all links on this page are affiliate links. Your support is hugely appreciated.
When it comes to home recording, there is probably no interface on the market more popular or easier to use than the Focusrite Scarlet 2i2. At the time of writing, the current version is now in its 3rd iteration. It is sleek, sturdy, affordable, comes with great preamps, and most importantly, simple to use.
The Focusrite 2i2 has become a go-to among many podcasters and songwriters; unlike the cheaper 'solo' version it has 2 XLR inputs (ideal if recording multiple hosts, or one host + one guest) and a separate knob for monitoring and headphones.
The world of podcasting can be quite unpredictable, and whether you record your podcast mostly in the same location, out in the field, or as is becoming increasingly more common, remotely via Zoom or Squadcast, there are many challenges that you can encounter whilst capturing your chosen topic. Knowing your way around your equipment can help you overcome these challenges. In this article, I'm going to tell you how to set up and use your Focusrite Scarlett 2i2.
Why Setting Up Your Equipment Correctly is Important for Getting the Best Audio Quality for Your Podcast
There are so many podcasts out there now, you want to make sure yours is one that sounds good. Setting up your equipment correctly is incredibly important to make sure you get the best audio quality possible and will save you time and frustration further down the line. Being set up and prepared is vital – if your guest has only a limited availability you don't want to waste time faffing around with your levels when you could be easing your way into an interview. Having to re-record an interview because of a recording snafu can be embarrassing and is unlikely to be as natural sounding as the first time around.
If you have your interface already set up to your ideal settings, it can be more or less as simple as plug in and record, allowing you to add extra recordings at a later date; this could be an intro or outro or even something that you forgot to mention whilst you were mid-interview or mid-podcast. Having a consistent signal makes it easier to sound seamless between edits or additions, and again, will save you work in the long run. The more you become acquainted with your Focusrite, mic, and chosen DAW, setting up will become quicker and easier. Luckily the Focusrite is compact, easily portable, and easy to get your head around.
Setting Up Your Focusrite Scarlett 2i2
The Interface
Inputs/Outputs
The 2i2 is a 2 in 2 out interface. It has 2 balanced XLR/ inputs at the front that can also be used with a 1/4" Jack, and a left and right output at the back, with a monitor knob at the front working as a volume separate to the headphone monitor.
Make sure when you're recording that the light halo around the channel knob is always green, if it turns yellow, you're clipping. I usually test this by shouting or speaking as loudly as I think I will when recording and making sure that even when I'm loud, that light is still green. This way you know that you're not going get tripped up mid-recording by a particularly loud laugh or a cat pulling down a Christmas tree.
The 3rd generation of the Scarlett range introduced the 'Air' button. This button is useable on each input and it boosts the mid-high frequency range on the signal from your mic. For podcasters, I personally would really recommend using this, especially if you're using a budget mic (for example the mic that comes with the studio bundle as shown in the image below). Your signal will be crisper and easier on the ears and in my experience, means that it sounds professional straight away.
If you're using a condenser mic, you'll need phantom power. This gives the mic power and allows you to receive a signal, when turning on and off make sure you turn down the mic level first to avoid damaging your mic.
How to Set It Up
One of the best things about the 2i2 is that this is very intuitive, if like me, you're working with a Mac, once you've plugged the device in you don't need to download any drivers to get it up and going. It is bus-powered, so you don't need external power for it to work, just plug the USB cable into your computer and it'll light up.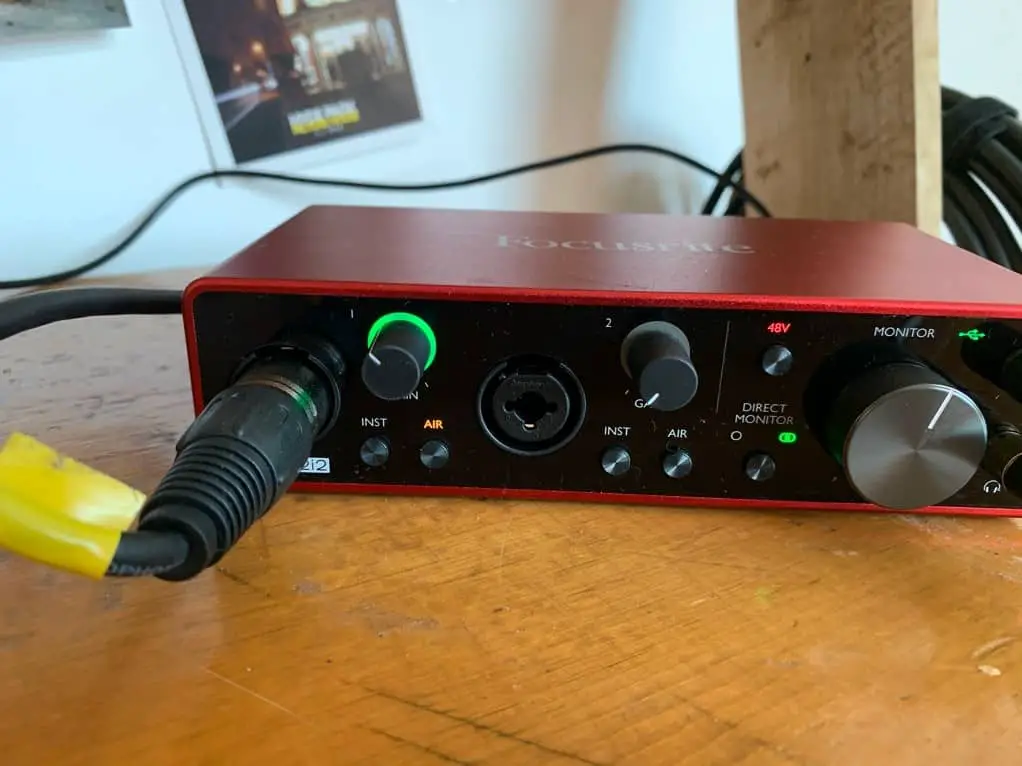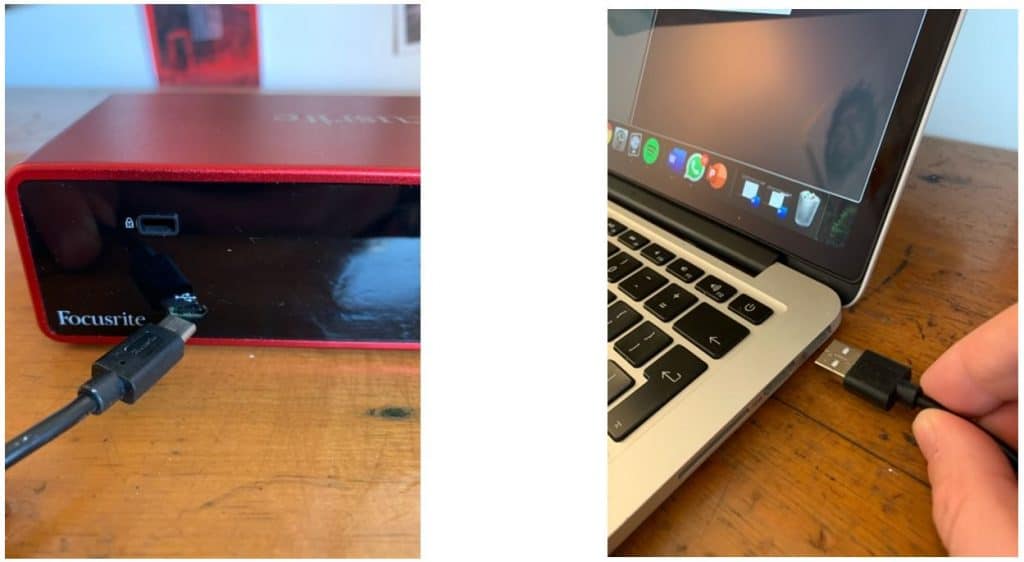 Once you're plugged it in, click on the Focusrite icon that pops up and it'll point you towards https://focusrite.com/en/get-started where it will take you through everything you get with your new Focusrite Scarlett 2i2 – and it really does come with a whole host of extras. If you don't already have your own DAW it comes with Alberton Lite and Pro-Tools First Focusrite Creative Pack, both free beginner versions of the software and perfectly good for simple recordings.
In this example however, I'll be using Apple's Logic Pro X.
Once You're In
Open Logic and select 'Empty Project'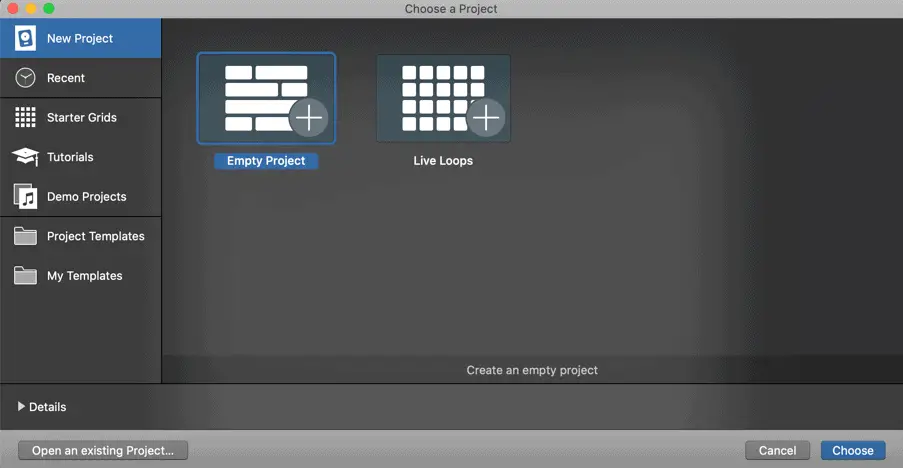 'Audio' should be already checked – make sure under 'Audio Input' 'Scarlett 2i2 USB' is selected, again this is likely to have been done automatically when you plugged it in. If it isn't, click the arrow in the grey circle and find the option in the 'Devices' window that pops up. Under 'Audio Output' the 'Built-in Output' might be already selected. If you'd like to use this, make sure your headphones are plugged into the computer, not the interface. However, I'd recommend you use the Scarlett 2i2 for monitoring also as you'll get a less latency (the time difference between you playing and what you're hearing) when recording, so click that little grey arrow and change this in the 'devices' menu.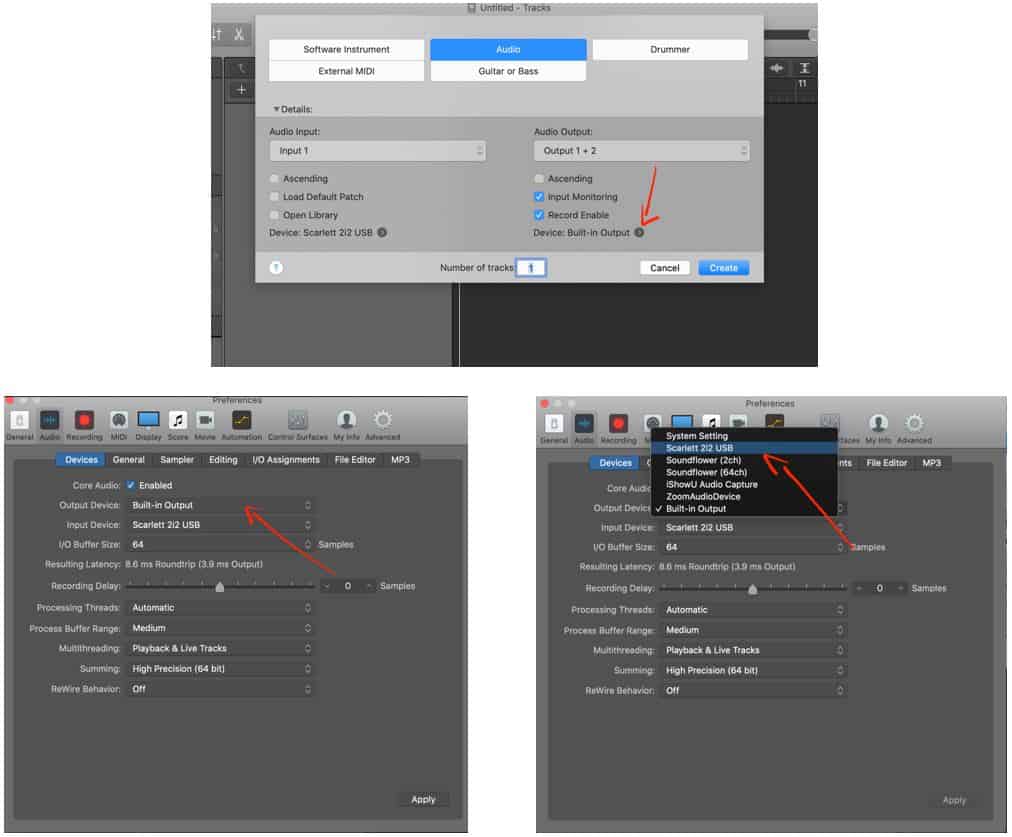 Monitoring
Make sure to press the 'Direct Monitor' button, this will allow you to hear what your mic is picking up, it has 2 options. Press once for mono and twice for stereo. Change the level in your headphones twisting the knob above the headphone input.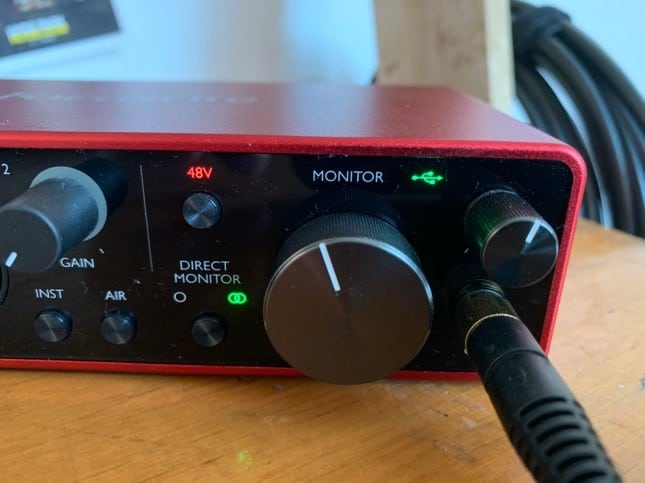 You're almost there! You've set up your Focusrite Scarlett 2i2, all you have to do now is hit 'record' in Logic and you're on your way.

Podcasting doesn't stop at setting up your interface, so here are a few tips and tricks to get you going.
Tips and Tricks
Plugins and Presets – Logic comes with a lot of great presets, and if you're new to recording these can be a godsend. When recording vocals, I like to use 'Studio Vocal' found in the 'Voice' presets in the Compression plugin. There are also many options when EQing, basically play around and see what you think sounds best.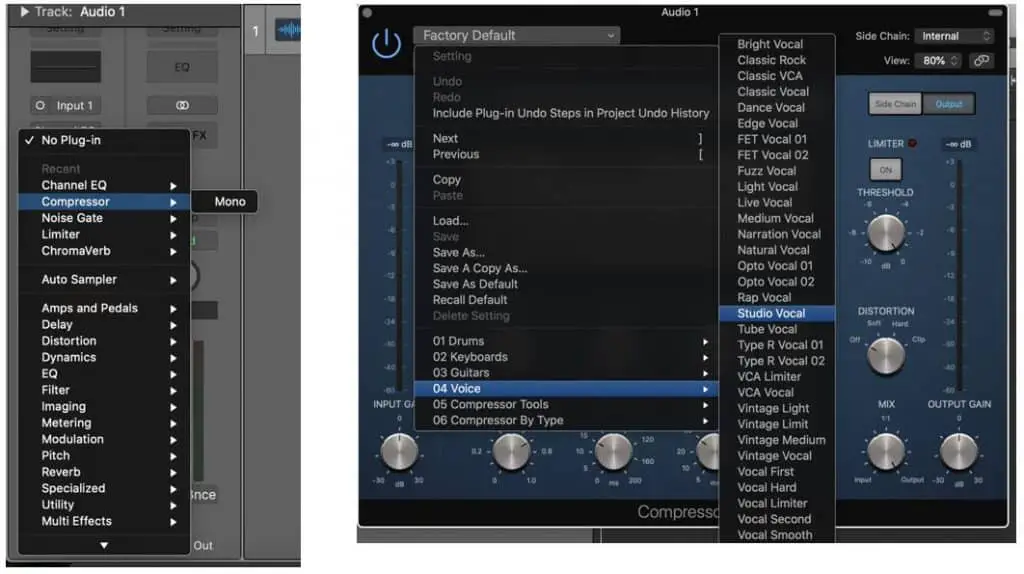 Studio Bundle – Focusrite offers a 'bundle' which comes with a condenser mic, an XLR cable, and headphones. Pretty much everything you need to get going, except a mic stand. You will want a mic stand, they're not expensive and they make things a lot easier. Save yourself the annoyance and get one at the same time as getting the bundle, if that's the way you choose to do it.
What you get in the bundle is simple and the condenser mic is almost flawless for the money. If you have the time and interest, however, you can probably find a better mic by shopping around. If you want the ease of getting it all in one package though, you can't go wrong with investing in this bundle. The bundle can be found here on Amazon.
Pop Shield – Another thing you don't get in the bundle, but something I'd recommend investing in, is a pop shield. This is a filter that stops the air from your mouth hitting the mic and causing unwanted 'popping'. You don't need this, and it can be avoided by moving further away from the microphone, but it will save you time re-doing takes and will make your podcast sound more professional in the long run. Think about whether you're likely to remember to move away from the mic when in the middle of a podcast, is that likely? If not, get a pop shield.
Tutorials – Every DAW can be intimidating, and Logic is no different, if you're struggling to understand something there is a wealth of information out there. Somebody will have asked your question, trust me.
Focusrite Plugin Collective – When you register your product with Focusrite you gain access to the Focusrite Plugin Collective where you can get plugins for free or discounted and is definitely worth exploring.