Affiliate Disclosure: The Seasoned Podcaster is supported by its readers. As an Amazon Associate we earn from qualifying purchases when you use one of our links. Please assume all links on this page are affiliate links. Your support is hugely appreciated.
One of the most important decisions when producing a podcast is what audio interface to buy. An audio interface serves as a bridge between your microphones and the computer, making it an essential tool for anyone seeking to record high-quality audio.
Today we will be comparing the Steinberg UR22mkii, and the Focusrite Scarlett 2i2 (we used the 2nd gen for this test but at the time of writing, the latest version is the 3rd gen) to help you decide which one is right for you.
Spec Comparison
Before we get into the tests and unique features of each interface, it is important to know what exactly we are working with. Here is a summary of the hardware found inside:
Steinberg UR22mkii
2 x Neutrik combo XLR/jack inputs (Phantom power capable)
A sampling rate of 192kHz, 24-bit resolution
2 x Class-A Yamaha D-PRE microphone pre-amps
USB 2.0 connectivity
Focusrite Scarlett 2i2
2 x Amphenol XLR/jack inputs (Phantom power capable)
A sampling rate of 192kHz, 24-bit resolution
2 x Focusrite analog pre-amps
USB 2.0 connectivity
Marketing & Product Positioning
To get a broader understanding of each interface, I will quickly go over the marketing for each and how Steinberg and Focusrite seem to position these interfaces.
The clear emphasis on all promotion of the UR22 is its portability. Every picture has the device either outside, or in a setting that indicates it has been set up for an impromptu recording session. There is much more emphasis on its use in field recordings, with it being placed in bags for on-location recordings. This emphasis on portability translates to the features of the product, which we'll look at shortly.
The 2i2 sits on the opposite end of this spectrum. Nearly all promotional shots have it on a desk next to a laptop recording a guitar or singer. While this does still insinuate situations where you can plug and play, their focus is much more on singer-songwriter musical recordings.
Build & Design
Both interfaces are built to last. Their sturdy metal casing and premium quality dials mean they could easily endure time spent at the bottom of a bag with only minor cosmetic damage.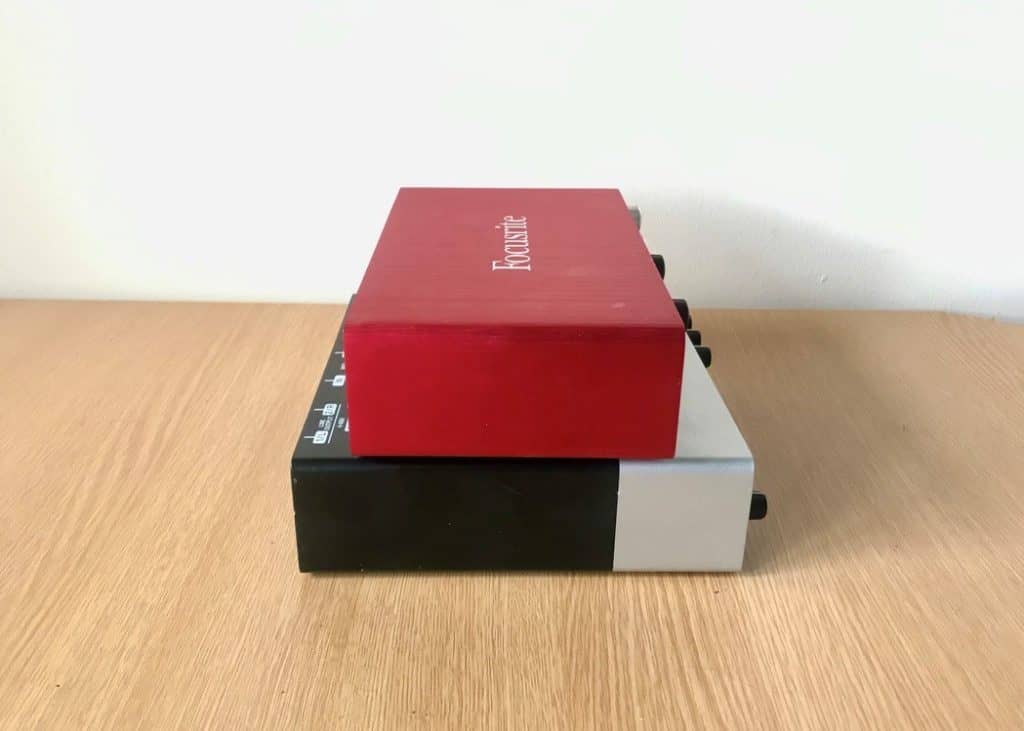 The UR22 clocks in at 4.6cm x 15.9cm x 15.9cm, with the 2i2 sitting at a slimmer 4.8cm x 17.5cm x 11.5cm. While this may seem minor, it makes all the difference when traveling with a bag full of gear or recording in a tight space.
The 2i2 weighs 1.3lb, compared to the 3.4lb of the UR22. While it is the heavier of the two by a significant margin, the UR22 is built to last which I can confirm having traveled many times with the device.
Usability
Another crucial factor when working daily with an interface is its usability. This will drastically alter your workflow when setting up for recording and monitoring during production.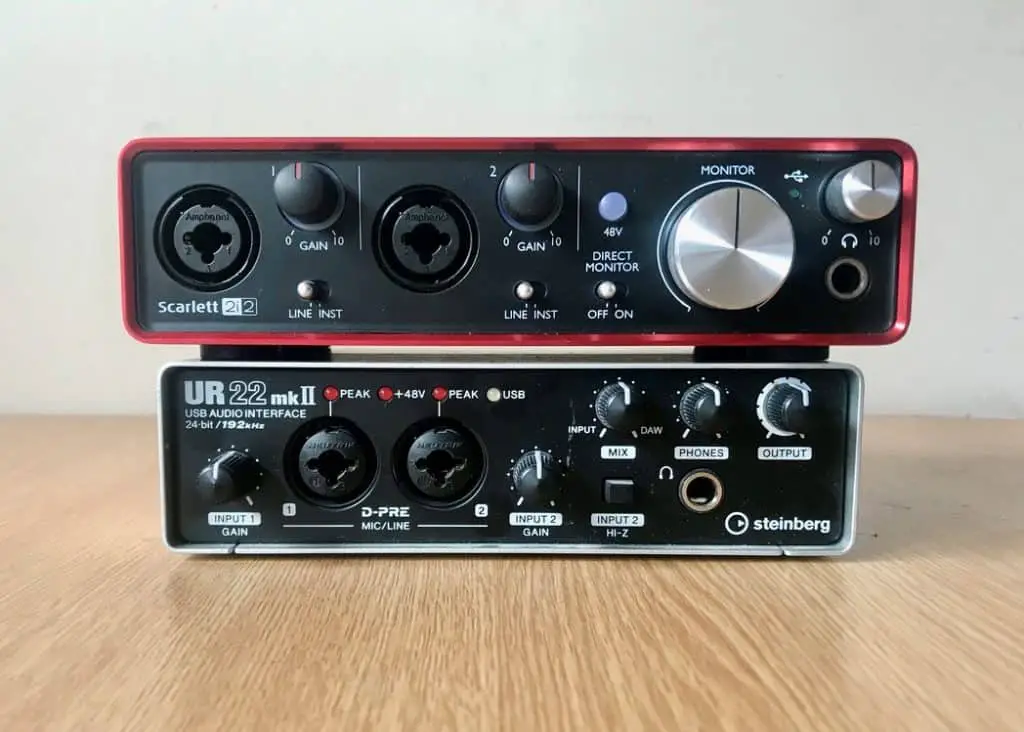 The major difference in user experience when comparing both devices come down to the dials. While the UR22 squeezes more functionality into the front panel, the result is a somewhat cluttered experience. This is only exacerbated by the fact that the dials are identical in size and shape. The three dials located to the right of the panel can prove difficult to discern when adjusting parameters.
The 2i2 on the other hand is much more user friendly. the large silver monitoring and gain knobs are clearly distinguished from the black plastic gain knobs. This is a much more intuitive system, leaving no margin for error when adjusting parameters. The gain dials also light up green to indicate a signal passing through, and red when peaking. This feature is a great help when recording in low light scenarios.
The 2i2 has a convenient button to send 48v to the inputs when using a microphone that requires phantom power. This is not only more convenient than the UR22 which has a switch on the back to toggle phantom but is also clearly indicated when switched on. The UR22 features a phantom power light situated in between the peak indicators, however, this may easily be mistaken as it is identical to the two peak lights situated on either side.
Versatility
Is there any upside to the UR22's form over function design? In short, it depends on what you want out of it. For its more complicated design, the UR22 is crammed full of bells and whistles that may prove useful in specific circumstances. For instance, the device features a 5v DC power supply which ensures a stable power source if you decide to record using iOS with a compatible app.
The UR22 also offers a mix dial allowing a blend of monitoring from the interface itself and the DAW. This affords the user more control than the 2i2, which only allows a toggle between the two under the direct monitor switch.
On the back of the device, the UR22 offers options for MIDI in and out. While not strictly necessary in a podcasting scenario, it is a nice option to have in the event of an impromptu composition session.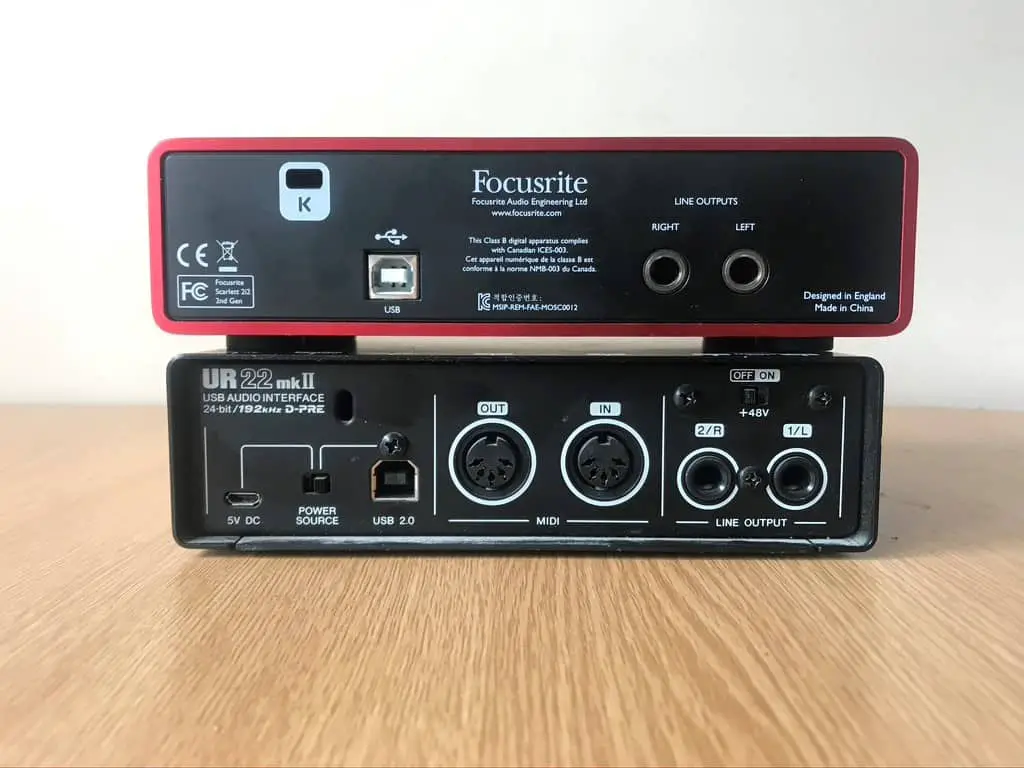 Software
Where the 2i2 lacks in hardware versatility, it makes up for in its bundled software. Out of the box, the Scarlett comes with serial codes for both Pro Tools First, and Ableton Live Lite. Pro Tools First offers 16 audio tracks, and 16 instrument tracks with the capacity to record 4 at a time. Similarly Ableton Lite is a stripped-back version of the Ableton Live DAW. Both of these are ideal if you are unsure which DAW is best for you and are looking to test the water in a variety of workflow scenarios.
Also included are both Red Plug-in Suite, and Softube Time and Tone. These are an array of plugins including compressors, equalizers, and even delay and reverb. This is enough software to familiarise yourself with recording and producing a high-quality podcast, without having to spend more money on additional software.
The UR22 is packaged with serial codes for Cubase AI for the computer, and Cubase LE for iOS. While less impressive than the plethora of software afforded by the 2i2, The UR22 does win points for iOS integration. Being integrated with Cubase LE, the UR22 is the go-to for anyone who plans on podcasting on the road. It is important to note that the interface is not boxed with a lightning to USB type B cable, meaning an adapter will need to be purchased beforehand.
Setup
Now we are aware of the hardware and software, it's time to look at the setup experience. The first step to using any interface is the installation. Both interfaces require drivers if using a Windows operating system, however, if you're using MacOS, the 2i2 is ready to go with no additional installation. While only a minor point, it is a nice touch in creating a user-friendly experience.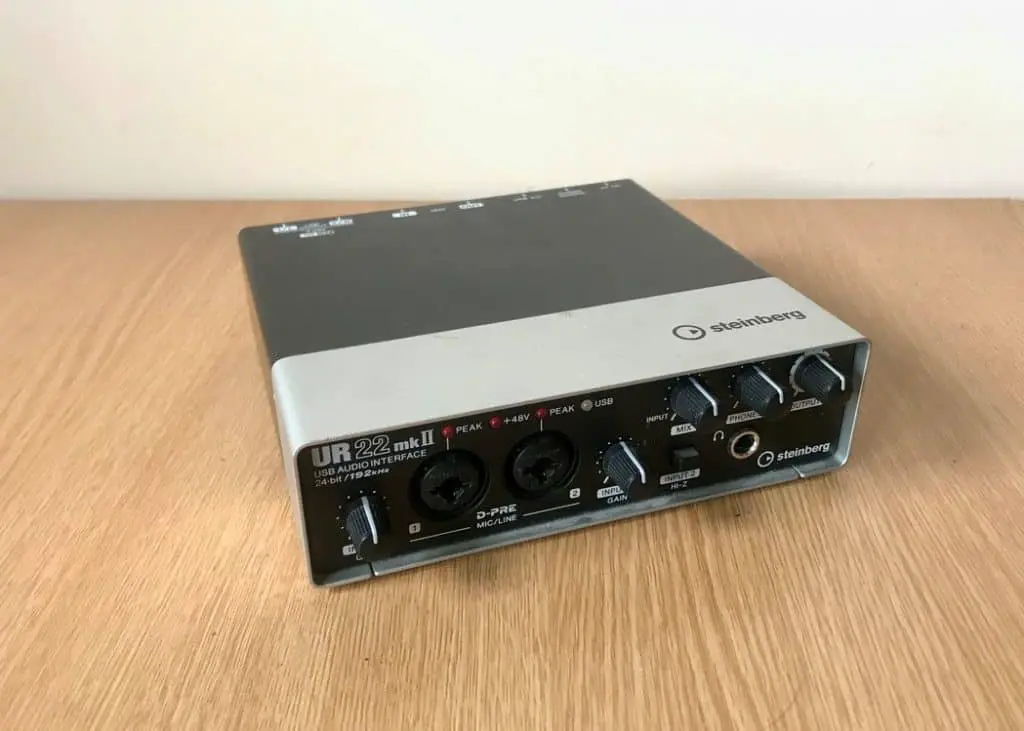 Preamps
As mentioned previously, the UR22 utilizes 2 Class-A Yamaha D-PRE microphone pre-amps. These are a staple of Yamaha products (Such as the higher end Yamaha MG, and N series mixers). The frequency response ranges from 20Hz – 20kHz resulting in clarity in vocal recordings. There is a dynamic range of 101dB, and a gain range of 50dB (with a max of +4dB). These preamps boast a natural sound with little to no spectral coloring.
The 2i2 uses Focusrite Analogue preamps, which retain the same frequency range as the UR22, with a dynamic range of 101dB, and a gain range of 54dB (with a max of +4dB). With these preamps, you are afforded the luxury of a few more dB of gain range. These preamps are very transparent, with very minimal coloring, providing a natural and satisfying signal.
At the end of the day, both these companies develop professional-grade preamps, and even these budget products pack a bang for their buck in sound quality. I've found no trouble in recording decent level audio with a satisfactory amount of headroom on both interfaces. That being said, the 2i2 does have a slight edge thanks to the extended gain range.
Self-noise
Self-noise of the microphone preamps is especially important in a podcasting scenario where all ears are on the voices, and their clarity can make or break a show so it's for this reason that self-noise has its own section.
The 2i2 has -128dB of equivalent input noise, which is relatively good for the price of the unit. By cranking the gain on vocal recordings, the sound remains clear if not with a small amount of noise.
On the other hand, the UR22 has -123dB of equivalent input noise. After pushing the preamps to the extreme, the result is more audible than that of the 2i2. In this category, it is the 2i2 that comes out on top.
This may be negligent for the most part depending on your choice of microphones. My tests were conducted on a Rode NT2-A, which being a condenser microphone, doesn't pose much of a problem in the noise department. If you choose to use dynamic microphones (such as the Shure SM7B) you may run into more problems, as they rely on gain to achieve a decent signal level. This is worth keeping in mind if you do buy the UR22. For more information on this topic see Condenser vs Dynamic Mic for Podcasting.
Another workaround for any noise issues that may arise when using dynamic microphones is the addition of a Cloudlifter or other alternative gain boosters.
Monitoring
Another key feature of a good interface is it's monitoring capacity. Having tested on a pair of Audio-Technica ATH-M50x, it is apparent that both interfaces are entirely sufficient in output volume and quality. Both interfaces offer up to +10dBu of output level, which is more than enough to hear your recordings, even in the noisiest of conditions.
They also offer +10dBu of line output in case you are of the speaker persuasion. This again is more than sufficient to garner a loud and detailed playback of your audio.
Where the two differ is in the monitoring modes. While the 2i2 has a switch to toggle direct monitoring (straight from the interface), or from the DAW itself, the UR22 allows for a blend of the two. I like having the option to blend between the two to evaluate if there is an issue in the input, or the DAW without having to sacrifice either or, so the UR22 is my preferred choice when it comes to monitoring audio signal.
Portability
It may seem counterintuitive to praise the UR22 on its portability (with it being the bigger and heavier interface), however, the robust build ensures that this device can withstand the wear and tear of regular travel. On top of this, the interface is well integrated with mobile recording thanks to the inclusion of the 5v DC power supply, and Cubase LE functionality.
Cubase LE allows for mobile recording which can then be transferred to the desktop DAW for post-processing. Having this option in your portable podcasting setup may eliminate the need for a laptop, in favor of an iOS device.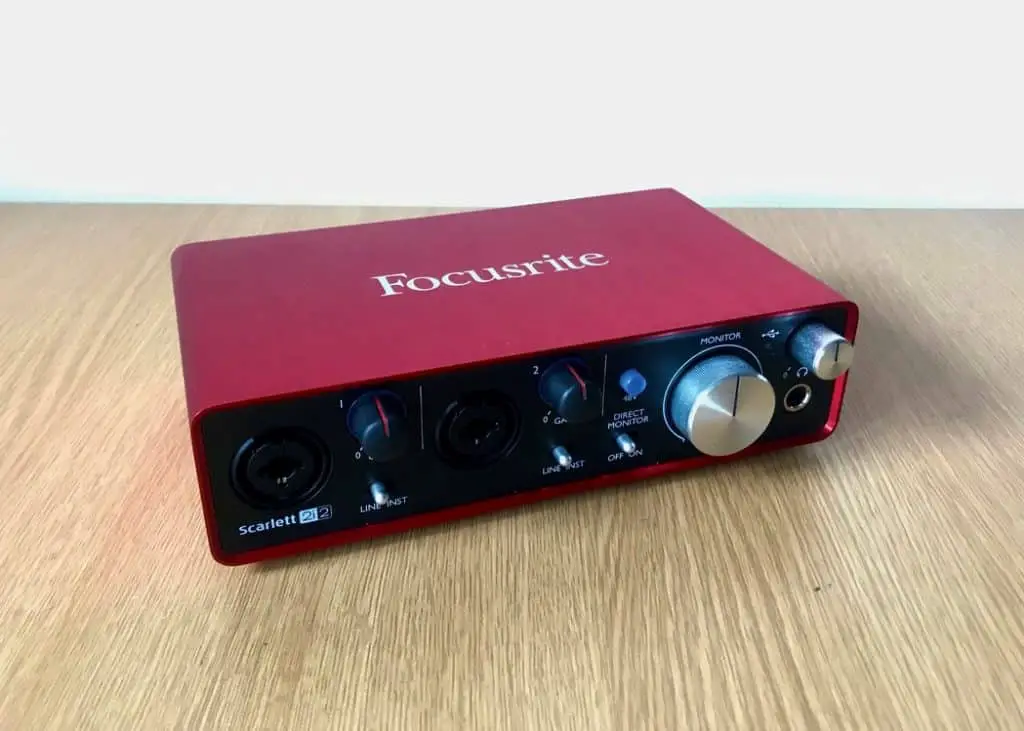 Price point
One of the most important factors to consider when buying an interface is the price point. While prices may vary between shops, it is recommended you buy new as second-hand interfaces will not come with the pre-packaged software, which is all-important in the age of digital audio production.
At the time of writing, both interfaces are marketed at a similar price point. The Focusrite is bundled with more software though which does make it excellent value for money.
Final thoughts
When it comes down to it, whether you buy the Focusrite 2i2 or the UR22mkii, it depends on what you want out of the interface.
The Steinberg UR22mkii offers a form over function product with much more versatility when it comes to music recording and portable podcasting. If you are willing to learn the clunky user interface and don't mind a slightly larger device in your bag or desk, then the Steinberg UR22mkii is the interface for you.
If you are looking for a simpler, smaller, and user-friendly experience, then the Focusrite Scarlett 2i2 is the obvious choice. What it lacks in versatility, it makes up for in ease of use. This device is intuitive to use, easy to set up, and the bundled software allows you to decide what DAW and plugins are right for you with no additional spending.
You can get the latest version (3rd gen) of the Focusrite Scarlett 2i2 here on Amazon. If the Steinberg is the better choice for your needs, it's available here at Sweetwater.