Affiliate Disclosure: The Seasoned Podcaster is supported by its readers. As an Amazon Associate we earn from qualifying purchases when you use one of our links. Please assume all links on this page are affiliate links. Your support is hugely appreciated.
The Rode Procaster has quickly become one of the leading products in terms of dynamic podcasting microphones. A direct competitor to the long-held benchmark in podcasting microphones – the Shure SM7B, the Procaster is another example of how low-sensitivity dynamic microphones can produce some of the highest quality audio available right now.
Dynamic podcasting microphones boast the advantage of having not only great audio quality but also a low sensitivity, making them ideal for recording in less-than-ideal conditions. This is a major bonus especially considering the rise of home and traveling podcasts, which often means sacrificing the luxury of an acoustically treated room.
The low sensitivity of these high-end dynamic microphones allows vocals to shine while passively rejecting any echoes or unwanted noise. It is easy to understand why they are favored in the podcasting community over the high-end condenser microphones.
Not only do dynamics prove less noisy than a condenser, but they also cost less overall due to no additional amplification circuitry housed internally. This makes them more rugged devices, less prone to internal breakages, another reason why they thrive in a mobile recording setup.
What is the Rode Procaster?
As previously mentioned, the Procaster is a prime example of high quality, with extremely low sensitivity. With an internal pop filter and shock mount, out of the box the Procaster is equipped to reduce as much ambient noise and mechanical transmission as possible. This mic picks up the slack through passive noise reduction in any untreated environment it is placed.
The Procaster is marketed as a professional broadcasting microphone, and from looking at the specs it is quite clear why. The frequency response of this microphone sits within the range of 75Hz – 18kHz, and the response curve sees boosts at 150Hz and 7kHz. The boosts at these frequencies ensure that any vocal takes are both warm and present in the recording.
With an all-metal housing, this mic feels built to last. The whole package weighs in at 745g, demonstrating the care and attention put into ensuring a rugged and substantial product. This weight, however, isn't excessive. Having tested the device on multiple stands and booms arms ranging in quality, the weight has at no point become a hindrance, easily being held up and maintained in position in each instance.
The Importance of a Good Audio Interface
While there is a multitude of reasons you would want a low sensitivity microphone, it is no secret that low sensitivity makes for a gain hungry microphone. To achieve an acceptable recording level with a mic such as the Procaster, either a gain boosting device such as a Cloudlifter or an interface with good preamps is needed. If you're using an interface not cut out for the job, you could find yourself needing to crank up the gain.
Boosting gain in this way requires the interface to make use of preamp circuitry and depending on the quality of the preamps, this may have adverse effects on the audio. As preamps increase in gain, the potential for additional noise, and sound coloring also increases. This is a contentious issue among recording engineers, and the hunt for an interface with clean, transparent gain, is one that all dynamic mic users will inevitably face.
How Much Gain does the Rode Procaster Need?
So how much gain could one mic possibly need? In short – a lot. This is an unfortunate reality of the super low sensitivity brand of dynamic microphones. In our article 'Does the Rode Procaster Need a Cloudlifter?' we conducted a room test both with and without a boost. Check out the results: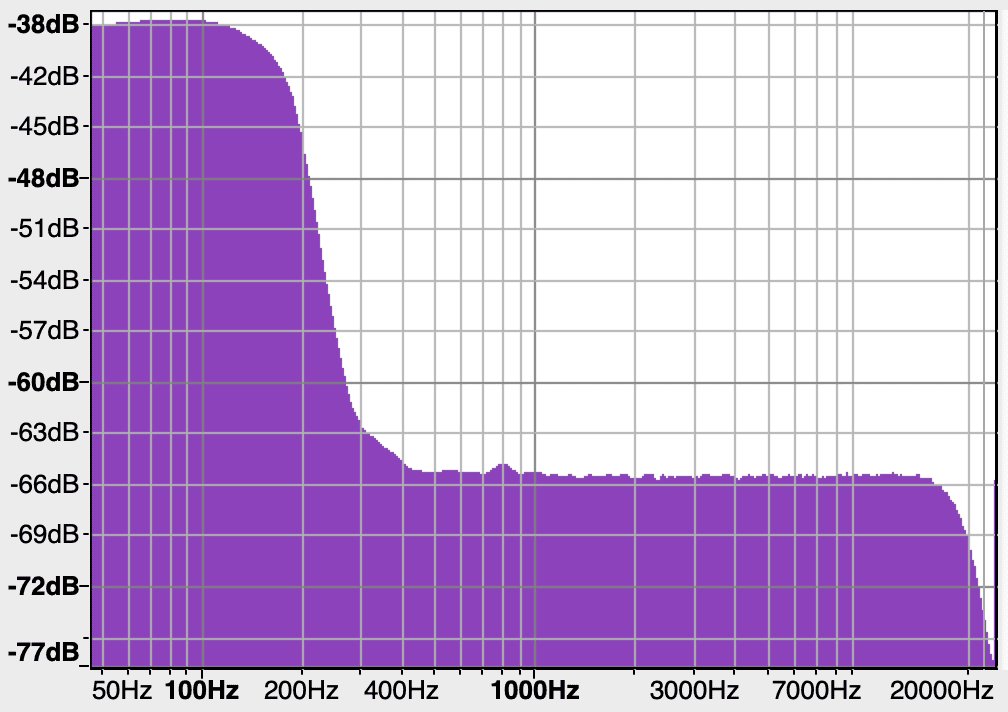 As can be seen in the visual above, the Procaster when untouched with gain, peaked at -38dB. For reference, a decent audio level for vocals starts at -12dB, a whole 26dB higher than recorded.
In summary, as great as the Procaster is, it's much better if you have (or plan to acquire) a Cloudlifter or FetHead. Whilst some of the interfaces included below can provide a good amount of gain, adding a mic activator to your setup will provide the clean gain needed to let the preamps of your interface perform at their best and this is the approach we recommend. With that caveat out of the way, let's look at our favorite models at varying price points.
Budget Picks
Focusrite Scarlett 2i2
Kicking off our first budget pick is the Scarlett 2i2. The Scarlett is one of the most popular budget interfaces on the market and for good reason. The 3rd generation 2i2 has an 'air' option, in order to emulate vintage preamps, offering a vintage tone coupled with low noise technology.
With a USB type C connection and 56dB of gain available, this interface is well equipped to boost most dynamic microphones. As we've just discussed though, the Procaster is particularly gain hungry and when testing it with the 2i2, we did end up adding a Cloudlifter to get the signal to a reasonable level for recording. Interestingly, the Shure SM57 we had kicking around the office didn't need the Cloudlifter as the 2i2 provided enough boost on its own.
| | |
| --- | --- |
| Connectivity: | USB C |
| Inputs: | 2 x XLR / ¼" Jack |
| Preamps: | 2 x Focusrite analog |
| Gain Range: | 56dB |
| Noise EIN: | -128dBu (A-Weighted) |
Click to see more info and get the latest price on Amazon.
Steinberg UR22mkII
A direct competitor to the Scarlett 2i2, the UR22mkII boasts two preamps designed by Yamaha. The two D-PRE preamps are the very same found in Yamaha's world-class mixing desks, ensuring an ultra-transparent and fairly clean gain boost.
While this interface does boast incredible microphone preamps, the reduced gain range and slightly noisier EIN may turn some audiophiles off. If you can look past these minor setbacks, you will find that the Steinberg UR22mkII packages impressive hardware at a low price point.
We conducted some head-to-head tests of the UR22mkii vs the Scarlett 2i2 here.
| | |
| --- | --- |
| Connectivity: | USB 2.0 |
| Inputs: | 2 x XLR / ¼" Jack |
| Preamps: | 2 x Class-A Yamaha D-PRE |
| Gain Range: | 48dB |
| Noise EIN: | -130dBu |
The Steinberg can be found here at Sweetwater.
Mid-Range Picks
Audient iD14
When it comes to Mid-Range audio interfaces, the Audient iD14 is a household name. There is a good reason this interface is so well known. With this product, Audient has achieved the feat of stripping back the essential features of a mixing desk and packaging it in a small and ultra-portable footprint.
The simple stripped-back design allows for up to 66dB of gain control on each input, a dial for mixing DAW and input levels, and an additional volume boost to boot.
| | |
| --- | --- |
| Connectivity: | USB 2.0 |
| Inputs: | 2 x XLR / ¼" Jack |
| Preamps: | 2 x Class-A Microphone preamps |
| Gain Range: | 66dB |
| Noise EIN: | <-127.0 dBu |
Click to see more info and get the latest price on Amazon.
Presonus Studio 68c
Yet another big functionality, small footprint interface, the Presonus Studio 68c is a serious piece of kit. The interface itself looks like a portable rack unit, however, the main draw to this product is down to its incredible gain range.
With 80dB at your fingertips, this interface can easily boost the Procaster into an audible territory and then some. While this does come at the sacrifice of slightly increased noise compared to the iD14, if you are struggling to get that gain hungry signal into a recordable territory, the Studio 68c will get the job done.
| | |
| --- | --- |
| Connectivity: | USB C |
| Inputs: | 2 x XLR / ¼" Jack |
| Preamps: | 2 x XMAX-L solid state   |
| Gain Range: | 80dB |
| Noise EIN: | -130 dBu |
Click to see more info and get the latest price on Amazon.
Premium Picks
Universal Audio Apollo Twin MKII Duo
Our first premium tier pick is the Apollo Twin MKII Duo. Packed with two Unison-enabled solid-state preamps, with the Apollo Twin, you have the option to digitally emulate a plethora of vintage tones. With options for low cut and passive attenuation, the level of noise reduction available makes the Apollo Twin a serious asset with an already low noise microphone like the Rode Procaster.
| | |
| --- | --- |
| Connectivity: | Thunderbolt |
| Inputs: | 2 x XLR / ¼" Jack |
| Preamps: | 2 x 610-B |
| Gain Range: | 60dB |
| Noise EIN: | -127 dBu (A-weighted) |
Click to see more info and get the latest price on Amazon.
Antelope Audio Discrete 4 Synergy Core
As you'd expect with an interface at this price point, the Discrete 4 is a clear-cut example of high-quality portable audio interface technology. It's no surprise that this interface houses four incredible six-transistor preamps boosting audio detail with little to no noise and distortion. These preamps guarantee that even at the highest gain levels, the Discrete 4 can provide a clean and transparent tone.
The option for both thunderbolt and USB 2.0 connections makes this device incredibly versatile, making plugging and recording quick and convenient no matter what your situation.
| | |
| --- | --- |
| Connectivity: | Thunderbolt / USB 2.0 |
| Inputs: | 2 x XLR / ¼" Jack,  2 x XLR /  ¼" Jack /  Hi-Z |
| Preamps: | 4 x Console grade class-A |
| Gain Range: | 65dB |
| Noise EIN: | -128dBu (A-weighted) |
Click to see more info and get the latest price on Amazon.
Conclusion
Understanding the importance of a good interface with a low-sensitivity dynamic microphone like the Procaster has hopefully given you valuable insight into what you can be doing to get the most out of your gear.
Your choice of interface has a profound impact on recorded sound quality at high gain, so the choice is critical. That being said, if you don't have the budget to get a top-end interface, there are other solutions.
One such workaround as discussed earlier is by using mic activation hardware. These in-line devices provide a gain boost in much the same way as a preamp, but whether they are in fact classed as such is much debated. Check out our 'Is a Cloudlifter a Preamp' article to find out our thoughts.