Affiliate Disclosure: The Seasoned Podcaster is supported by its readers. As an Amazon Associate we earn from qualifying purchases when you use one of our links. Please assume all links on this page are affiliate links. Your support is hugely appreciated.
If there's one thing I love, it's versatile equipment. Different pieces of kit get bought and sold but the ones which tend to stay in my gear bag for an extended period of time are those that either 1) perform brilliantly at their primary job or 2) allow me to use them in different ways for the different scenarios I encounter when producing podcasts.
One of the first purchases I made when I started my podcasting journey was the Zoom H2n. It's lasted well and is a safe pair of hands when called upon.
In this article, I'll explain some of the ways it can be used to help you produce your podcast. Some will be more obvious that others, but I think you'll be surprised just how versatile this handy little recorder is.
First though, let's cover exactly what the Zoom H2n is.
Pitched by Zoom as a 'Handy Recorder', the H2n is actually quite a unique product in that it has five built-in microphones which means that you can select one of four modes to record in. This adds massively to the versatility, which I'll cover shortly.
On top of that, it also has options to apply a low-cut filter, a compressor, and a limiter if you'd rather do that at the time of recording as opposed to in post.
It can supply plugin power to external 3.5mm jack mics if they need it and can also be used as a microphone itself by plugging in the supplied USB cable to your computer.
Below, I've noted down 7 different ways that the Zoom H2n can be used for podcasting.
1.      Standalone Recorder as a Backup
The great thing about the H2n is those five microphones. It means that you can simply select the correct setting, place it in the middle of the conversation taking place when recording your podcast and there you have a backup recording should anything go wrong with your main setup.
Of course, the audio quality won't be as good as your main recorder and dedicated microphones but in most cases, it will be acceptable – even when the location is less than perfect.
To get the best out of this setup, spend 30 seconds at the start making sure that the levels are set correctly, and that the recorder is placed in the best possible position. Ideally, you want it in the middle of the people who are speaking but when ideal placement is problematic, I always try to make sure it's ideally placed to get the best recording of the guest as it's their voice your listeners will want to hear the most.
What can help to get placement better is the small tabletop tripod that comes with the APH-2n Accessory Pack (shown below). You can buy this with the H2n as a bundle which I'd highly recommend. I got it with mine and it's worth the cost. Having the Zoom on the tripod brings it closer to the line of sound between you and your interviewee.
2.      Backup Recorder – Wired
Another way to use the unit as a backup recorder is to actually feed it audio via a 3.5mm jack. In my opinion, this is the best way to take a backup as you'll get better quality audio than just using it as a standalone backup unit.
You'll be monitoring the audio on your primary recorder using your headphones but I'd also recommend taking a separate set of small earphones just to plugin into the H2n to ensure that the audio is coming through to it OK from the main recorder, and that's it's free of noise and interference. The last thing you want is to call upon your backup in the event of a failure and the audio be unusable because you didn't check it at the time of recording.
I have to admit, I'm very obsessive about backups. In fact, I normally use the H2n as a standalone backup recorder and use a Zoom H1 as the wired one. That way I have two backups. It's a bit of a belt and braces approach but it lets me sleep at night!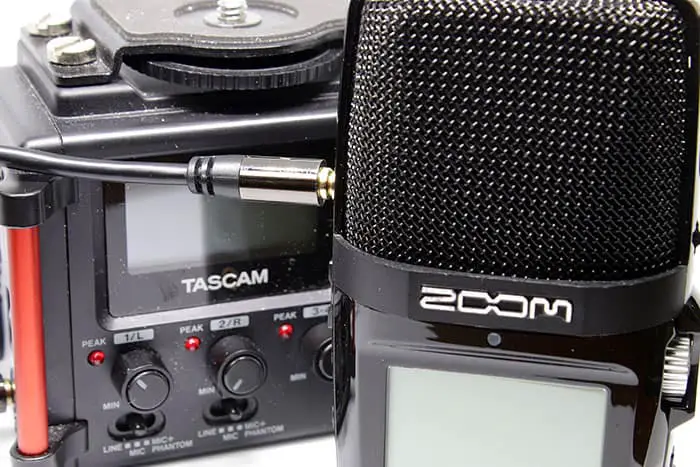 When taking a wired backup from my main recorder, I always use a 3.5mm stereo jack cable so that I can get a left and a right channel. When only recording two people, this will give me each one on a separate track but if I'm recording three, I'll generally put two hosts on the same channel and the guest on their own channel for more flexibility in post.
Read more here about my three person podcasting setup.
3.      USB Microphone
The H2n comes with a USB cable which means that it can be plugged into your computer and used as a USB microphone.
Although I wouldn't recommend it for your main mic, it can be good for if you're producing your show on the move and you want to travel light. If you record in a room with minimal echo, you can get a decent result from it.
Fun fact: I recorded my first ever podcast this way with the H2n!
The small tripod mentioned earlier really helps when using it this way as it brings the unit closer to your mouth if you're sat at a desk. The bundled foam pop filter should also be used to minimize plosives.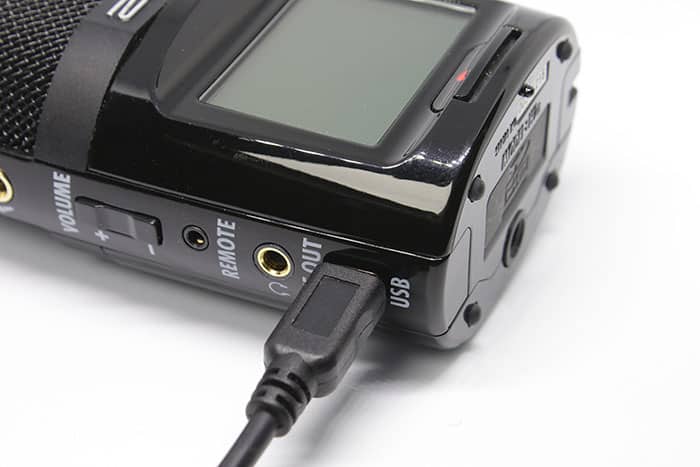 4.      Main Recorder with Two Mics
When you're just getting started, you'll likely want to keep costs down. However, you should try and do all you can to achieve the best quality audio possible. Using the Zoom H2n as a standalone recorder isn't ideal so using an adapter to split the 3.5mm input to then use two external microphones makes a lot of sense.
If you set it up correctly, you can send one of the mics to the left channel and one to the right meaning that in post, you'll have each of the two voices on separate channels and the editing process will be a whole lot easier.
You do need to ensure that you get the correct adapter for this. The one I use is shown below.
What mics should you use? That depends on a few things, the main one being the location in which you're recording. Of course, it needs to be one with a 3.5mm jack as opposed to 1/4" or XLR but you could use lavalier mics, shotgun mics, or even a pair of gaming style headset mics. Neither of these will be ideal but if you're just getting started, all will do the job and will give you better audio than using the unit as a standalone recorder.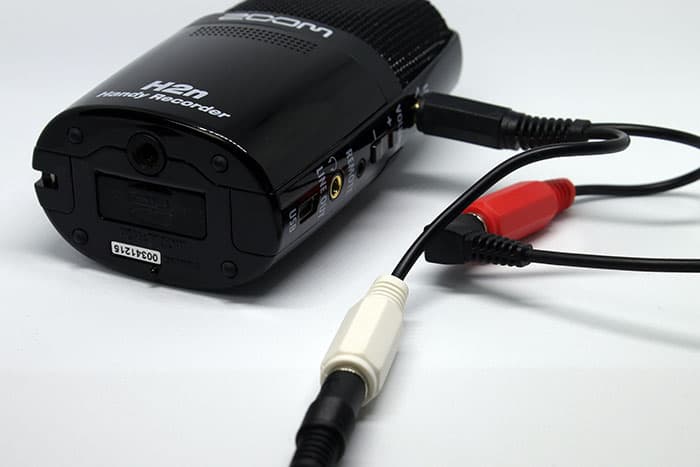 5.      Lavalier Mic Recorder for a Video Podcast
Continuing the use case when it comes to external mics, you could use the H2n similar to how you might setup a wireless lavalier rig.
This is most relevant if you sometimes (or all the time) produce a video version of your show as you're able to mic up your guest with a lav mic and stick the H2n in their pocket so it can't be seen on camera. You'll then have a great quality recording of your guest ready to sync with (and then replace) the audio you capture in camera in your video editing software.
Even if you don't produce a video version of your show, there can be times where this is still relevant. Are you doing any sort of presentation that you want your podcast listers to hear? Mic yourself up with this rig and you're good to go.
Like I mentioned earlier though, take some earphones with you to check the audio quality. You can always take them back out again for when the actual recording takes place.
A nice feature on the Zoom which is handy for this situation is the 'hold' switch on the side of the unit. This will lock off a lot of the settings to avoid any 'pocket tweaks' during the recording.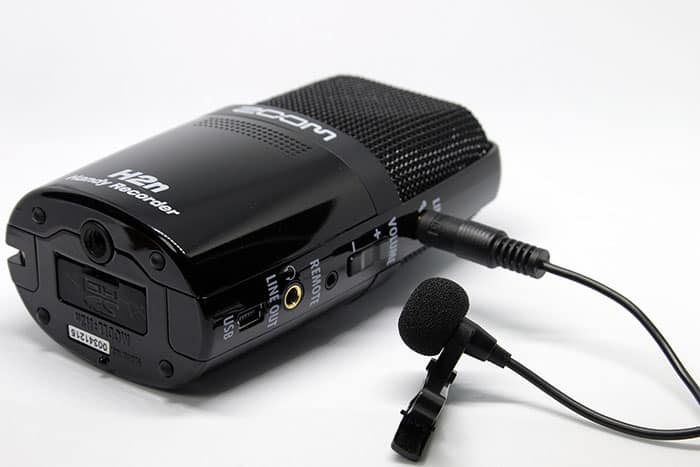 6.      Record Skype Interviews
There are multiple ways to record Skype interviews. The easiest is probably just by using some software like Ecamm Recorder for Skype (if you're on a Mac…) However, I much prefer to take the hardware route.
With software, there's always the chance of it crashing. If it crashes when you're ¾ of the way through an interview and you have to start again, your guest isn't likely to be too happy. Yes, hardware can also go wrong but if you follow the advice about backups above, it's unlikely that you'll end up with nothing at all.
Using the H2n to record Skype interviews is very straightforward. In fact, it's the same setup as described earlier when recording two mics into it but one of those mics is replaced with a feed from your computer (of course, containing the Skype voice of your guest – for this I just use a 3.5mm mono jack cable). The other mic is your voice and voila, the Skype interview recorded externally. It's worth noting that you'll need to use your laptop's in-built mic (or similar such as an external webcam which has a mic) in your Skype setup so that your guest can hear you.
Make sure you also connect your headphones to the Zoom so that you can 1) hear your guest speak and 2) monitor the audio throughout.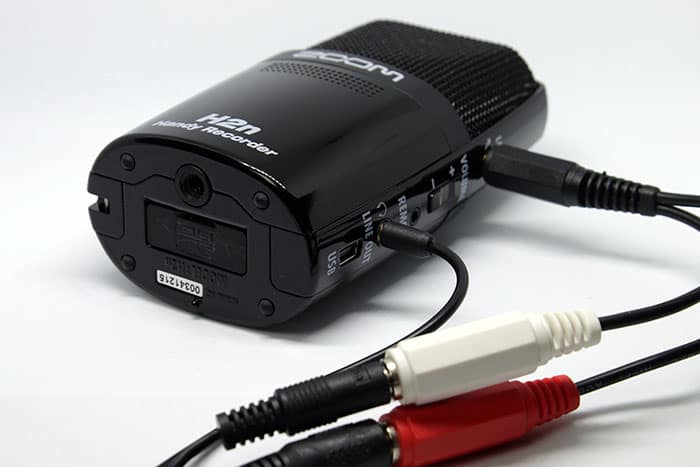 7.      Walk & Talk or Event Coverage Interview Mic
If you record your podcast on location a lot, one way of using the H2n is by popping on the pop filter (see what I did there…) and also the screw in handle which comes with the APH-2n Accessory Pack. You can then use it as a handheld mic broadcast journalist style.
This setup is particularly useful if you're covering an event. Say for example it's a trade show and you want to go around the different stands having a quick chat with somebody from each. The last thing you want to be doing is rigging them up with their own mic and headset each time so handholding the Zoom and placing it in front of whoever is speaking is a much better way of doing it.
Try to handle it carefully and not bang the unit as that might ruin your audio. Also ensure that you have it on the correct setting for this purpose.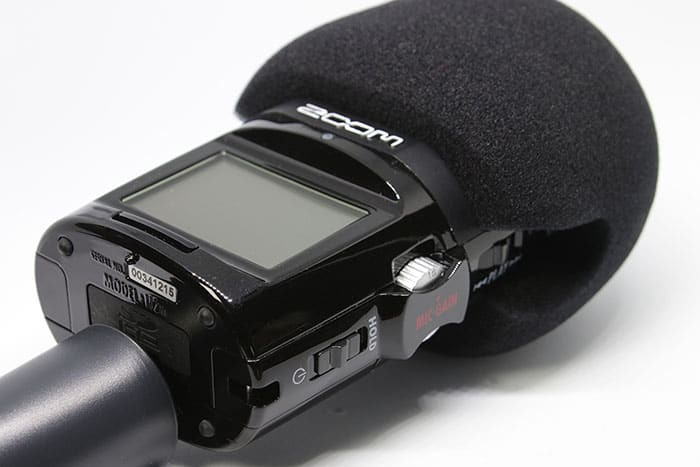 Conclusion
So, there you go, 7 different ways you can use the Zoom H2n for podcasting.
This really shows how versatile the unit is and explains the reason whyit was one of my first purchases and it's still in my kit bag today.
Which way do I use it the most? Definitely as a standalone backup recorder. As mentioned earlier, I use a Zoom H1 as the wired backup and then the H2n as the standalone backup because of those five microphones and the ability for to capture audio from all angles. This ensures that I get usable backup audio should I need it.
For the price, I believe it offers exceptional value for money because you can use it in all the different ways as described above.
You can read more about it and check the latest price on Amazon. Here is the recorder and accessory pack bundle.
Full Spec
| | |
| --- | --- |
| Number of microphones | 5 |
| Recording modes | MS stereo, X/Y stereo, 2 channel and 4 channel surround |
| Input | Stereo 3.5mm mini jack with 2.5v plug-in power |
| Output | Stereo 3.5mm output jack |
| Display | Backlit LCD |
| Media type | SD/SDHC (up to 32gb) |
| Recording formats | WAV and MP3 |
| Built-in effects | Low-cut filter, compressor/limiter |
| Power | 2 x AA batteries |
Frequently Asked Questions
How do I Charge my Zoom H2n?
The H2n runs on AA batteries, either alkaline or NiMH rechargeable. With alkaline batteries, you'd simply replace them when they were running low but if using rechargeable batteries, you would charge them with the correct dedicated charger.
The Zoom's battery life when using AA alkaline batteries is over 20 hours so you won't need to change them too often but carrying plenty of spares is recommended.
The H2n can also be powered using an AC adapter (AD-17 USB to AC type).
How do I Transfer Files from my Zoom H2n to my Computer?
There are two ways of doing this. The first one (and probably the easiest) is to simply remove the SD card and transfer the files to your computer via a card reader. Most laptops have an SD card reader.
The other way is to connect the unit to your computer using the supplied USB cable. With the H2n switched off, plug it in and when presented with the options of 'SD CARD READER' and 'AUDIO I/F', select 'SD CARD READER' and the Zoom will then appear on your computer as a connected drive.
How do I Update the Firmware on my Zoom H2n?
The latest firmware (version 3.0 at the time of writing) can be downloaded from Zoom's website.
Once downloaded, unzip the file and look for the file called H2NMAIN.BIN. Don't do anything with it yet, just make sure you can see it.
Plugin the Zoom via the USB cable and choose to use it as 'SD CARD READER' (as described above). Once you choose this, you'll see the Zoom show up as an SD card on your computer. Simply move the H2NMAIN.BIN file to the root directory of the SD card.
The video by Zoom below shows this in action.