Affiliate Disclosure: The Seasoned Podcaster is supported by its readers. As an Amazon Associate we earn from qualifying purchases when you use one of our links. Please assume all links on this page are affiliate links. Your support is hugely appreciated.
Unless you're a solo podcaster, you'll need to record with more than one microphone. The additional microphones could be for your guest(s), a co-host, or people involved in a panel discussion.
There are different ways to connect all this, but the aim should always be to achieve the best quality audio and where possible to have each mic on a separate track which will make editing much easier.
In this article, we'll explore the different ways of connecting multiple microphones to a single input source, whether that be a digital recording device or a computer.
By the end, you'll have a good understanding of what kit you might need for a suitable setup.
If you only need to connect two 3.5mm microphones to one 3.5mm input, a simple splitter cable configured to output one mic on the left channel and one mic on the right would suffice. However, if you need to connect more mics or output to USB, you may have to consider an audio interface or a mixer.
Before you go off and buy a second, third, or even fourth microphone though, let us first look at what it means to use more than one mic and some of the things you need to think about to avoid it going horribly wrong.
Considerations when Using Multiple Microphones
The first thing you need to think about when using multiple mics is monitoring. You must be able to hear each microphone properly and pick up on any issues with the audio.
When you're the one producing your podcast as well as the one hosting it and you're focussing on conducting that killer interview, audio monitoring can sometimes be a secondary consideration. Make sure that you do a thorough setup and where possible, sound test each mic individually to ensure that the audio is good.
The reality is though that when you're connecting multiple mics to one input, depending on the setup, you may have to monitor them all at the same time so more focus is needed to identify issues. When we get to the different options below, some will allow you to monitor each mic individually but others won't.
Another thing you need to think about is mic placement and more specifically, the distance between each one.
If you're trying to achieve each mic on a separate channel (which again is possible with some of the options below), recording with the mics too close together could defeat the object. If in one of the mics, for example, somebody coughs, you can remove this in post but if the other person's mic is too close, the cough will also be quite loud on that track and if it happens at the same time that person is speaking, there's nothing you'll be able to do to remove it.
You also need to take into account that when using one of the options which involve a splitter cable, you're likely to end up with a weakened signal. Normally it doesn't weaken it by too much and therefore shouldn't cause too many issues but it's one thing to consider and a good preamp in your input device would be an advantage to combat this.
The last thing to mention is sound consistency. When using multiple mics, try where possible to use the same ones. Mixing brands and models can work but if each mic is the same, over time you'll get used to the sound and will know how to get the best out of them when producing your show. It's also less to think about when setting up – every mic has it's own nuances so trying to remember and account for this across 3 or 4 microphones can quite quickly become very difficult and stressful.
Now that you know the considerations, let's look at what options you have for connecting multiple microphones to one input source. We'll start with two mics and then move onto three and four.
Two 3.5mm Jack Microphones to One 3.5mm Jack Input
This is probably the cheapest option and most straightforward. Just because it's simple though, that doesn't mean it's not effective – it can deliver good audio quality, and if set up in the correct way you can have each mic on a separate track.
The essential piece of kit you need is a 3.5mm splitter cable which is configured to have two mono input sockets with a stereo male output jack. One of the inputs will be sent to the right channel and one to the left. Here's one on Amazon. The image below shows this setup in action.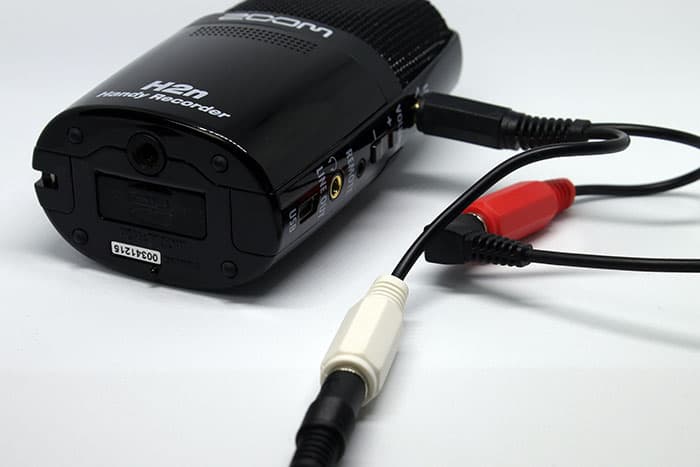 Because these cables are cheap, I generally carry a couple with me in my kit bag should I ever need to use them.
Two XLR Microphones to One 3.5mm Jack Input
If you have XLR mics or want to buy and use them to produce your podcast, a good way of being able to output them to a single 3.5mm jack input is to use something like the Saramonic SmartRig+ (Amazon).
This handy little device is essentially a super-compact mixer with two XLR inputs (and two 3.5mm jack inputs), a headphone monitoring socket, and a 3.5mm jack output which would enable you to plug it into your digital recording device.
Like the previous option, with this, you can send one mic to the right channel and the other mic to the left channel for mixing in post.
Two XLR Microphones to One USB Port
This is a very common podcasting setup. An audio interface with two XLR inputs which would then send the audio to your computer via a USB cable.
Even using a DAW like Audacity (which is free) will allow you to record each mic onto a separate track for maximum flexibility when you come to edit your podcast.
The image below shows the setup in action although of course, you'd be using both the XLR inputs.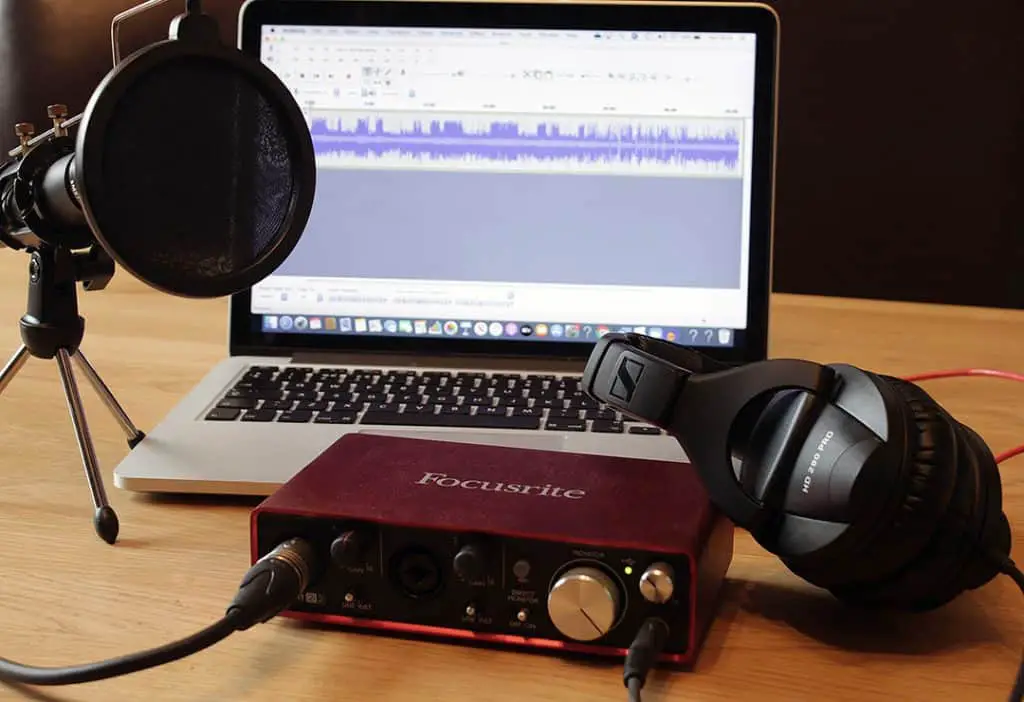 The audio interface shown here is the one we'd recommend – the Focusrite Scarlett 2i2. Click here to check the latest price on Amazon.
Three or Four 3.5mm or ¼" Jack Microphones to One 3.5mm Jack Input
Now that we're getting to three and four microphones, more specialized equipment will be needed. For multiple jack inputs (you may be using a lavalier or shotgun mic to record each person), a mixer would be the best bet. You can then take a single output from the mixer into your digital recorder.
For this setup, you don't have the additional expense of a USB mixer because a computer isn't involved. You're simply connecting all your mics into the mixer, getting the levels right at the time of recording and outputting a signal to be recorded externally.
A budget mixer like the Behringer XENYX 1202FX (Amazon) would be well suited to this setup. It's perfect if your mics have ¼" jack plugs as it has four ¼" inputs. If you have 3.5mm jack mics, an adapter can be used to get them into the mixer.
The beauty of a mixer is that each channel has a level and EQ setting so each can be tweaked to achieve the best sound from each microphone.
One drawback is that most mixers will only output in stereo which means that you're going to have to live with that fact that you won't get each mic on a separate track. However, the Behringer model mentioned above like a lot of other mixers do allow you to pan each channel left or right so you could output two of the mics on the left channel and two on the right which would give you a bit more flexibility than having them all on the same channel.
Three or Four XLR Microphones to One USB Port
If you're looking to record directly into your computer with three or four mics, probably the best option would be to use a four-channel audio interface.
This will allow you to plug in up to four XLR (or jack mics if the interface has combo sockets) and record them on separate tracks as long as that type of recording is supported in your DAW.
The model we like for this setup is the Focusrite Scarlett 18i8 (Amazon).
More than Four Microphones into one 3.5mm Jack Input or USB Port
If you need to connect more than four microphones to one USB input, the most cost-effective solution is likely to be a USB mixer with as many inputs as you need to support the number of mics you want to use.
As mentioned earlier though, most mixers will only output a stereo track, and this is also the case with USB mixers so you won't have each mic on a separate track. This could limit what you can do when you come to edit your podcast.