Affiliate Disclosure: The Seasoned Podcaster is supported by its readers. As an Amazon Associate we earn from qualifying purchases when you use one of our links. Please assume all links on this page are affiliate links. Your support is hugely appreciated.
Consuming podcasts is now easier than ever. From the beginner to the professional, you can find a podcast on pretty much whatever topic you want, and podcasters are embracing these niche audiences with open arms.
With such an array of new podcasts, however, the market is incredibly competitive, and there are a plethora of factors that contribute to a podcast's success (especially in the early days).
You are more than likely familiar with the monetary ways you can help a podcast you love to stay on the air. These include Patreon subscriptions, donations, or buying any available merchandise. Today, however, we will be discussing an incredibly useful, and often overlooked method of support. And it doesn't cost a penny!
Why Leave Ratings and Reviews?
Ratings and reviews are the best way to support your favorite podcast without spending money. When you write a review, it lets the podcast producers, and hosts know what you like about the show and ways in which they could improve. By leaving compliments and constructive criticism you give the showrunners a valuable insight into what you as an audience member think about their work, allowing them to cater to what it is you want.
Another benefit is that your reviews may tip anyone on the fence about listening to the podcast toward giving the show a listen. Ratings work in a similar way, pushing the podcast up in your streaming platform of choice's recommended lists. This in turn gives the show more exposure.
This step by step guide on how to leave a rating and review covers some of the top podcast streaming apps for iOS. Although we will be looking at mobile applications in this article, if you are using the desktop equivalent there should be little change in the method of leaving a review (if the platform has a website of course).
While this list does cover the best the App store has to offer, it is worth noting some platforms that are missing. These include Spotify, Google Podcast, and Podcast addict. While all huge podcast streaming platforms, these applications do not have a feature for leaving a rating or review.
These platforms simply serve as a tool for streaming with no community engagement sections. Don't worry if your favorite app is missing though – if you still want to support your favorite show you should check out their website or social media. More often than not there is an option to support their work in other ways!
Apple Podcasts
The first platform on our list is Apple Podcasts. This app comes pre-installed with every iOS device, and your account is created with your Apple ID. Therefore, if you have an iPhone, it is incredibly easy to get set up and streaming.
First you must be sign in to the application. This is done through Apple ID or an email.
On the Apple Podcast homepage select the search bar and enter the podcast you wish to leave a review and rating on.
It is important that you visit the show page, not an individual episode, as you will be reviewing the show as a whole.
Underneath the podcast title, you will see a star count and the number of ratings, click this section to be taken to the review section.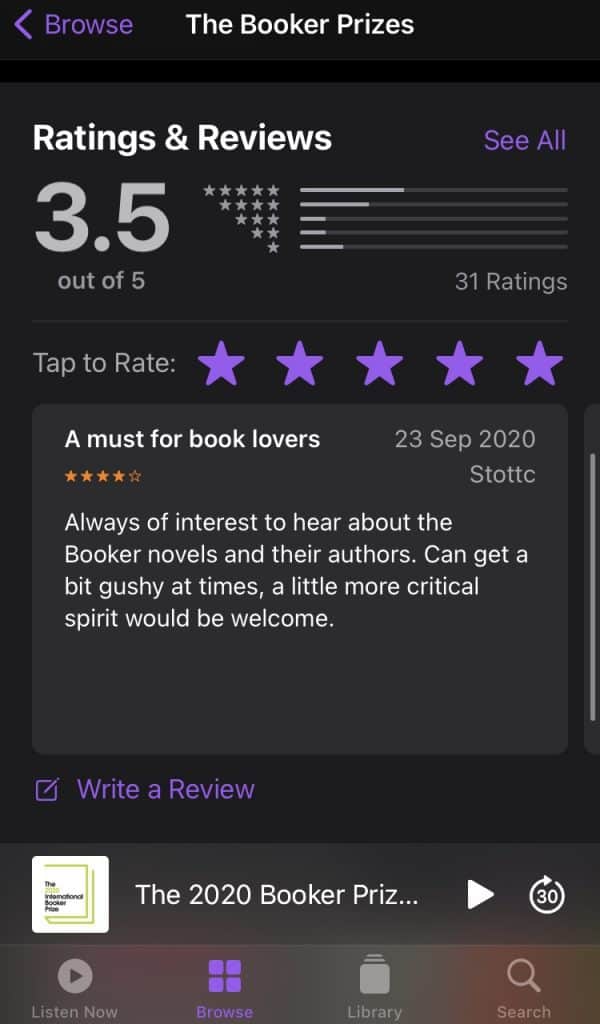 Once in the review section you will see a box below the scrolling reviews that is titled "Write a Review", this is what you want to click.
Enter a star rating, a title summing up your review, and the review itself and click submit to post to the podcast page.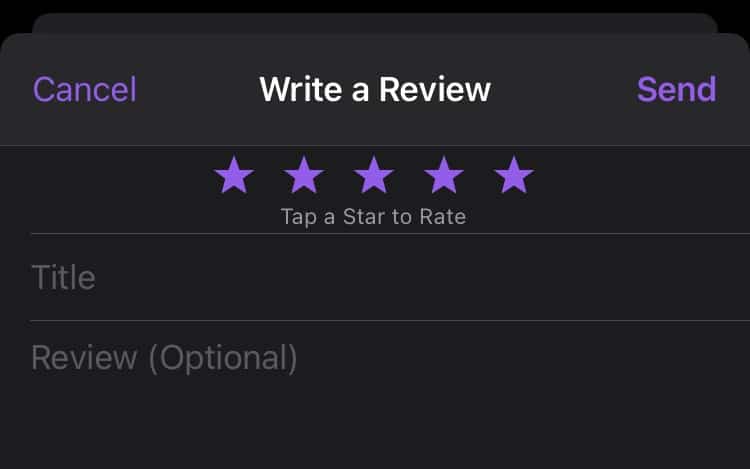 Overcast
While it may seem that Overcast has no option for leaving a rating, there is an often-confused recommending feature within the app that many users are unaware of.
First you must sign into the application using an email address or social media ID.
Once signed in you will see a search bar at the top of the home screen in which you can search for your podcast.
When on the show page, you can long-press a podcast episode you have listened to, and you will see a star icon.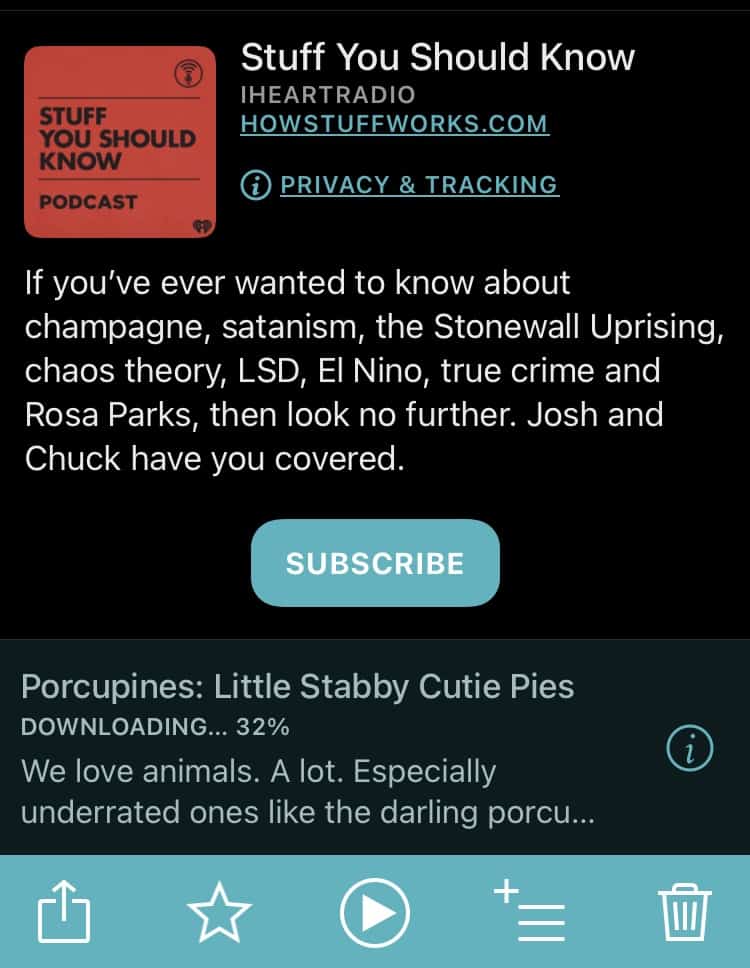 Alternatively, if you are on a particular episode you want to recommend, there is a star icon found next to the episode information button.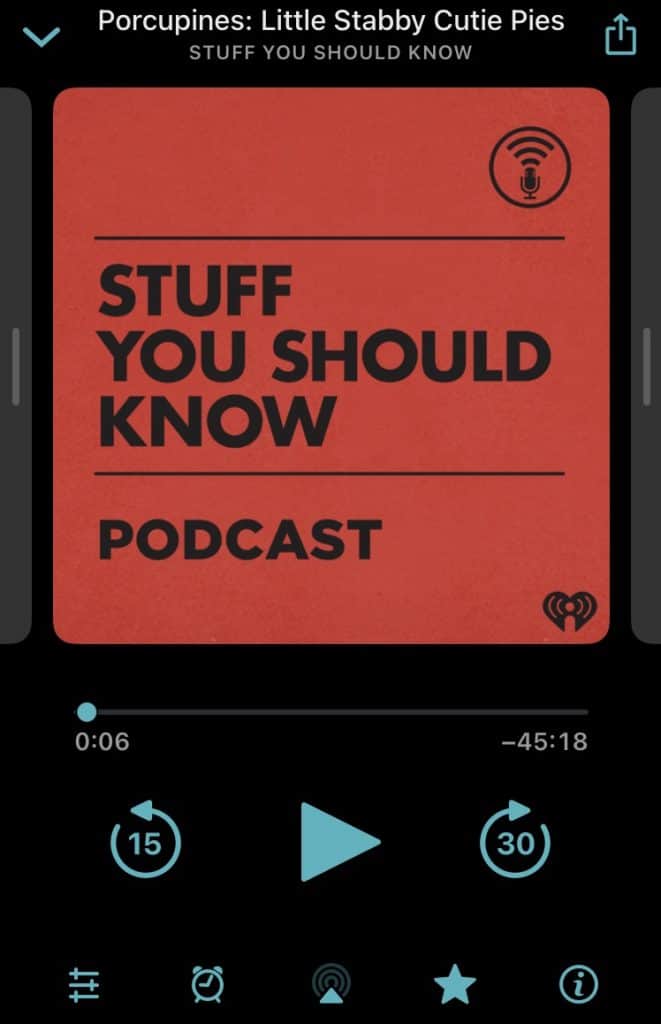 By clicking either of these stars, you are recommending that particular podcast episode. Recommending in this way will boost the likelihood it will show up in searches for particular genres or search tags, increasing the exposure of the show.
Castbox
Castbox has a different rating and review system than the previous two. For this application, you can write a comment which serves as a review that other people can read and respond to. If you find a comment you like or find helpful, you can upvote it so that it is more likely to be seen.
First you must sign in with an email address or social media ID.
On the home screen, use the search function to find the podcast.
On the podcast page, you can leave a comment using the "comment" section next to episodes and details.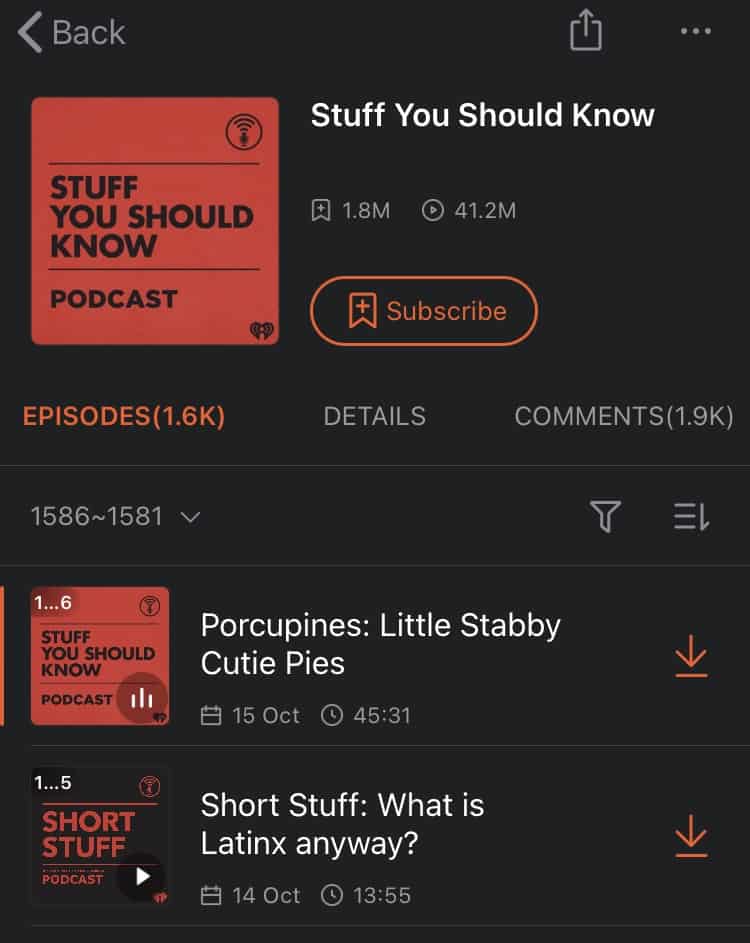 If you have a comment pertinent to a particular episode, you can leave one using the chat box icon on the right of the episode screen underneath the show title.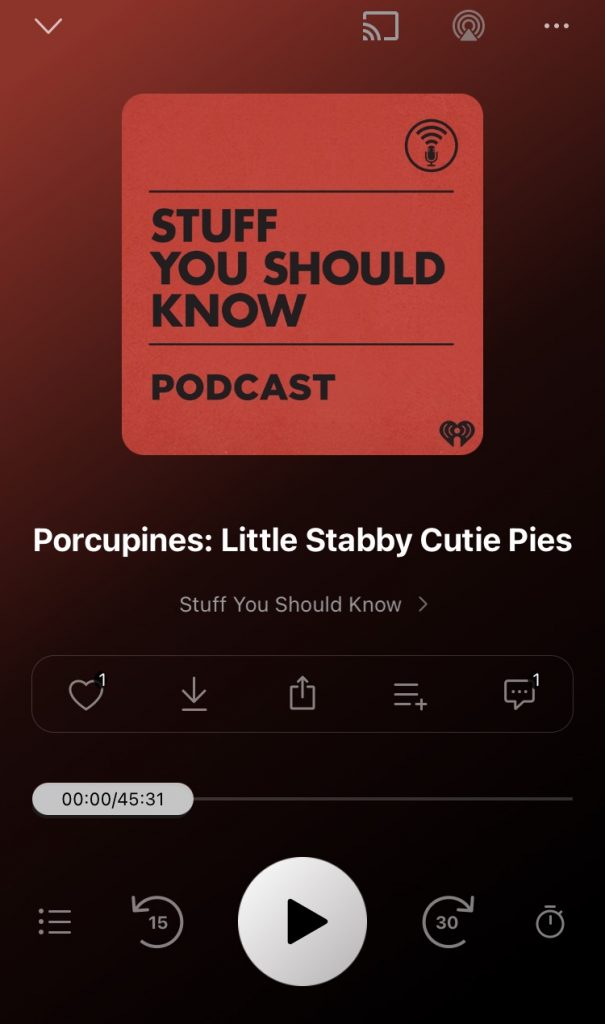 To like a comment, you can click the thumb up icon found below it. If you want to reply to a comment, there is a replies section to the right of the thumb up icon.
PodBean
PodBean functions in a similar way to Castbox in that a comment system is in place to review and discuss the show. Unlike Castbox however, there is no option to reply to other comments.
While you can use PodBean as a guest, you must be signed in to leave a comment.
Search for the podcast of your choice and on the show page, you will see a red "comments" button underneath the follower and plays count.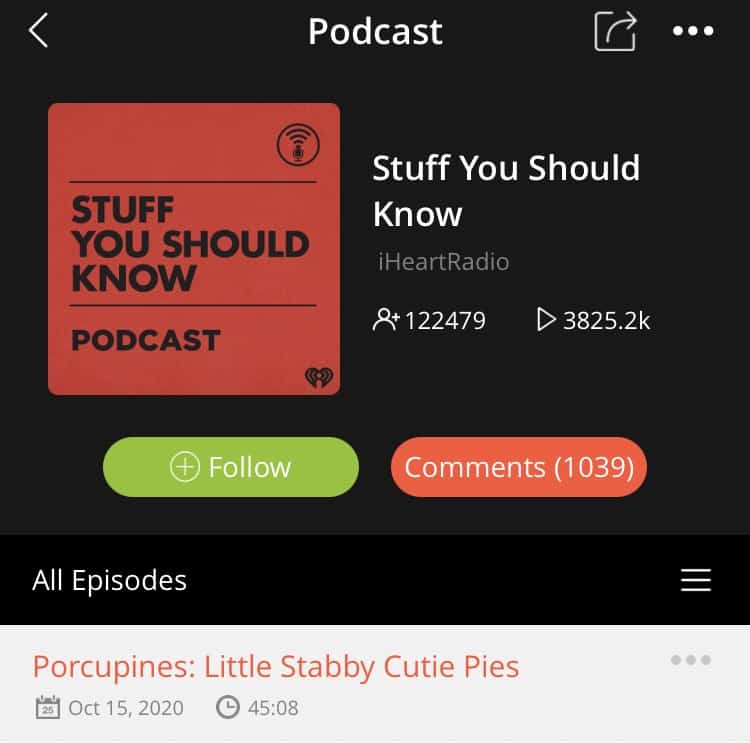 If you have a comment pertinent to a particular episode you can also leave a comment in the "Add your comment" at the bottom of the episode screen.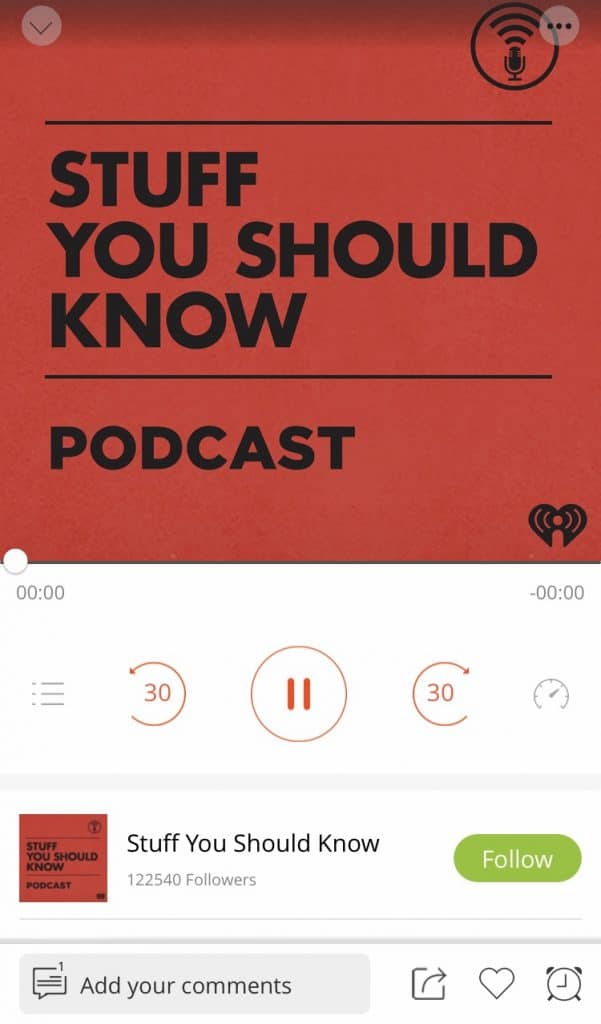 If you see a comment that you agree with or found helpful, you can click the thumb up icon to the right of it to boost its position in the comment section.
Acast
Unlike the previous platforms, Acast allows for guest ratings. This means your star count will be anonymous and you don't need an account to use the rate function.
Open the app and search for your chosen podcast.
On the podcast page you will see a star count under the show title.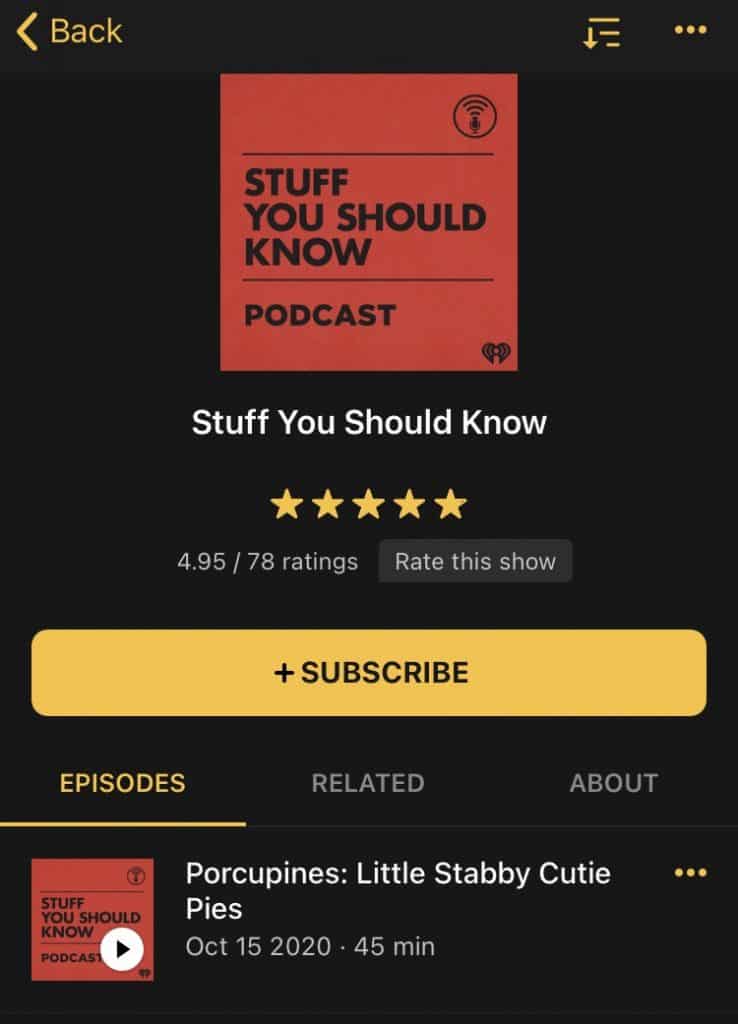 Click this, and enter the number of stars you would rate the podcast.
Click submit to send your rating of the podcast.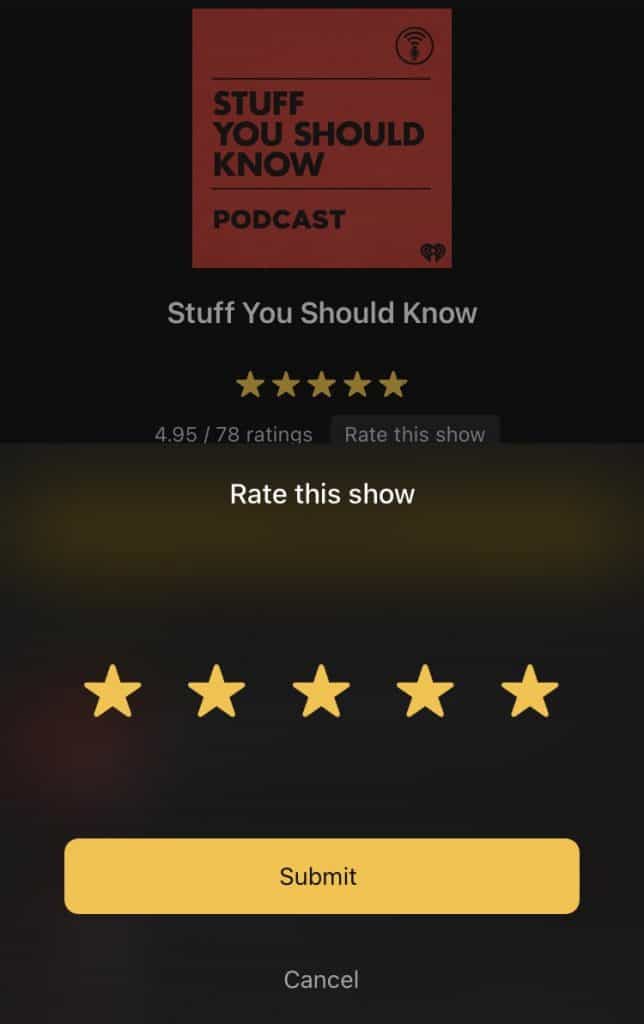 Stitcher
Stitcher is our final platform on this list due to its popularity as a podcast streaming service. While there is a way to review a podcast, the mobile app doesn't have a system in place. Therefore, in order to rate and review you will need a desktop computer.
Sign into the site and use the search bar to search for the podcast.
Under the show title, you will see a star count, click this to be taken to the rating and review section (alternatively scroll down).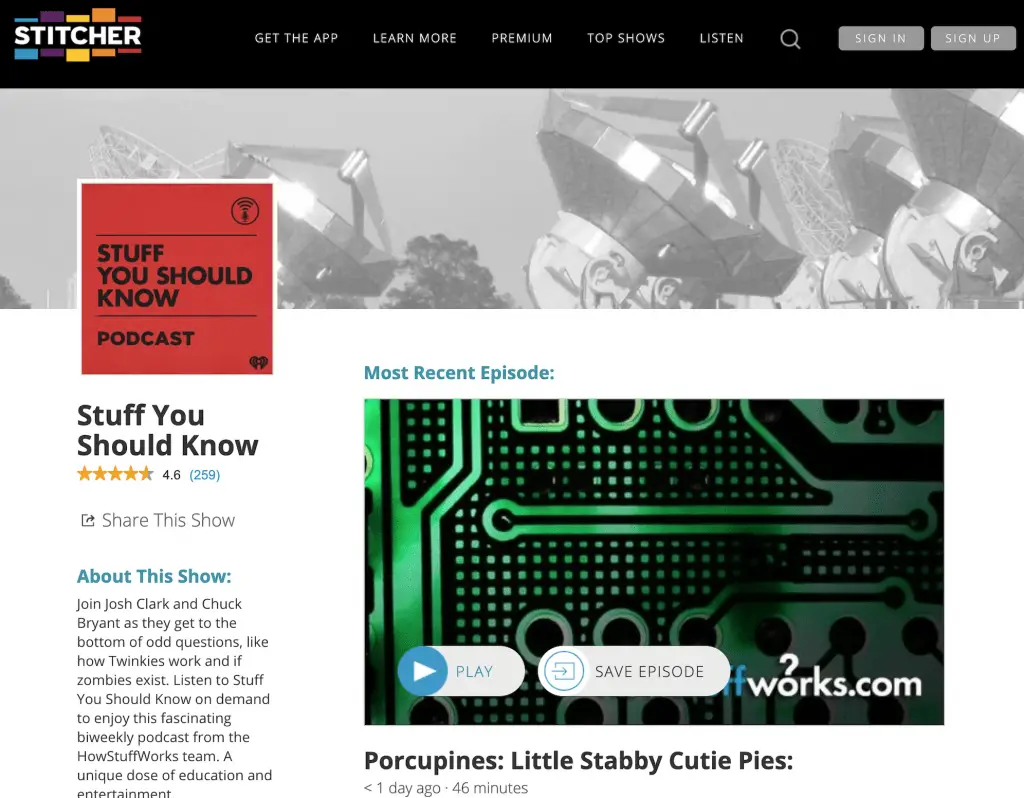 To the right of the "Show Ratings and Reviews:" heading you will see a link to write a review.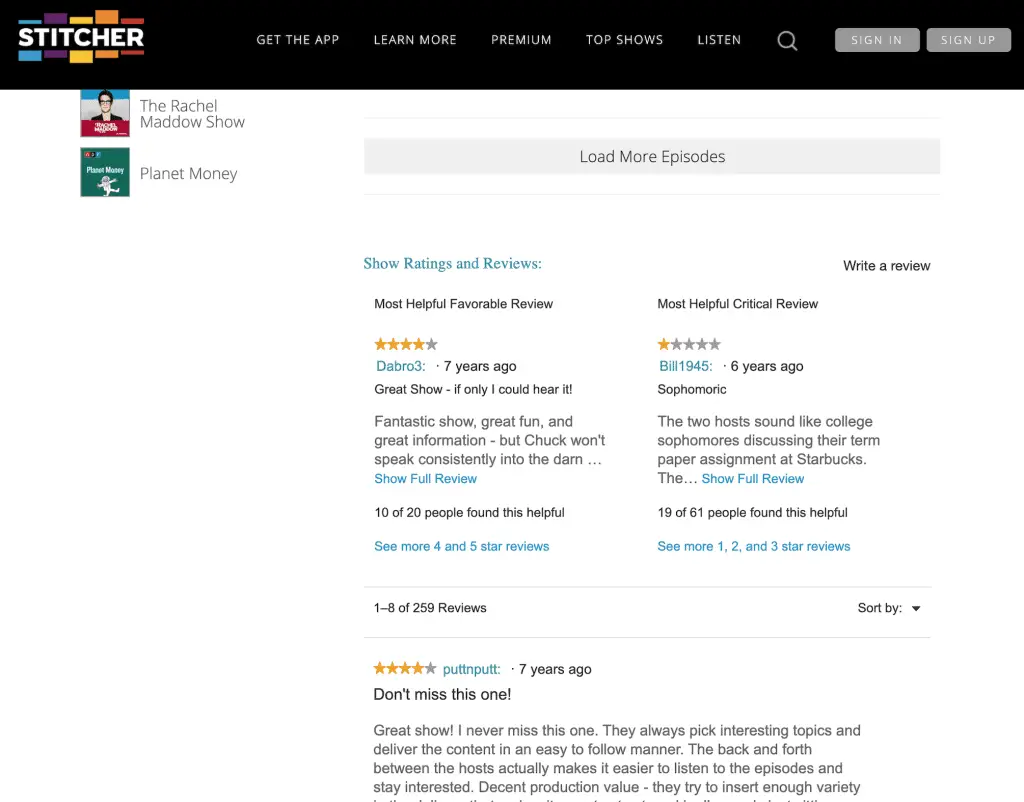 Enter your name, email (if not logged in), write your review, and click submit to post.
Final Thoughts
Some streaming services opt for different levels of fan interaction; with some of the larger platforms deciding to remove any direct fan interaction entirely. This may be for many reasons, one of the main, especially for smaller platforms, is that the app functions as a simple platform that collects and orders podcast RSS feeds in one place.
Each platform favors one rating and review system over others. Some prefer a clean and simple star count function; others encourage fan discussion through comments and replies. Unfortunately, the choice is subject to the priorities of the platform creators.
That being said, any rating system is better than none. If you want to show support to your favorite creators without spending a penny, then a few words of praise or even constructive criticism go a long way for the people producing the shows.
Ratings also go a long way in boosting the reach of a podcast. In other articles, we have looked at expanding reach through Instagram hashtags (Podcast Hashtags for Instagram), this is another insight into how social media algorithms can grow your show.
By following our step by step guide, you should have a clear understanding of how and why to leave a rating and review on the podcasts that matter to you.