Affiliate Disclosure: The Seasoned Podcaster is supported by its readers. As an Amazon Associate we earn from qualifying purchases when you use one of our links. Please assume all links on this page are affiliate links. Your support is hugely appreciated.
Now more than ever, those looking to start their own podcast have access to the recording equipment and audio editing software to create a high-quality podcast from the comfort of their own home.
So, you've got your show recorded and edited and you are ready to put it out into the world, what hosting service should you use? How much should you be paying for reliable hosting? And why exactly should you use a hosting platform at all? All these questions and more will be answered in today's podcast hosting market comparison.
What is Podcast Hosting?
Let's start with the basics. Podcast hosting platforms are a service that stores and distributes your podcasts. The advantage of a hosting platform as opposed to hosting on your own server is much the same as Dropbox, or Google Drive in that the hosting platform will have multiple dedicated servers. Being tailor-made to manage media files, hosting platforms provide a quick, convenient, and secure alternative to personal hosting.
Once you have your show uploaded to a hosting platform, the next important service they provide is an RSS feed. An RSS is a computer-readable format that allows users to access any updates you may make; in podcasting terms, this is what your listeners will be subscribing to so that they are alerted once a new episode is released.
With your newly acquired RSS feed, you are then free to submit these to streaming services. As this is a standardized format, all streaming platforms are able to utilize the feed in order to set up a podcast show page and keep up to date with episode releases.
Why it's Important to Pick the Right Host
The hosting platform will be responsible for the online storage and distribution of your podcast and therefore it is paramount that you pick the right platform for your personal needs. While your needs will inevitably vary depending on your current situation, we will be comparing four podcast hosting platforms in eight crucial categories to help you find which is best for you.
The first and most important category right off the bat is the pricing. Depending on whether you are just starting out or are looking to migrate a long-running show, your budget is bound to vary. By laying out the price of each service first, you can keep your budget top priority.
The second is the amount of storage provided. This is fundamental to a hosting service, as the amount of storage will be the deciding factor as to how much you can get out of the service. Some services measure storage in different ways as we will see later, however, this should be a major factor in your choice of host.
Stats and monetization are crucial if you plan to turn a profit on your podcast. An analytics package will give you valuable insight into areas of development when growing your audience, and with each platform providing different monetization options, there are a plethora of ways to start making money.
User experience and website features are all about the day to day interaction both on and off the platform. When using a platform on a regular basis, the user interface can make or break a workflow and for this reason, we will be listing the features that catch our eye during our analysis. Beyond this, we will be taking a close look at the features that promote your podcast on external sites, ranging from embeddable media players to entire sites of their own.
The final category is USP, these are the added bonuses that help the platforms stand out from one another. While you may not miss these features if they weren't included, they will no doubt add to your overall experience and are worthy of a mention.
Must Have Features
Let's talk essentials, what is going to make or break your podcast hosting choice? First and foremost is the storage. This is the foundation of a hosting platform and therefore it is the #1 must-have. Typically, the amount of storage you have access to is dependent on the price of the package you have subscribed to.
As you will see, storage tends to be distributed on a month by month basis. Some platforms offer a certain amount of mb, while some opt for a number of hours. It is important to keep in mind that how you export your files may affect your value for money. For example, if you are exporting at the highest quality format, with a huge sample rate, you may run into space issues on a mb storage rate, however, your large file size won't matter if measured via the number of recording hours.
Another must-have is good customer support service. If anything were to go wrong with your podcast it isn't unreasonable for you to expect assistance in sorting the problem – you are paying for the service after all. Support may come as an email, or phone line, however, having a safety net in place is always essential as a contingency for any worst-case scenarios you may encounter.
Nice to Have Features
Along with essentials, there are some features you may be able to live without in a hosting service, however, having them would make your experience just that bit better.
Podcast statistics and analytics is the first nice feature to have. While you may be able to collect analytics data from the streaming platforms, it is way more convenient if the service provides listener statistics in one convenient spot.
From an analytics dashboard, you will be able to find out how many people are listening, from what device, service, location, etc. Taking these stats on board will help you grow your audience, as you will be able to make informed decisions on how to develop your show in the future.
Multi-show functionality is another nice bonus some platforms may offer. With a multi-show, you can run multiple podcasts from the same platform under the same package. Each show will have a unique RSS feed meaning that listeners can choose to opt into each podcast independently.
Another bonus to having independent RSS feeds (provided the platform also has an analytics function) is that you can monitor independent analytics. The pros to having this function remain the same as previously mentioned, however on a larger scale you will be able to garner an insight into how shows are performing against one another.
Libsyn
Our first platform is Libsyn. Started in 2004, this hosting platform has had plenty of time to understand and cater to what podcasters need from them. Partners with services such as Spotify and Pandora, Libsyn is catered towards understanding and growing your show.
How much does Libsyn Cost?
Libsyn offers 4 packages starting from $5 up to $40. These are sectioned into 'classic' and 'advanced', with the advanced packages offering increased monetization functionality, as well as advanced statistics.

Libsyn Storage Limits
Storage starts at 50mb per month, then increases to 250, 400, and 800mb with higher-tier packages. While the $5 package offers a relatively small amount of storage for the price, the 5x increase for an additional $10 is more than enough for weekly episode releases.
Libsyn Stats Packages
The lowest package has a $2 opt-in per month for a basic stats analysis. The advanced packages offer IAB statistic reports which provide metrics for content and ads, giving you a comprehensive insight into the technicalities of your show.
Monetization Options on Libsyn
Libsyn offers both insertions, and live read advertisement options. The difference between the two is that insertion is edited into the podcast pre-recorded from an external source, and live reads are a product review to be read by the host during the course of the show. The revenue share is 50% of the profits from the ad campaign within the episode, meaning it will vary based on listener numbers.
Libsyn Customer Support
Libsyn offers not only direct email support, but status reports on the system, tutorials, and a knowledge base for FAQs. The pooled knowledge is more than enough information to diagnose and rectify any issues that may arise.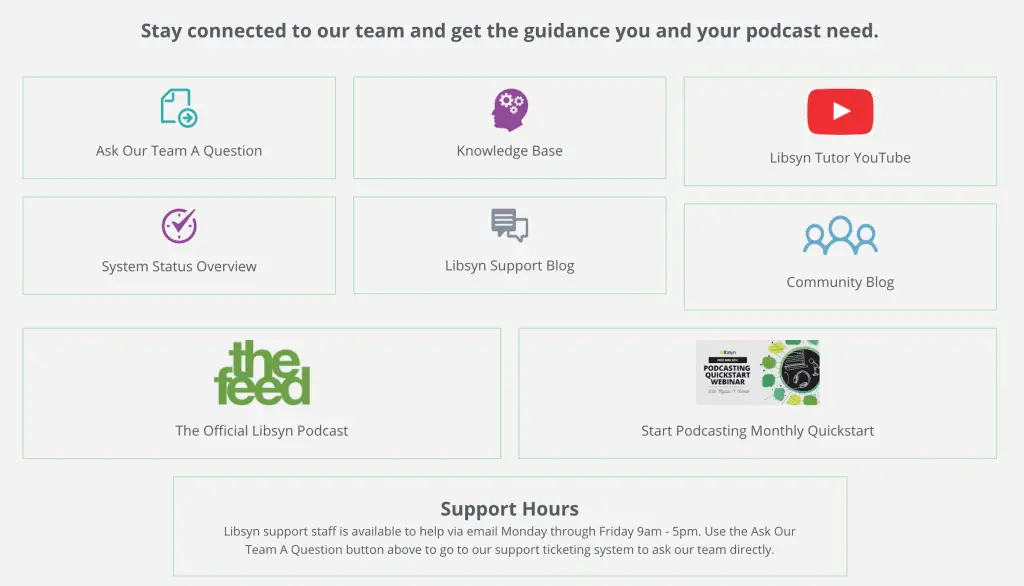 The Libsyn User Experience
The platform itself offers two additional blogs. The first is a support blog, giving detailed reports of changes and updates to the system. The second is a community blog in which creators are given the spotlight to talk about their process and interaction with the platform.

Website Features offered by Libsyn
With full creative control over colors, episode playlist, and player size, the embeddable player integrates seamlessly with any branding. Libsyn also offers the Publisher Hub for WordPress which easily embeds your RSS feed into your blog. Both players feature options for subscribing, downloading, sharing on social media, and are mobile-friendly.
The platform also offers a dedicated 'mini-site' for the podcast. These serve as a standalone page for the show which you can share, giving prospective listeners a short introduction to your work.
Libsyn's Unique Features
For an extra $10 per month (with advanced packages) Libsyn offers a custom application for your podcast that is available for download on the App Store, Google Play Store, and Amazon Appstore. This professional mobile application gives listeners yet another point of contact to listen to your show.
Our Verdict of Libsyn's Offering
Libsyn is a long-running and popular podcast hosting platform and it shows. With packages starting at low prices with streamlined control, anyone looking to begin podcasting will find Libsyn easy and convenient. For those looking to grow their audience, the priced tier system allows for progressive access to advanced features, accommodating any potential growth.
We have found Libsyn's support to be very good. Their staff are responsive, knowledgeable and helpful which is all you can ask from a support team.
Buzzsprout
Buzzsprout is just over a decade old and is used by over 100,000 podcasters worldwide. Their low-price packages and beginner blogs make their service readily accessible, and convenient to use for even absolute beginner podcasters.
How much does Buzzsprout Cost?
Unlike Libsyn, Buzzsprout offers a free package alongside their $12, $18, and $24 packages. The free package offers a 2-hour upload per month that is hosted for 90 days. If you are unsure whether or not this service is for you, the two-month trial is a no-brainer.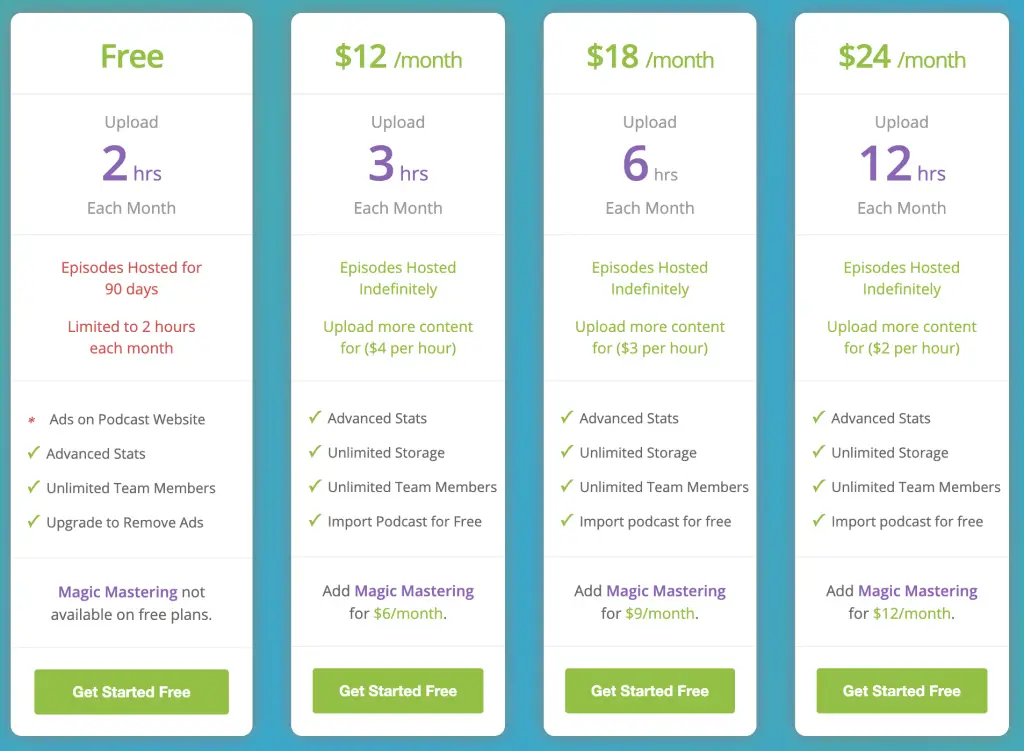 Buzzsprout Storage Limits
Storage in the paid packages is unlimited, however, there is a cap on how many hours you can upload. As mentioned previously, the hour system may work in your favor if quality audio is your main priority.
Buzzsprout Stats Packages
All paid plans come with the same statistics report. This includes total downloads, the streaming services listened on, and the geography of listeners. Although not as in-depth as other platform offerings, the analytics are IAB certified, ensuring their accuracy.
Monetization Options on Buzzsprout
Buzzsprout monetization works on affiliate marketing. By partnering with brands and services, you have the ability to earn a profit through special codes and coupons. The ability to offer your listeners a discounted product gives them an incentive to buy the product being advertised. While this is an active monetization method, requiring your listeners to purchase something, 15% of that sales lands in your pocket.
Buzzsprout Customer Support
The customer support is offered as an FAQ section, as well as an email support team for anything not covered. That being said, the FAQ section offers a variety of support, from the basics of uploading, to help with the WordPress plugin.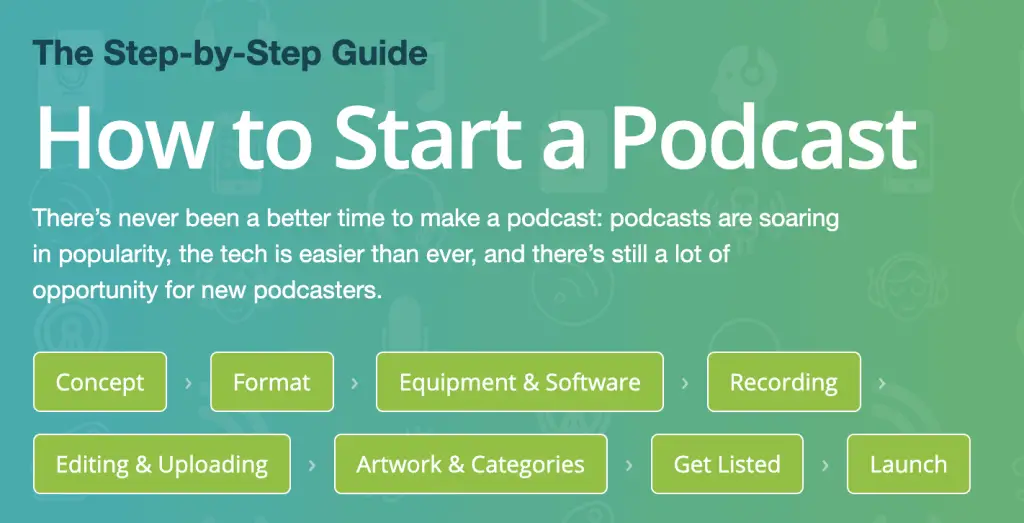 The Buzzsprout User Experience
One great feature of the platform is the beginner's blog. It is clear Buzzsprout has taken the time to ensure its podcasting tutorials are as comprehensive and accessible as possible. The 'How to Start a Podcast' section covers everything from the equipment you will need, all the way up to the launch.

Website Features Offered by Buzzsprout
Much like Libsyn, Buzzsprout offers a fully customizable, embeddable player for your website. The player is sleek a minimalist, offering speed settings, rewind and fast forward, episode listing, episode information, and quick share functionalities.  
Buzzsprout's Unique Features
For $0.25 a minute, Buzzsprout offers an episode transcription service. This is a great asset as it opens your potential listener base to the hearing impaired. Another bonus is the transcript will appear in search results for specific topics, resulting in a boost in show reach via specific Google searches.
Our Verdict of Buzzsprout's Offering
Buzzsprout is the simplest of the four platforms. This isn't to say that what it provides isn't as valuable as the rest, however, it caters to the absolute beginner podcaster. The tutorials and FAQ's cover a huge amount of topics, and the free 2 months guarantees that those who are unsure if this platform is right for them can test the water with no financial commitment.
Blubrry
Blubrry caters heavily to those looking for a comprehensive insight into all facets of their show. If you are looking to migrate to a platform with a plethora of bells and whistles guaranteed to take your show to the next level, then look no further.
How much does Blubrry Cost?
Blubrry pricing starts at $12 per month and has package options at $20, $40, $80, as well as a pro package at $100 per month. This platform is the most expensive to join if you are considering entry-level packages, however, the functionality justifies the cost.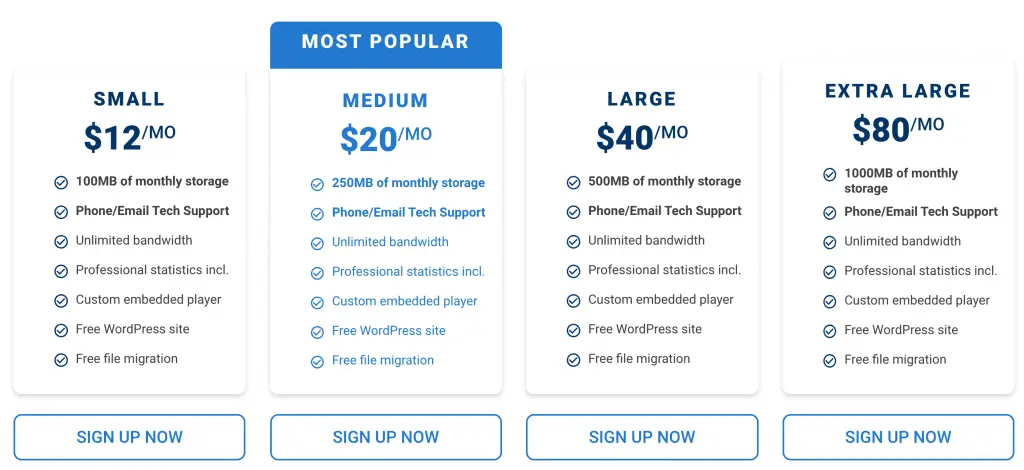 Blubrry Storage Limits
Storage starts at 100mb per month, up to 1,000mb, and then unlimited storage with the pro package. If you are planning to run multiple podcasts with regular uploads from one hosting platform, then Blubrry is more than equipped to accommodate your needs.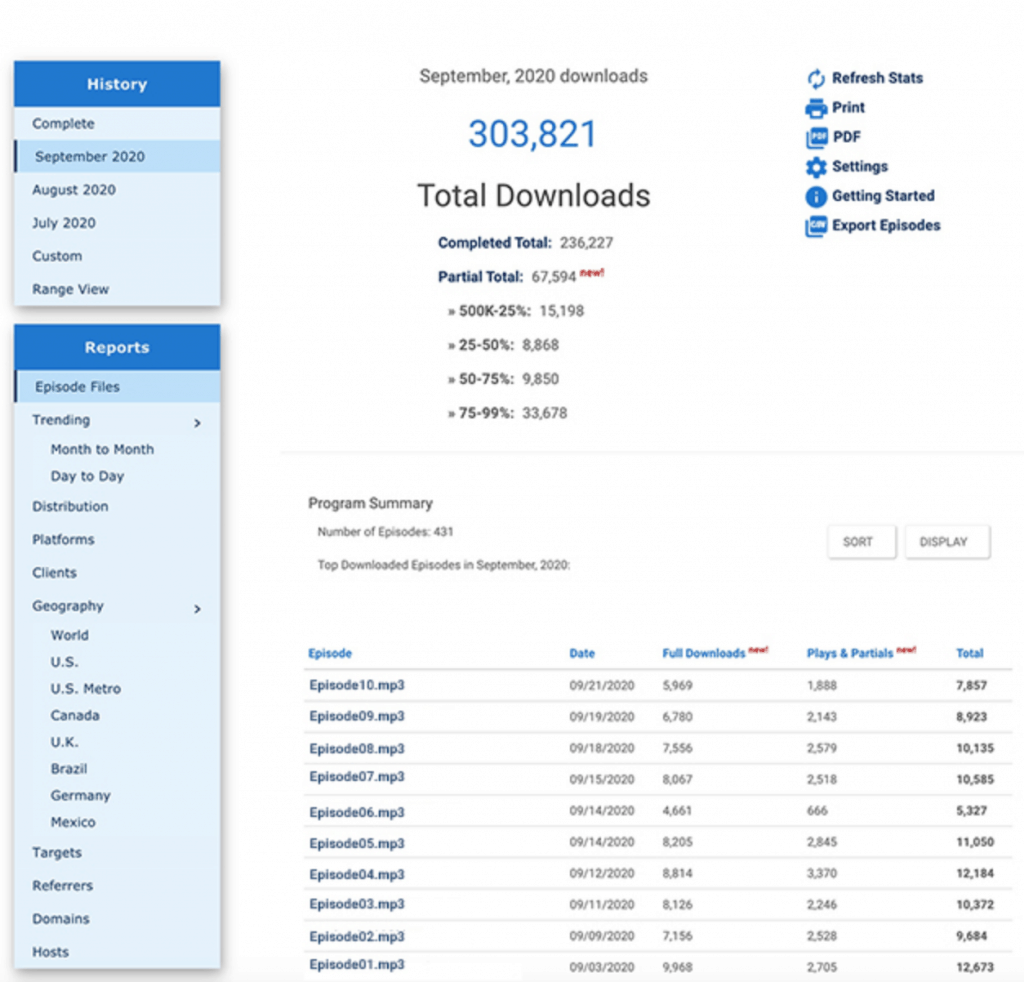 Blubrry Stats Packages
The free analytics package offers stats on traffic, the top 10 streaming apps, unique & total downloads, and listener geography. These stats are IAB certified. For an additional $5 per month, you can purchase professional statistic reports including distribution information, trending graphs, etc.
Monetization Options on Blubrry
Much like Libsyn, Blubrry uses insertion advertisements. The basic package allows one pre-roll advertisement insertion meaning the advert will run at the very start of the episode. The insertion feature uses an audio leveling system to ensure levels stay balanced between advert and podcast. For $49 a month Blubrry offers pre-mid-post roll ad insertion. This gives you full creative control in where the advert is placed and allows for as many ads as you like.
Blubrry Customer Support
Blubrry offers multiple options for customer support. There are the standard email and FAQ, however, they go the extra mile with both phone and video calls. The 1 on 1 interaction with an operator ensures your problems are rectified as quickly as possible.
The Blubrry User Experience
The platform offers easy migration from other hosts, as well as optimization for top streaming services, a detailed stat analysis, and easy upload and publishing. The pro package offers an editing suite, show notes, and support from dedicated staff.

Website Features Offered by Blubrry
Blubrry offers an embeddable player, fully customizable much like the previous two platforms. Where the external website features come into their own, however, is the WordPress functionality. Utilizing the PowerPress plugin, episodes, and podcasting pages can be seamlessly integrated into blogs. A custom WordPress blog for your podcast is also included with each subscription, giving your podcast a standalone online presence.
Blubrry's Unique Features
It is clear that Blubrry is catered towards entrepreneurs with established podcasts. It's business-oriented tools such as trending graphs, optional feedback from test audiences, and an option for 500 podcast networks helps this platform stand out as the go-to for those looking to start a serious podcast business.
Our Verdict of Blubrry's Offering
Blubrry is the most comprehensive and business-focused platform on this list. While it may also be the most expensive, with add-ons potentially taking the per month cost way higher than any other host on this list, the features on offer are designed to help you maximize your income. If you are looking to run your podcast at a professional level and would benefit from in-depth analytics and tools, then Blubrry is the obvious choice.
Podbean
Podbean boasts over 500,000 unique shows and over 7.6 billion total downloads. This platform is one of the most popular for both hosting and streaming. Being so popular on both fronts is a major advantage as podcasts hosted on this platform are automatically exposed to a large dedicated audience.
How much does Podbean Cost?
Podbean pricing ranges from $0 (Basic) to $99 (Business). The four packages each have descriptions of who they are best suited to, making it very easy to discern which is right for you.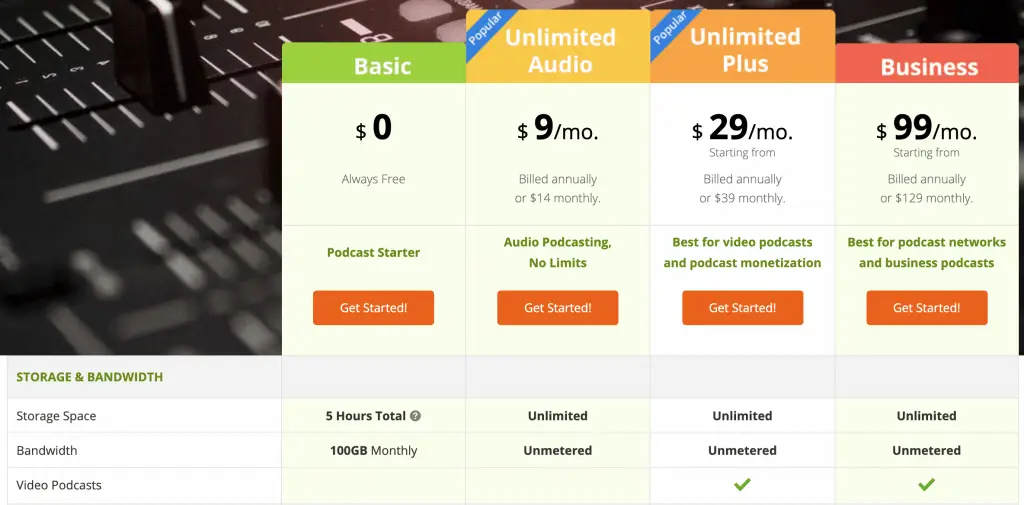 Podbean Storage Limits
Storage for the basic package is 5 hours, over double that of Buzzsprouts free package. The other 3 tiers offer unlimited storage and unmetered bandwidth. This is a massive advantage over the other platforms which impose limits on monthly uploads.
Podbean Stats Packages
Statistic reports include downloads and trending graphs, listener geographies, download number, and also top 10 episodes. The free package includes a stripped analytics page, allowing you to gain an insight into your podcast free of charge.
Monetization Options on Podbean
Podbean offers advert insertion for $1 per month. The adverts are automatically added using the PodAds service. This service allows you to determine how long you want to run a campaign, and also geo-targets allowing for catered advertisements for listeners in different regions.
Podbean Customer Support
The Podbean support team is contactable via email or live call. Also included is an on-boarding system that curates a website guide to fit your specific needs. This sort of guidance system only increases convenience when using the platform.
The Podbean User Experience
The website allows for full control of distribution, with subscriber email lists, social media auto-sharing, and an Alexa app. Included is a monetization section with options for adverts, premium content, and an option to link a Patreon to maximize income.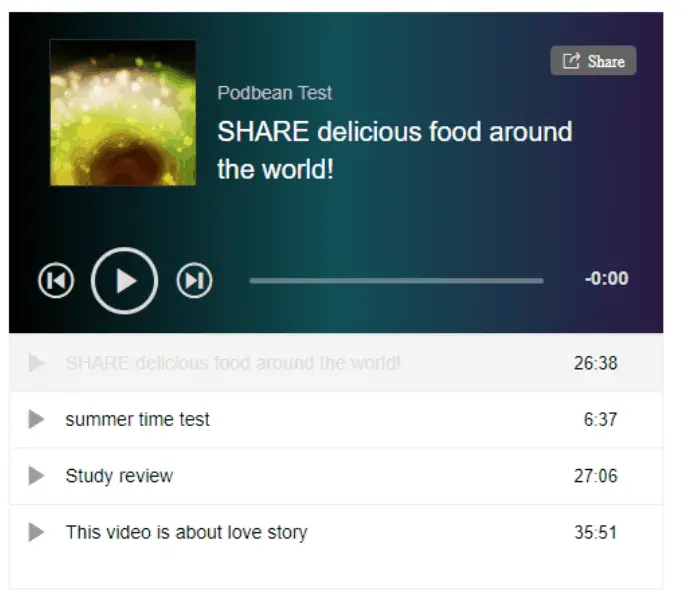 Website Features Offered by Podbean
The Podbean embeddable player offers much the same features as the other platforms. Full customizability with options for a single episode or multitrack players allows you to curate the media player to your specifications. Each package comes with a dedicated podcast website. With higher tiers, you unlock custom domain names and a multitude of curated themes. If none of these take your fancy, with the two highest packages you can hone in on every aspect with complete site control.  
Podbean's Unique Features
One of Podbean's unique features is its video podcasting system. With the top two packages, you have the option to upload video podcasts which can be viewed via the Podbean app. Another feature is Livestream podcasting, allowing for real-time audience engagement.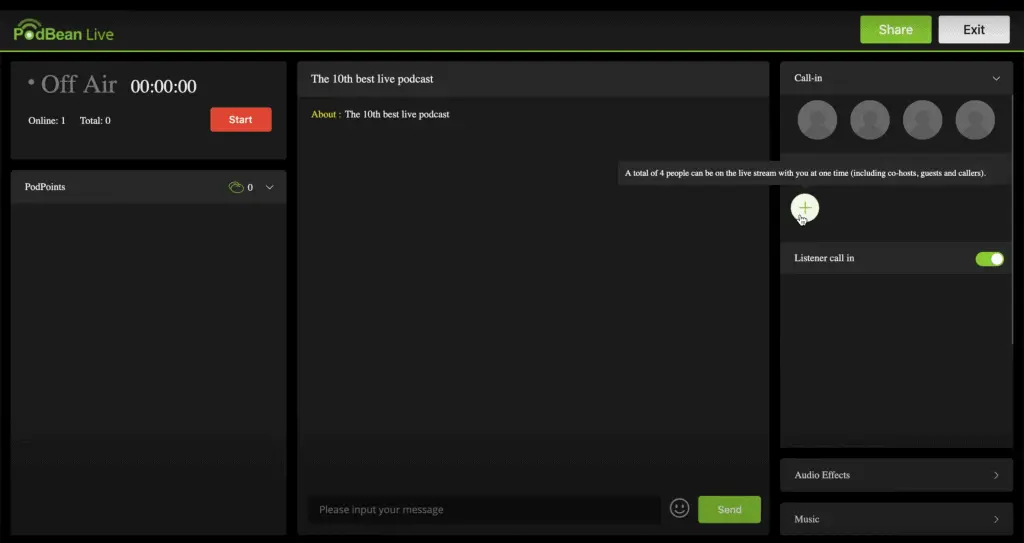 Our Verdict on Podbean's Offering
Podbean is a versatile platform and the target audience is much the same as Libsyn's. The higher price point for Podbean comes from additional functionality such as the video and live streaming, as well as the established streaming app that the platform also owns and operates.
Comparison Chart
Platform
Lisbyn
Buzzsprout
Blubrry
PodBean
Price (p/m)
$5 – $40
Free – $24
$12 – $100
Free – $99
Storage (p/m)
50mb – 800mb
2 – 12 hours
100mb – unlimited
5 hours – unlimited
Stats
Downloads, streaming services, location

IAB statistic reports (Premium)
Downloads, streaming services, location
Downloads, streaming services, location

trending reports, distribution information (Premium)
Trending reports, downloads, location, top 10 episodes
Monetization
Insertion adverts, Live reads
Affiliate marketing
Insertion adverts
Insertion adverts
Support
Email, FAQ, Operation status
Email, FAQ
Email, FAQ, Phone, Video
Email, Phone, on-boarding
Website Features
Embeddable media player, mini site
Embeddable media player
Embeddable media player, PowerPress plugin, WordPress page
Embeddable media player, Custom website
USP
$10 per month custom mobile application
Paid transcription service
Dedicated show notes, network options for up to 500 podcasts
Video podcasting, Livestream podcasting
Verdict
A versatile hosting platform for beginner to intermediate podcasters
A streamlined, convenient platform with low entry cost focused on developing beginner shows
The top of the line service, higher price point with advanced analytic and monetization tools
An intermediate level platform with a well-established streaming service, and unique add-ons
Which Podcast Hosting Platform is Right for You?
It is clear each platform has its strengths and weaknesses. If you are just beginning to get your podcast off the ground, you can't go wrong with Buzzsprout. With an easy and accessible website, as well as blogs on hitting the ground running, this is the obvious option.
If you are looking for hosts with more functionality for the intermediate levels of podcasting, then Libsyn and Podbean are solid choices. They can both comfortably accommodate audience growth and any potential increase in demands. Coupled with unique features aplenty, these platforms are a great choice for intermediates.
If you are looking to get serious in researching and earning from your podcast, Blubrry is the choice for you. Their easy migration support demonstrates a focus on improving an already established podcast, and the comprehensive analytics and support guarantee great value for money.
Conclusion
By comparing and considering the features of these four podcast hosting platforms, you should be well on your way to making the all-important hosting choice to get your podcast into the world.
Once you've got your show off the ground, how can you continue to develop and expand? Why not take a look at our article 11 of The Best Ways to Grow your Podcast Audience to explore just what exactly your next steps are.